Hi everybody. I was asked by a band called Vigilante Justice if they could use one of my compositions - and I said yes! I was amazed that one of my compositions was going on an album cover - it was awesome! Henry Cheng arranged it all and it looks amazing! There is a low resolution copy of the album cover here: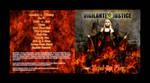 And the original artwork is here:
thanks to all the stock artists for the use of their artwork.
Thanks so much to Henry Cheng and Vigilante Justice too for using my artwork for their album!
Check out their awesome website here - if you want you can buy their album at a very good price!:
www.vigilantejusticerocks.com
Paul