Dear Watcher,
You might not know that without fractalforums.com, the recent history of 3D fractals, i.e. the discovery of the 3D Mandelbulb and Mandelbox would not have been the same, and we wouln't have been able to make these extraterrestrial landscapes, strange and fantastic objects like we see flourishing on DeviantArt fractal galleries for about 2 years now.
So now it's time to say THANK YOU fractalforums for having been the boiling pot which made this new form of 3D fractal art a reality. And especially THANK YOU to Christian Kleinhuis, our beloved administrator, a.k.a. the "priest of chaos" as he likes to call himself for fun on his great new Youtube video series.
So, please support fractal art and the fractal community and go buy the calendar! Moreover, there are several DeviantArt members who took part in this year's edition of the fractalforums.com calendar (last year, 2012, was the 1st edition), so check out this page at fractalforums.com to view the chosen images and pre-order you calendar by Paypal.
==========>>>
www.fractalforums.com/fractalf…
to pre-order <<<==========
This is my contribution to the 2013 calendar: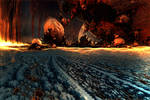 And in 2012 I was lucky enough to have 3 images in the calendar: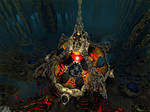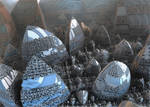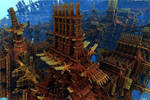 Thanks and have a great day!

Well I wish I could buy 100 pieces and share them to everyone around me mate but unfortunately I'm broke.
If and how else I can contribute,I would love to my friend also I wish to learn much more about Mandelbulb
because it's very hard for me to work alone whitout tutorials.I don't like to tweak,sometimes my own params but
that's all because I think that each one is unique so tweak can easily ruin the beauty and uniqueness.
Be well and take care!!!

Excellent vid showing a collection of wonderful work in the calendar Jeremie....and one of mine!


I only recently discovered fractal art, but it's really interesting and inspiring. I saw so many designs and shapes that are, as you said, extraterrestrial landscapes.

Thanks! I hope you can buy your copy of the calendar, it is a really beautiful object. I have the 2012 edition and the prints are really of a great quality!