Tasakeru Book II Chapter 2: 4 pages done
Shattered Skies Chapter 14: 1.25 pages done
Tasakeru.com upgrade project: 30% done
Blech. Work, stress, lack of motivation, and crappy winter weather this past week. I got a bit of Tasakeru stuff done yesterday afternoon and this morning, but other than that, it's pretty much been a write-off. Now that I'm snowed in yet again, though, perhaps I can get back on track.

Urrrrrgh...







MISCELLANEOUS JUNK


I did manage to find one of the remaining Holy Grails of my figure collection last week. This the first Star Wars figure I've ever bought, because it was simply too cool a concept to pass up. Been looking for this puppy for months now, but only last week did I finally find a decent price on him. I only did a quick Photoshop job on the picture, which didn't really warrant submitting it as a proper deviation, but I still think it looks great. Behold: Samurai Taisho Darth Vader!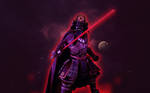 The Gravity Falls finale airs tonight. I'm a bit upset with myself that I wasn't able to get a Dipper hat for my farewell tribute pic, but I've got something else in mind that, while not as cool, should still express my thanks to Alex Hirsch and company.
The first episode of Mahou Tsukai Precure was... far better than I expected. It's undeniably cute, Mirai and Riko are a good pair, and the midair fight scene at the end was novel if not spectacular. I was afraid that the talking teddy bear mascot would be a Milk-like monstrosity, but for the limited amount of screen time he's had so far, he's been surprisingly tolerable. I still don't want to make a judgment call until around five episodes in... but it's not a disaster, so that's a start.

I fixed one of the technical problems that was holding back my progress on the Tasakeru.com upgrade. There's still a lot of work to do, but I'm inching closer to completion.
And finally, on a related note: the cover for Tasakeru Book I is now officially underway. It's going to be spectacular when it's finished, so I can't wait. More details soon.
That's it for this week. Next week, hopefully, things will look up.


I'm still roughly halfway through Fresh myself but I did take a look at Maho it is cute if anything. I'm eager to see the cover for Tasakeru.

Good for you! Fresh is one of my favorites after Heartcatch and GoPrin, I hope you're enjoying it!

I'll be posting progress on the cover as I get it.