Tasakeru Book II Chapter 6: 3.25 pages done
Tasakeru Book I Appendix: Complete!

Shattered Skies Chapter 21: 1.25 pages done

Photo projects: Resumed
The Appendix is finished at long last! Tomorrow, I'm going to start filling out the forms to get the text of Book I copyrighted. I should be sending it off within the week. Of course, it'll take around a year to get everything finalized, but this is still a big moment.

Happy Halloween to those who celebrate it. This year, the annual family tradition of watching Young Frankenstein with my dad was awfully bittersweet due to the passing of the great Gene Wilder in August. The man was a comic genius, and the world is poorer for his loss.

Not much else went on this week. I put a ton of time into the Appendix, of course, and continued shooting and tightening up layers on the magical girl photo project. There are one or two new tricks I taught myself in Photoshop for that, which I hope will add to the epicness I have in mind.

In figure news, there was a completely unexpected, out-of-the-blue reveal from Bandai... A Tamashii Nations event was held this past weekend, but when it came and went without much of interest to me, I thought it would be another bust. Imagine my shock when I woke up yesterday and saw this...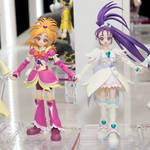 Holy crap. Nearly ten years since their series ended, the long-neglected Precure Splash Star, the least loved series in the franchise, is finally getting S.H. Figuarts figures. This is something that I repeatedly swore would never, EVER happen, but there it is. Even more astounding: close inspection of the hands on either side of the picture shows that the Kiryuu sisters, the same two that Toei and Bandai seem determined to pretend don't exist, are getting Figuarts of their "Cure Bright" and "Cure Windy" forms from Splash Star's final episodes. That is, assuming those aren't just there for mockup or display purposes... there was a pretty awesome looking Wiseman statuette shown off when they unveiled Figuarts Black Lady, after all, and no one's seen that one since.

Getting Bloom and Egret is great news enough. Even better is the implication that Bandai's finally, actually serious about giving all the "official" Precure the Figuarts treatment. Which means that if I wait patiently enough, I might eventually see figures of the Happiness Charge Cures, who have some of my favorite designs in the series' history. Those would go at the top of my most wanted list immediately, let me tell you.

Anyway. Assuming we (meaning we Americans) make it through the next week with our lives and sanity mostly intact, I'll check in again then. Here's hoping.

- BHS


Nope, no Figuarts for the Splash Star girls. There were apparently figures made by a different company, CM Corp, that were
similar
to Figuarts, but (I'm assuming) not officially licensed by Bandai or Toei. I saw pictures of them on the Precure Wiki, but I haven't been able to confirm if they're authentic, or if they were even released or not.
EDIT: Huh. It seems figures of Cure Bloom, Cure Egret, Cure Bright, Cure Windy, Michiru as pseudo-Cure Bright, and Kaoru as pseudo-Cure Windy
were
released as part of the Gutto-Kuru Figure Collection, according to
myfigurecollection.net
. The same line also had figures of
all the Cures pre-Fresh
, including the original forms of the Precure 5 girls... but from the looks of it, all of them were pretty expensive, much more so than even the exclusive Figuarts.