Before anything else, I want to take time to ask for help for a good cause. TheNekoStar, the artist who did the amazing cover for Tasakeru Book I, is in dire need of vet care for his cat. He's set up a GoFundMe, the link to which is below.

www.gofundme.com/2j8jtqrg

Any amount you can donate is greatly appreciated, but if you can't, do what I'm doing and spread the word to your own watchers.

So this week I've been largely inactive... call it a reprieve after the insanity of the past few months. I'm inching ahead on Book II at least, and I've got a new MIDI composition in the works that will probably be used for Tasakeru in some fashion.

Of course, this week was also the 50th anniversary of the premiere of Star Trek. Before I found Madoka, before I found Sailor Moon, before I even found Sonic, I was a Trekkie... it was my first fandom. For fifteen years, I watched the series from TNG through Enterprise with my father and saw every movie, and we're both looking forward to Discovery when it premieres next year. Star Trek has spoken to me in so many ways, capturing my imagination, fueling my love of sci-fi and astronomy, and inspiring me to hold on to my optimism even when things look bleak. Some of the best moments in my life have been Trek-related: winning a t-shirt by beating Michael "Worf" Dorn at a trivia contest at my first-ever convention and having him smile at me. Marina "Troi" Sirtis telling a crowd about the pranks Sir Patrick Stewart pulled on the set of Generations. Hearing Michael Giacchino's brilliant fusion of the new Star Trek theme with the classic fanfare from the original series, and realizing for the first time that they're counterpoints to each other. John "Q" DeLancie in 2014, asking me where he could find my writing. The moment of silence at Mysticon '15, which opened on the day Leonard Nimoy passed away. This year, hearing Mr. George Takei, the legend himself, coming to Roanoke to talk openly about his childhood in a Japanese-American internment camp after insulting comments made by our ex-mayor, and humbly accepting the key to the city along with the mayor's apologies. And of course, the innumerable memories of the hundreds of fans I've met over the years, fans whose passions burn even brighter than mine.

What I treasure most, though, is my memory of seeing my favorite Star Trek ship, the Enterprise-E, make her debut in First Contact. When I was a little kid watching TNG with my father, I used to imagine what the E would look like when she finally appeared... the "Yesterday's Enterprise" episode with its sole appearance of the doomed Enterprise-C was a big influence there, my first impression of how different the ships could be from one another. I used to draw pictures of what I thought the E would be like, and imagine myself as her captain... some kids wanted to be Luke Skywalker, but I always wanted to sit in that center chair. To me, the E was my Enterprise, even before she existed... as silly as that sounds.

When I first saw the Enterprise-E... words almost can't describe it. Something clicked. It wasn't just that I fell in love with her design; it was like something in me thought, "Yeah, just like that. They got it right." Like she had been made with me in mind. Like all those years later, she was still my Enterprise. I bought the First Contact art book with my own money, just so I could pore over the pictures of her design process and evolution, over and over and over. No other ship, real or fictional, has ever made me feel that weird sense of pride. Again, like she was made for me.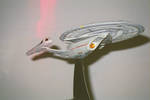 I bought this model of her in 2005, and I've looked at her almost every day ever since. She has a place of honor on my trophy shelf. And maybe I'm just an insane, rambling fanboy, but every time I look at her, I still feel... "Yeah. Just like that."

Anyway. There's more thoughts about Star Trek than I could ever find room for here, but I'll spare you. I hope to make some progress this week.

Live long and prosper,

- BHS


You're welcome, here's hoping it does some good.

And happy early birthday, by the way. I hope it's enjoyable despite your troubles.