Tasakeru Book II Chapter 4: 10 pages done
Shattered Skies Chapter 18: 4 pages done
Magical girl photo project: 17 pictures taken, pending editing

I'm writing this in a giddy, goosebump-y state of shock.

Why, you ask?

THEY DID IT.
FINALLY, AFTER 22 YEARS, THEY GODDAMN DID IT.
AT LAST, SAILOR SATURN HAS BEEN DONE JUSTICE IN ANIMATED FORM.
MAJOR SPOILERS FOR SAILOR MOON CRYSTAL BELOW!
---
I've mentioned it here before, and I'll mention it again: Saturn was horribly neglected in the first anime. Much as I love the way they chose to portray her awakening and the fight with Pharaoh 90 (with the audience and Usagi hearing but not seeing it, and Usagi's helplessness emphasized), the fact that we never got to see Saturn unleash her full power always really bothered me. I realize it was possibly because there was no way they could portray her properly on the show's budget, but still.

When I watched Stars many years later, one of my multiple complaints about the series was how Saturn again got shafted, seeing almost no action outside of the "Nehelenia's Revenge" mini-arc at the start. She never got her own transformation or attack sequences, and was killed off along with Pluto by Uranus and Neptune, who faked turning traitor to try to gain enough power to defeat Galaxia... frankly, it was a horrible idea even without them killing their comrades way too easily, and it didn't do anything besides.
So from the day Crystal Season 3 was announced, I was waiting for this. Manga!Saturn was on an entirely different level, damn well earning her moniker of "Senshi of Destruction". All I could wonder was, "Can they pull it off?"
They did.
Oh, they did.

Last week was a tour-de-force, including the notorious scenes where Mistress 9 assumed her full Daimon form by graphically tearing out of Hotaru's warped, corrupted body. It was horrific and then some, thanks to some stellar art direction that went for broke on the nightmare fuel and gave us faces like this one: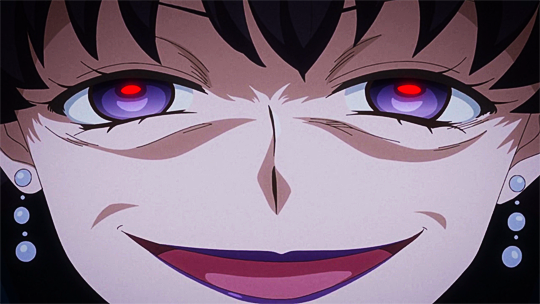 The scenes I most expected to be cut, like 9 mutilating herself and the infamous torso-bursting from the manga were adapted better than I could have possibly hoped. These scenes needed to be terrifying, and they delivered.

Last week also had the scenes of Hotaru giving up the last bit of her life to save the souls of the Inners and Chibi-Usa, and her farewell to Chibi as her spirit faded away with the dismemberment of her body. Chibi-Usa and Hotaru have often been called the proto-Madoka and Homura, and last week we saw why... I was waiting for it and I still teared up, and judging by the fan reactions I've been seeing, I was far from the only one.

So Crystal passed one test, and adapted one of the most difficult parts of the manga in stellar fashion. Could it finally, finally give us a truly badass Saturn?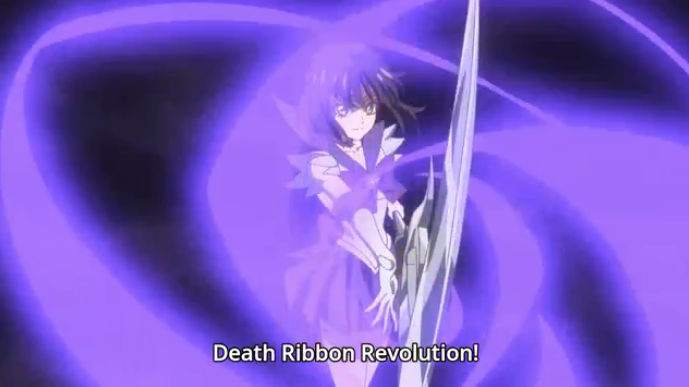 YES, YES, AND YES.

Seriously, I could take a thousand screencaps of this sequence and still not express how happy I am with it. I don't even mind that the subs made the common error ("Ribbon" instead of "Reborn", which sound near-identical in Japanese), because whatever you choose to call it, it was goddamn spectacular. When you read this part in the manga, you were supposed to understand immediately why Saturn was so feared... next week's finale will show the full extent of what happens when she drops the Silence Glaive, but this... oh hell, it's been so long since I first read the manga (fifteen years!) and fell in love with this scene, and I never thought I'd see it come to life like this. I am seriously grinning like a loon right now, my arm hairs are standing on end, and I love it.

We may or may not get Crystal versions of SuperS and Stars, but even if it ends after next week... I'll be happy. Justice has been done.

Anyway. That's enough of me gushing. I'm determined to get Book II Chapter 4 finished this week, and to make the final push for submitting Book I to Amazon. That's priority #1 right now, but when I get it done I'm planning to finish up my Zoids photo project, with or without the special effects. Today's high should hopefully translate into extra energy for all of my projects, so bear with me just a little longer.

- BHS