I spent most of today scrambling to finish SS Ch. 15... it was only an hour or so ago that I realized I was never going to be able to get everything I wanted in this chapter and do it justice. The ramifications simply demand another chapter to themselves... so I made the difficult decision to cut it, put the rest in Chapter 16, and start with the Madokaverse with Chapter 17. It was necessary, I know, but I still can't help beating myself up over pushing this back yet again. I mean, I was hoping I'd get to Act 2 by the one-year mark, and now it's going on 1 1/2... sigh.

My Zoids building/spending spree is now officially over, now that the HMM Berserk Fury is finished. I wish I had more and better pictures to show you all... I was working on compositing an image of the Liger Zero and its CAS transformations, but I hit a wall with the effects. I don't know why it's so difficult to find Photoshop tutorials for how to create jet engine exhaust, but until I find one that works that picture will have to be on hold. There's another idea I have with the LZ and BF fighting each other that I may be able to put together in the meantime, though.

Please enjoy these pictures of the BF and Zero Panzer while you wait.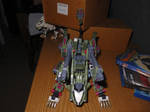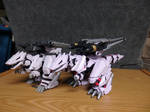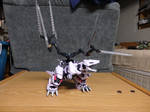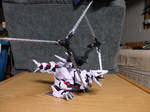 And that's about it. I'm going to go see Captain America: Civil War as soon as possible, ideally before my next Blogress Report, so next week should have my thoughts on the movie and whether or not it kicks Murderman vs. Snyderman's ass (spoiler alert: it will)

- BHS


In all fairness considering the quality of the chapters you put out I think something like this can be forgiven.

By the way have you heard about the CardCaptor Sakura manga sequel?

Yes, I did indeed! I'm torn between excitement for more CCS and sheer terror that whatever happens in it is going to make a mess of my post-series fanon. I mean, yeah, what's happening in the Sakuraverse in Shattered Skies is an AU, obviously, but still...