This week has mostly been occupied with petsitting jobs in my neighborhood. I normally enjoy taking care of animals, but this week's in particular are giving me no end of trouble, and I'll be glad to see the end of this job.

I'm getting myself ready for the start of the new anime season. JoJo's Bizarre Adventure: Part 4 starts on Friday, and the third season of Sailor Moon Crystal (INFINITY ARC! WOO!) starts next Monday.

I got the bulb replaced in my lamp, so my photography projects are back on track. Expect some beautiful high-res shots of Destoroyah soon. Figuarts Cure Flora just went up for pre-order as well, so she's a definite must-by. I wish Bandai would cease and desist with making the Precure figures Tamashii exclusives, but I should still be able to order her thanks to the good folks at Nippon-Yasan.

In addition to finally finishing Chapter 14 of Shattered Skies, I've come up with some interesting for the next chapter of Tasakeru, which I'll be working on this week.

BHS v. Productivity: Dawn of...




MISCELLANEOUS JUNK


Please forgive that preceding joke, it's the first one I came up with. I assure you all, I have no intention of further feeding Zack Snyder's bloated ego. As I feared, the horrific reviews of Batfleck v. Snyderman did nothing to keep it from winning the weekend box office... but there's still hope that toxic word of mouth will give it a big drop-off in week 2.
Last week's Agents of SHIELD was a fantastic episode, but a worrying development for the series. It was inevitable, yes, but I'm concerned that the main show will suffer now that Bobbi and Hunter have departed for their spin-off. They brought a lot to the ensemble, and everyone else is going to have to work harder to fill in the holes they've left.
I honestly don't have a third bullet point for this week, so instead, please enjoy this shot of Destoroyah with his new effect parts: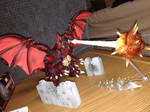 Next week will have Sailor Moon Crystal and JoJo thoughts, so keep watching!




>week 2
Dude, you don't even have to wait that long. It's already plummeting like the Chixalube asteroid.

Good, because after reading
Rob Bricken's Spoiler FAQ
, Snyder is now up there on my entertainment shit list along with Ken Penders.