Tasakeru Book II Chapter 3: 3 pages done
Shattered Skies Chapter 14: 10.5 pages done
Ugh. My allergies are murdering me today. Because of that and because nothing of much note happened this past week, this Blogress Report will be very short. I did get some excellent stuff down for both Tasakeru and Shattered Skies, the latter of which I'm trying again to finish this week.

EDIT: I almost forgot. I decided to post a quick short story thing I did on a whim last week on my assorted short fiction blog, Fourth Wall Stories. It's called "Spirited Debate", and people seem to be getting chuckles out of it. Take a look!

I'm four episodes into Daredevil Season 2. Everyone in the cast is still terrific and Jon Bernthal is spot-on as the Punisher, but a more detailed analysis needs to wait until I finish it.

Mahou Tsukai Precure needs to pick up, and fast. It's not a bad show, but seven weeks in, it hasn't done anything to stand out from its predecessors, aside from the form-changing. It's plenty cute, Riko is still adorable, and the ED sequence is fantastic, but the rest is just bland. There hasn't been a single fight scene anywhere near the quality of the ones in Go Princess, and what few hints they've given of an ongoing plot aren't cutting it. Granted, we are still in the exposition/set-up phase, but I'm starting to lose patience.

Anyway. Here's some shots of my new MonsterArts Destoroyah figure in all its terrifying glory. The detail work on his sculpt is just astonishing... Better pictures will come later this week after I replace the bulb in my floodlight.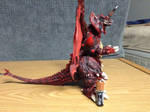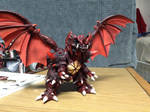 I'll have more for you next week, allergies permitting. Oh, how I hate the first week of spring...

- BHS