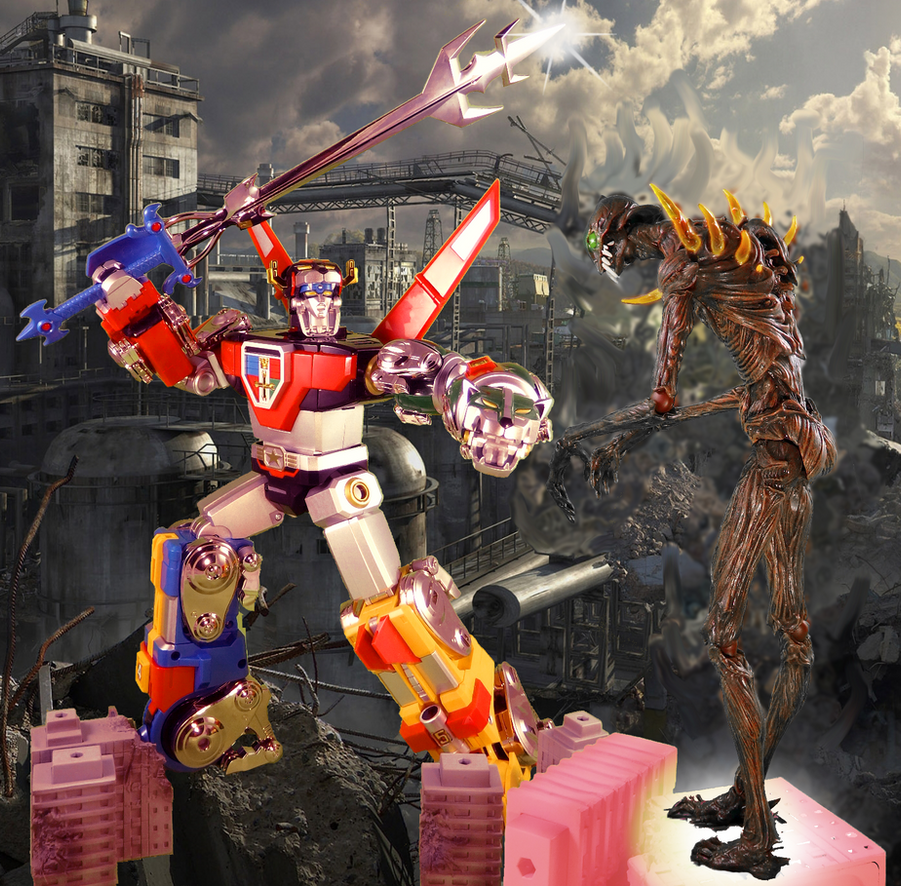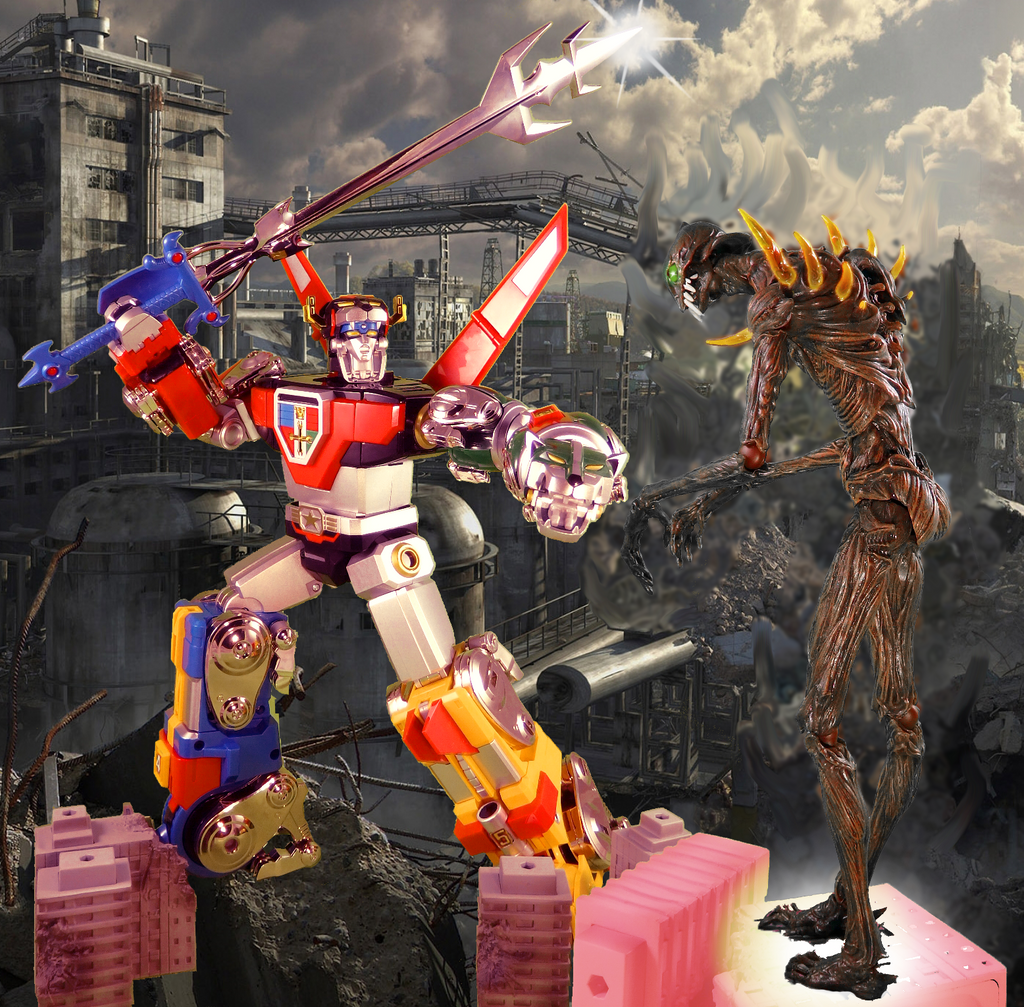 Watch
"Activate interlock! Dynotherms connected! Infracells up! Mega thrusters are go! LET'S GO, VOLTRON FORCE!"


Now, I've never actually seen the original Voltron (or either of the two anime it was adapted from,
Golion
and
Dairugger XV
). It was a bit before my time. But I damned well
recognize
Voltron... other than the original MMPR Megazord, no other combining super robot is as iconic to American audiences. My first exposure to Voltron, in fact, was in 1994 as a young kid, at a thrift store which had someone's vintage Voltron for sale. As I was nine years old at the time, I couldn't tell you which of the many,
many
Voltron toys it was, but being as I was all about the Zords at the time, I remember thinking: "It's like the Megazord, but with lions instead of dinosaurs! How
cool!
" I ended up passing Voltron up in favor of DX Titanus, but I knew I had seen something special.
Fast forward to this past June... I follow news of new figures and Japanese toys very closely, so when I saw an announcement for Bandai's Soul of Chogokin line that had the iconic shape of Voltron's head and shoulders partly silhouetted, and the words "COMING SOON"... I think my first reaction was "Holy
shit
, this is going to make the classic mecha fans lose their goddamn
minds.
"
I was privileged enough to get hold of the SoC Gunbuster about a year ago, so I swore that when SoC Voltron came out, if I could possibly afford it, I'd buy one for myself. Even though I had never seen an episode of classic Voltron, even though it was sure to be expensive. Because, as any collector will tell you, the SoC line is just
that
good.
So it's finally here. Was it worth the expense?
ABSO-FRIGGIN'-LUTELY.
I've taken a close look at some of the dozens of combining Voltron/Golion toys ranging from the original Japanese one from 1981 to Mattel's recent "Masterpiece" Voltron to notable third-party entries like Mad Toys' "King of Beast", and Soul of Chogokin Voltron blows all of them away. It's heavy, it's solid, it's made with copious amounts of die-cast metal (it's a lost art...), its articulation is phenomenal considering that its transformation is
both seamless
and
show-accurate, its engineering is incredible, and it has pretty much every gimmick and accessory one could possibly want. I can unequivocally say that SoC Voltron is both worth every penny I spent on it, and worth the 35-year wait for a
perfect
Voltron toy.
So here's the big guy himself, taking on my Figma Giant God Warrior from
Nausicaa
(more specifically, the related Gainax/Studio Ghibli mini-feature,
Giant God Warrior Descends on Tokyo
).
I have a full unboxing gallery showing off SoC Voltron's bevvy of features on
my Google Drive
if you want to see more.
Oh, and it's more-or-less due to this toy that I've started watching Netflix's Voltron: Legendary Defender. Yet
another
plunge into fandom. I'm doomed.
Special thanks to
EVAUnit4A
, whose reviews on
CollectionDX
convinced me to spring for Chogokin in the first place. My wallet will never be the same, damn you.
Background is from
Wall321.com

Form Blazing Sword!

*SLASH*
Reply

Funny enough, I never reviewed any Chogokin for CDX.
Reply

... You're kidding. I could have sworn you did! I know Chogokin was mentioned in the review of the DX Senpuujin from Hurricaneger, wasn't that one of yours? That review was a major deciding factor in selling my DX Storm Megazord for one, I know that much...
Reply

Reply

There's only one way to describe this majesty.

*inhales*

*in old man voice* OOOHHH MY GAAAAHHHH!
Reply
Reply

It may not be a Robeast, but Voltron still is ready to fight it!
Reply