On this picture is as most of u know

's brother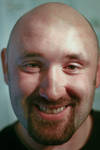 On the 23.02.2007 he was kidnapped in district part of city Sofia in Bulgaria...after that we lost all trace of him regard the fact that the kidnappers were arrested only 3 hours after it happened.
Few days ago I got a news that the kidnappers where released duo lack of evidence, I think that is crazy! Because they have done it in front of 20 people in a restaurant and the inspectors found his blood in their car...they even admit that they kidnapped, beet him and after that trow him from the car....
Me and my family are devastated, it seems that everyone stooped looking for him and that he doesn't exist even for justice ;(
I don't know what to do any more, so i decided to post his picture here, some of u my watcher's are from Bulgaria so if there is chance that someone saw him, or if u can post his picture somewhere where people could recognize him I would be thankful.
For u others:
By posting a comment, journal...or

u can maybe help in finding something about him...more people read this and see his picture...the bigger is the chance to find him.
feel free to post this picture anywhere if it can help....