Firstly, goodness! Thanks to everyone for your overwhelming support, including your comments, watches and favourites! An emerging artist certainly appreciates the encouragement!

-----
It's set! I've finally subscribed to deviantART and am excitedly browsing the features that have been locked away! Golly, my css is so out of practice that I've used one of the templates and jazzed it up to suit my style. The banner is 100% completely my own, however. Even as I look over at the alterations I made now, I'm scratching my head as to why it works out as logically, some of these numbers and alignments shouldn't be doing kooky things like working out properly. It's still a bit too spaced out for my liking, but I think I will deal with that at a later date.
Anyway. On to more pressing matters! I have several major assessment pieces coming up for uni; three 50% items, and a couple of lesser-weighted-but-equally-important things. Two of them are at least arty, which makes the coming few weeks a little more bearable. For one of my subjects, I must complete a real time 3D model of practically any setting I like. I chose to create a fantasty flower-box land, complete with tiny tree-trunk house, mushroom forest, butterflies, tiny plants, enormous leaves and various other normally-miniature-sized flora. The other interesting assignment is to create a concept map / illustration of a bicycle's journey, diagramatic images of assembling a bicycle, a storyboard of a bicycle and his person, observation drawings of a bicycle in every day life, and an animation of a person riding a bicycle. Peculiar subject matter, but interesting idea for an assignment nonetheless.

Needless to say, the next few weeks are going to be extremely busy getting all of this done.
Finally, an update of my current projects! I'm very pleased with how the Voyage illustrated series was received by everyone who attended the book launch. I still can't actually believe people wanted me to sign alongside Zenobia, the author! It was extremely humbling. During the signings, I was approached by a person who worked at a local cafe, who was interested in displaying my work in West End. I was also approached about potentially working as an animator for a local Brisbane theatre production, whose premise is to mix modern approaches to art with traditional forms, which encompasses acting, sound, animation, design and all other kinds of art. I'm meeting with him next Wednesday to discuss his ideas - the concept for his play is very, very inspiring and very, very interesting!
Anyway, I'm keen to keep exploring these new features right now. Peace!

________________________________________________________________
~ Recent Commissioned Work ~
"The Voyage"
series of Ink Illustrations, featured in The Voyage by
Zenobia Frost
</b>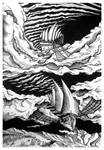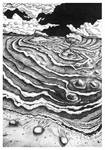 ________________________________________________________________
________________________________________________________________
________________________________________________________________