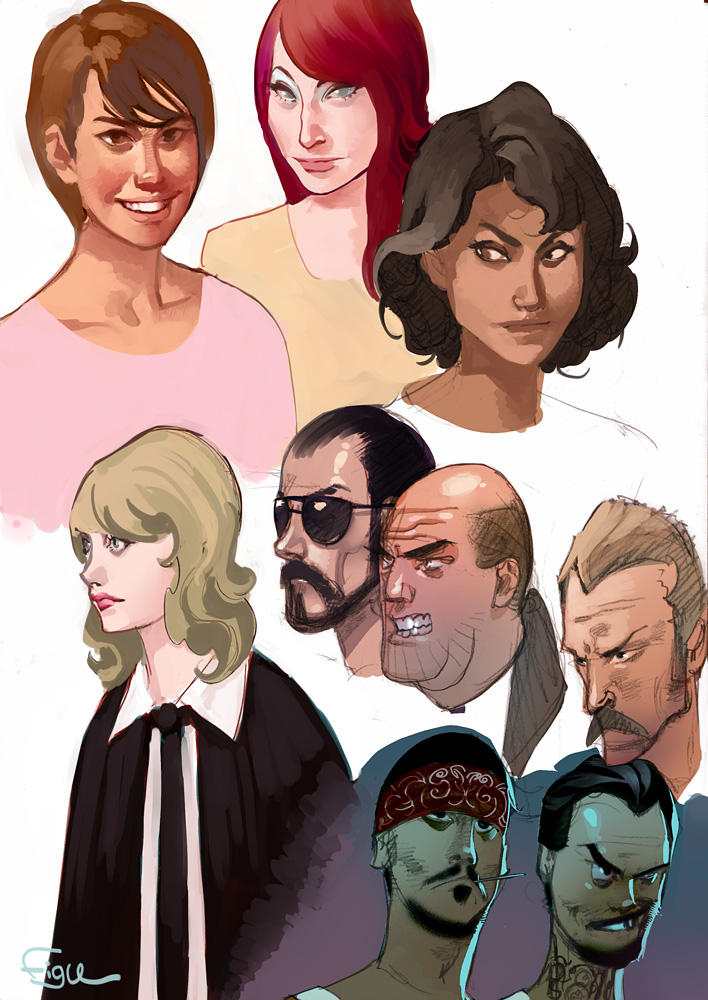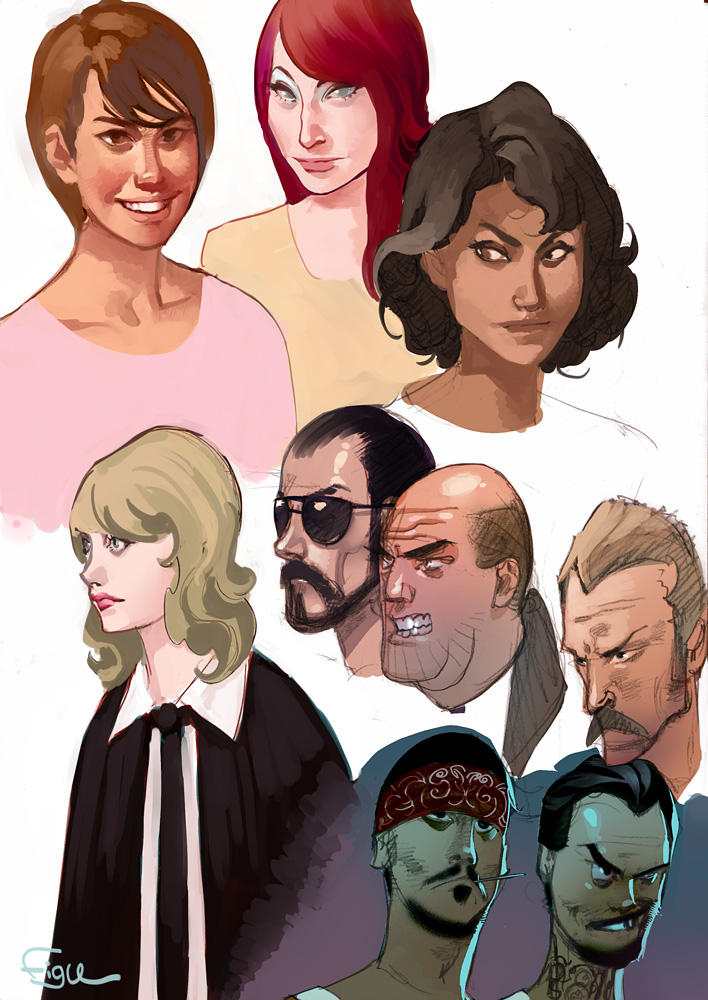 Watch
Mores random drawings, scanned A4 copy paper and colored in Photoshop CS1 and SAI.

I loved the way you used the colors, your drawings are wonderful!!!
Reply

Very unique style ! U earned a

Reply

Reply

These are just gorgeous! Each character drawn looks different, your good with defining different facial structures. I love how you drew the girl on the top right. <3
Reply

Drawing each person unique, to me it keeps it from being a repetitive process, of course if I was drawing a comic I would have to respect the characters features but sketching I just try to vary as much as possible.

Thanks for the commment!
Reply

And another work of yours that goes into my faves, I really like your drawing style man.

You do facial expressions so well, there's a real diversity in facial structures too... I'm still having troubles with those. Maybe I should take drawing classes.
Reply

There's really a limited number of lips, eyes, nose, face shapes... once I memorized all the basic variables (there aren't that many) it's just a matter of changing the distance and scale of the features, the combination is what makes each face unique, of course there are countless variables and regional differences beyond the basic ones so continued research and practice is quite important.

If you can get the Loomis and Bridgman books and take life drawing lessons you're on the right path, I wish I could draw from life with models but where I live not many have any interest in arts.
Reply

I see... thanks for the explanation, it's much appreciated. I'll definitely get my hands on both their books and further expand on my drawing abilities.

I always loved drawing, and I got the feeling that I'll enjoy it even more when I lessen as much as possible all the limitations I currently have.
Reply

The dude in the shades reminds me of a friend of mine :3
Reply

That's quite interesting, I always seem to draw people that reminds people of other people but I can't really say why that happens.
Reply

grandes esboços, grande qualidade, e que tal uma bdzita com esta estética, não?

gosto especialmente dos tipos ao canto inferior direito. Muito bom!
Reply

Obrigado

Sim era algo que eu tinha em mente também, estou neste momento a projectar uma mesa-de-luz para poder fazer BD de forma mais convenientemente, prefiro desenhar em papel com textura mas para inking para mim quanto mais liso for o papel melhor. Tem outras vantagens, posso desenhar as linhas de construção num papel e as personagens noutro, ficando a prancha limpa para o inking, especialmente porque uso minas muito soft desde B a 4B que borram tudo.
Reply

Very Nice! I like the variety of characters and the lighting on the two at the bottom right is cool!
Reply

Thanks! I've always liked the challenge of drawing people of different backgrounds, takes me a while to figure out the characteristics.
Reply

Yes it can be a lot of fun to make your hand pull out those small details that make the person's face so regional and unique! You definitely have a great eye and hand for those details.
Reply