It's nice to meet you! I'm Jade Woodruff. I'm an artist.
I created Bento Studios in 2007 because I love sharing my art. I'm so grateful that there are so many of you who enjoy my art so much that I was able to make this my full time job. Thank you all so much!
I've dabbled in just about every medium ranging from COPIC Marker to digital media. Illustration, Fine Art, and Graphic Design are my fortes.

I sell my art at conventions and on my website at www.bentostudios.com.

Social Networking Sites
Keep in touch!

Facebook - Progress pics, convention pics, status updates, general discussion
Patreon - Help me determine my latest content and artistic endeavors
YouTube - Speed Drawing, art supply demos (eventually - see the Patreon page), other videos
Twitch - Live stream drawing and digital demonstrations
Twitter - Random status updates
Tumblr - Convention Pics
Pinterest - Art and art storage organization, art supply lists and pics, animals

Anime-Planet - Anime reviews and watching/watched status

Commission Policies and Pricing Estimates

All prices include shipping in the continental United States.
Additional charges will apply to international and oversized shipping.
I ship via USPS 2 - 5 day shipping from Florida. If you require a tracking number, please tell me in advance.
If you need expedited shipping, please tell me up front. There will be additional charges for faster shipping options.
All art quoted below (unless otherwise specified) will be created on 8.5x11" Fabriano Bristol+ paper.
All commissions include an art sleeve and hard backing.
All commissions are shipped on Mondays unless other arrangements are made before work is started.
Commissioned work will be completed within 1 week after a 20% deposit is made.
I accept payment via Paypal and DeviantART.
20% deposit counts toward final cost.
No art will be shipped until the full payment is made and received.
No art will be started until the down payment is made and received.
How I Price My Art
My commission prices vary slightly, depending on the complexity of the art. A simple portrait will be less expensive than a fight scene.
I price my art at about $12 per hour plus a little to cover supplies.
I do not charge more for Original Characters.
I do charge more for stippling.
I Create Art Using
COPIC Markers
Pigma Micron Pens
COPIC Multiliners
Fabriano Bristol+ Paper
Ampersand Claybord
Staedtler Mars Lumograph Graphite Pencils
Windsor & Newton Ink
Prismacolor Colored Pencils
Photoshop for Digital Art
My Commitment To You
Your art ships on time and gets to you on time.
Honest, up front turn around times and pricing.
Open lines of communication.
Detailed art that fills the full space available (or at least about 90% of it).
Progress pictures and a final sketch that you approve before I start inking.
Quality art that will last for years on display.
Pricing
Prices are calculated based on time ($12/hour) and some materials cost to cover my overhead. Shipping is complimentary for all continental United States shipping.
Convention pricing is less expensive. If you will be at one of the conventions I'm attending and would like to pick up your art there, please let me know and I'll apply a 20% discount to all 8.5x11's and a flat $10 discount to all sketch card prices. Thank you!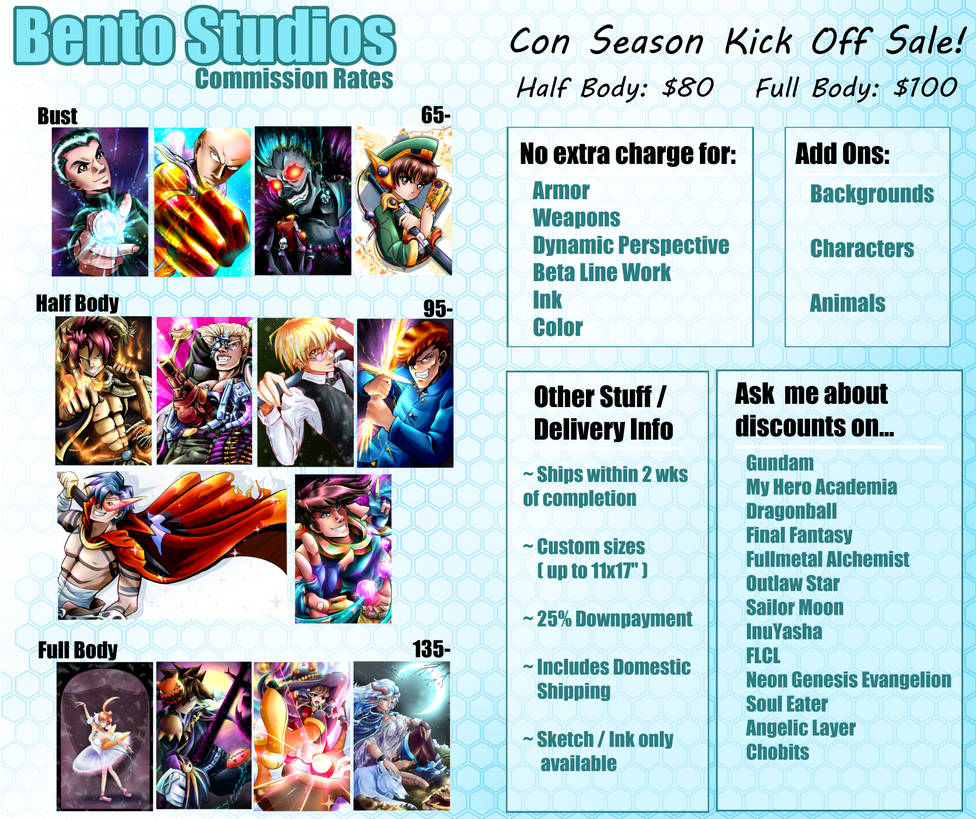 Social Networking Sites

Keep in touch!

Facebook - Progress pics, convention pics, status updates, general discussion
Patreon - Help me determine my latest content and artistic endeavors
YouTube - Speed Drawing, art supply demos (eventually - see the Patreon page), other videos
Twitch - Live stream drawing and digital demonstrations
Twitter - Random status updates
Tumblr - Convention Pics
Pinterest - Art and art storage organization, art supply lists and pics, animals

Anime-Planet - Anime reviews and watching/watched status