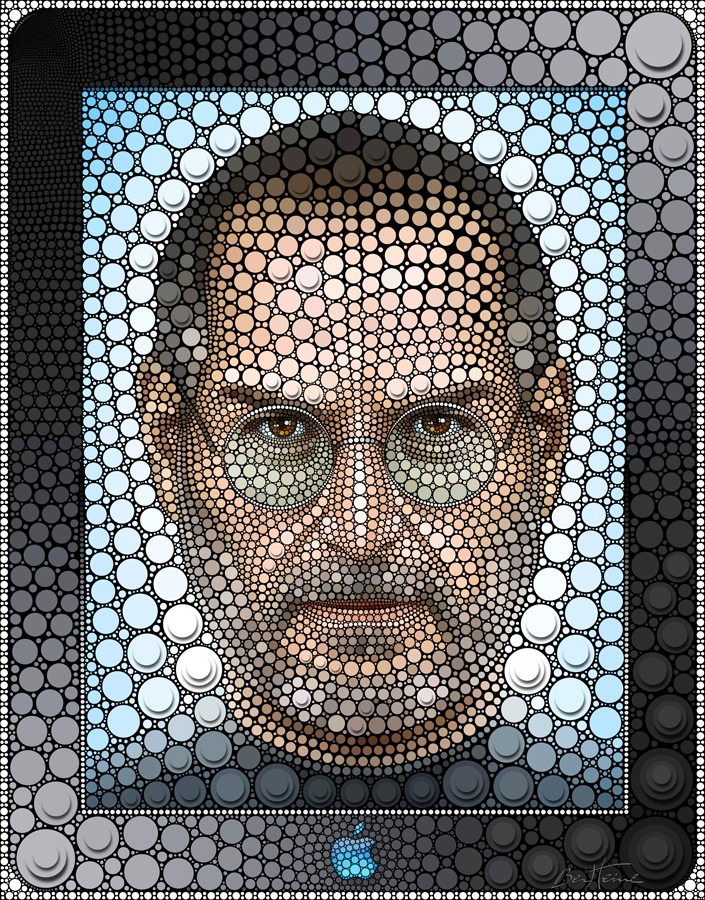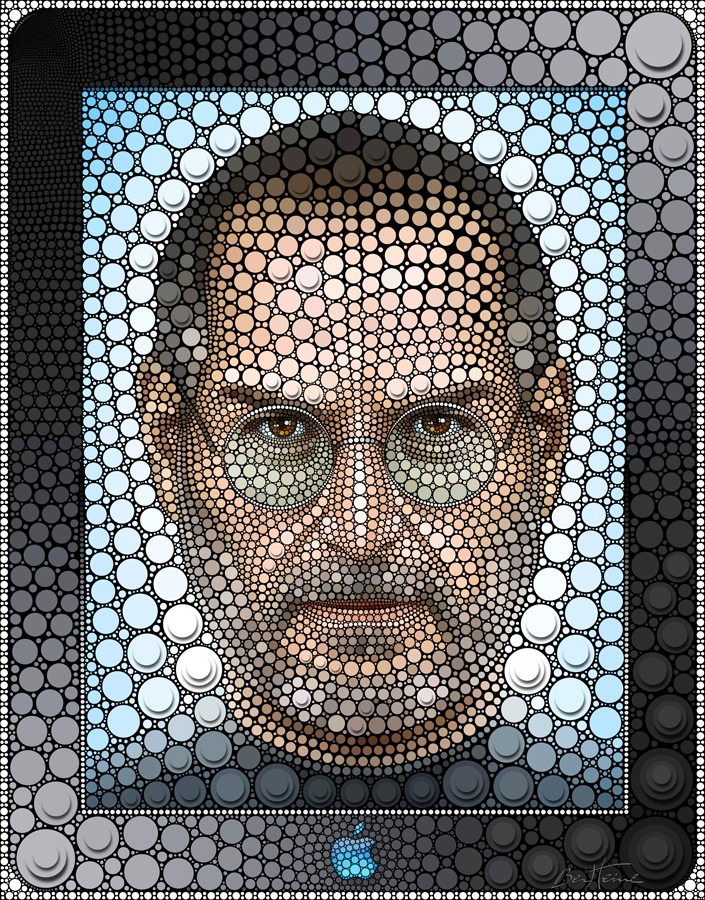 Watch
NEW: I'm now making music, JOIN ME ON SOUNDCLOUD!

NEW: Prints of this artwork now available!
For a visionary man who changed the way we live and communicate... RIP
You can see some details here:
www.flickr.com/photos/benheine…
This portrait is only made with flat circles on a black background.
Every circle has a single color, a single tone and a single size.
I placed each circle one by one. It's a time consuming method.
See the full "Digital Circlism" series:
benheine.deviantart.com/galler…
If you wish, you can also view this
making
of my portrait of Elvis Presley
(video) to understand how I'm exploiting this technique with circles...
The above portrait was featured on "
Cult Of Mac
" in March 2012.
__________________________________________________

For more information about my works: info@benheine.com
__________________________________________________
Work in progress:
Other portraits with circles:
Circlism is another kind of art in which I find very interesting. Lots of colorful circles are together assembled perfectly to make a very memorable portrait. The glasses are very neat, the face is very recognizable. Well, that was a very big thing I could say about this. That's the third time I just wrote a critique on your works. You really came a long way, Ben, you really did. That certainly was the best tribute to Steve Jobs that was ever made. Thanks to you, you just paid homage to the legendary inventor of these gadgets. So keep it up.
The Artist thought this was FAIR
13 out of 14 deviants thought this was fair.
First of all I'd just like to say I adore the Digital Circlist works! I'm so glad I found the Pencil vs. Camera series or I probably wouldn't have found these!

I love the detail in this picture, desite how simple the concept is. It is amazing that you have been able to get so much detail using flat colour and simple shapes. I like how the frame is meant to represent an Ipad but still gives the feeling of a stained church window, quite relevant since Steve Jobs has of course left us. The background, too, is sky-coloured (reminding me of heaven) and the light that shines behind his head seems reminiscent of the holy spirit.

I think the expression on his face is very strong; looking at the viewer with power but not a sense of superiority. It is friendly yet aloof at the same time, exactly how everyone in the world had bonded with him by using his technology, but compariably few people really knew him.

I like the way the circles shrink to define areas and are larger to create a smoother background effect. Despite the largeness of the background circles, they don't overpower the smaller face circles, simply because of the depth and definition used in the face.

I can imagine the intense detail that has gone into this picture; the work that went into colour and uniformity, and the perfect layout. I applaud you on creating a simple technique and turning it into something so extrodinary
The Artist thought this was FAIR
24 out of 25 deviants thought this was fair.