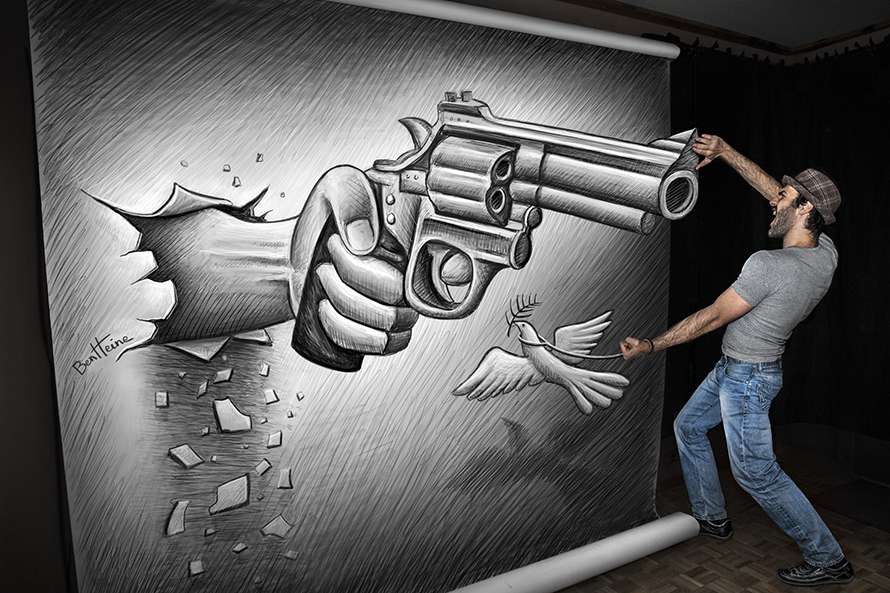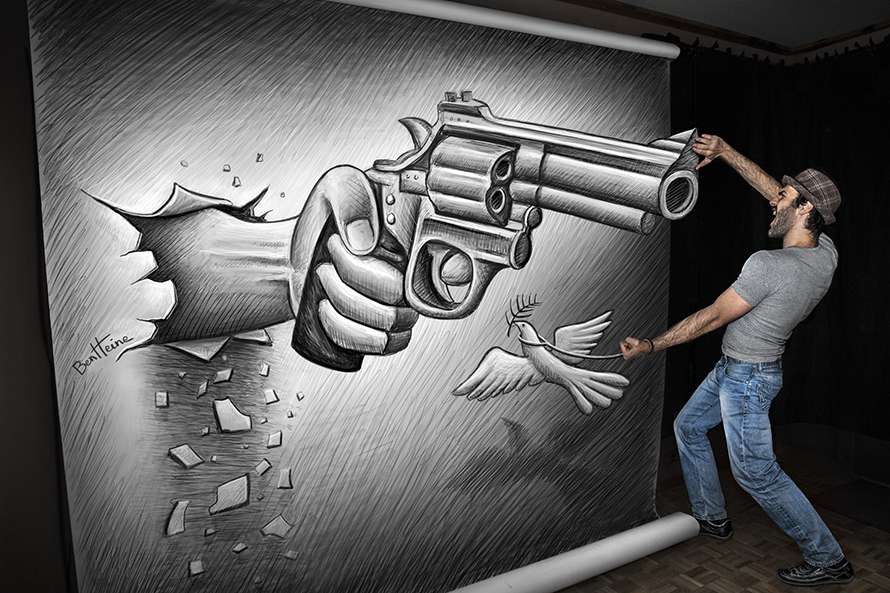 Watch
Gifts
FB
G+
Twitter
Blog
Music
© Ben Heine
__________________________________________________
Choose Peace, not violence.
Bringing a 3D effect in the Pencil Vs Camera series.
More of an experimental work for future projects.
You can view the rough sketch in progress
here
.
Read my comprehensive tutorial explaining how
I made this artwork on tutsplus.comSee the whole "Pencil Vs Camera" albumNote 1
: Parts of the paper have been cut at the end to
give a stronger 3D illusion.
Note 2
: The thin paper was moving each time I was
adding charcoal/pencil strokes due to a small space
between the wall and paper. That was quite annoying.
Next time I do this, I might put the large paper directly
on the floor so that it's more stable and lets me add
some more details.
Note 3
: See how stretched and wrong the perspective
of the drawing looks
from the opposite point of view.
__________________________________________________
For more information about my projects:
info@benheine.com
__________________________________________________
Sketch in progress:
Other Pencil Vs Camera images:
this is truley a marvelous work of art. promoting to keep violence out is truley brilliant. i love these peices very much. splended job with the 3D. this really brings out the hope of peace and tranquility. the way the hand puts the peice of art in with the scene is truly marvelous. a really great work of heart. the level of difficulty to make this art,you can really see how hard this deviant worked on these peices. i will favorite this. its it really genious. truly truly splendid. I love this very much. great job and keep up the heart felt work
The Artist thought this was FAIR
12 out of 12 deviants thought this was fair.
I asume the revolver is your favorite type of gun, or perhaps you find it the easiest to draw, or most recognizable? Either way I can see you have a lot of fun with your art, and that's what keeps artist going, (of course a few "Great job's" and "Nice art's" are a big help too). Becoming a part of your artwork is a really cool and fun way to show your art.
The hand with the gun was well designed and l pops out like a 3D photo. I also enjoy seeing how the hand rips throught the page.
I see the dove keeps you from escaping, a nice touch to the drawing, and very creative. I would've drawn a chain or some, but the dove was impressive.
There's honestly nothing bad I can say about this photo; but if you try something like this again in the future, why not actually tear a hole in the page?
The Artist thought this was FAIR
19 out of 19 deviants thought this was fair.