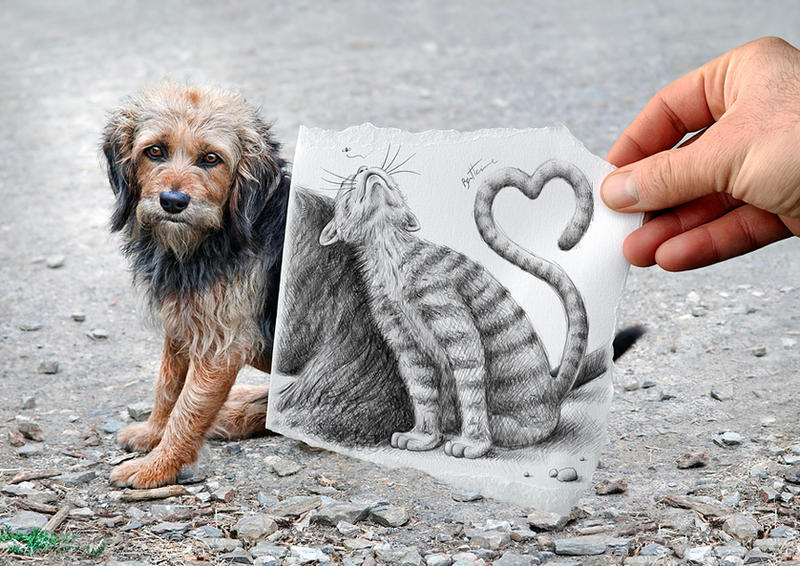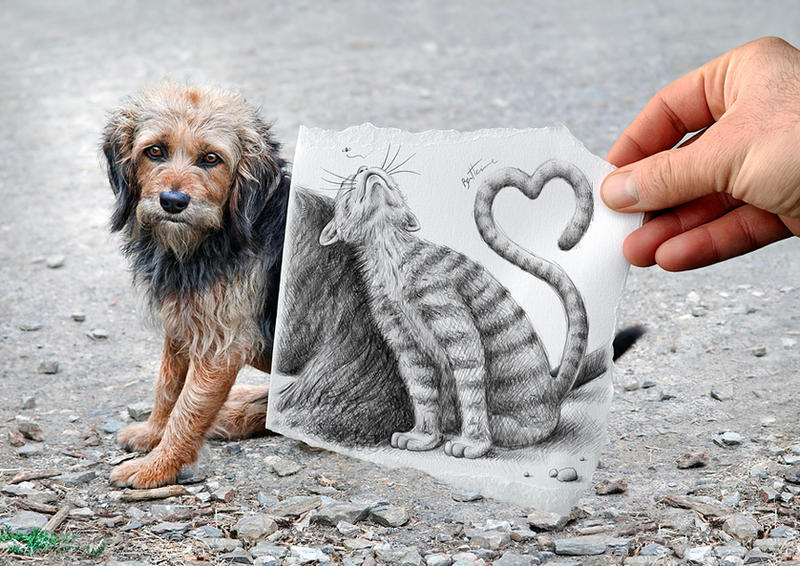 Watch
No matter the reasons or the circumstances,
I love you today more than yesterday!
A quick sketch I made while I was in Spain some time ago.
That dog was standing there, alone, looking at me. So cute.
I thought he needed some good company...
If you wish you can view a random detail
here
Prints of the above artwork now available!
Also purchase a bigger jpg version to have it as a wallpaper!
View the the full
Pencil Vs Camera album
The above picture has been shot with the
Samsung NX11
>>>
Review from THE TELEGRAPH for this picture
:
A cat
seems to snuggle up to a dog in this picture from the Pencil Vs
Camera series by Belgian artist Ben Heine. The 28-year-old takes
colourful photographs of people or landscapes but covers a part of
the image with a pencil sketch. The sketch adds a bizarre twist to
the picture and acts "like a magic door to a fantasy and surrealistic
world"
(
The Telegraph
, Dec. 2011).
>>>
Review from THE SUN for this picture
:
"Dog's life ... cat
cuddles up to pooch"
(
The Sun
, Dec. 2011)
____________________________________________________

For more information about my projects: info@benheine.com
____________________________________________________
Random features:
I was looking around dA, and I stumble on this amazing....portrait+drawing. It's amazing. Never in my life have I ever seen anything so original. So beautiful.
VISION
:
Oh yes, I can clearly see the vision here. It's perfectly clear! A dog sitting all alone, and you, the great artist you are, brings a friend into its life through an amazing piece of art. I would've never thought it was possible for something like this to ever be created, and yet, someone, has been actually right here on dA, creating art like these, and I haven't noticed it. And that amazing artist, is you, my friend. 5 stars to this beautiful piece!
ORIGINALITY
:
Never before have I ever seen anything with this idea. It's original! It's exquisite! It's one of a kind! I'm guessing you created this idea? If you did, fantastic job! 5 stars!
TECHNIQUE
:
Ah, yes, for the technique, I do have a few parts for it.
Anatomy
For the anatomy, it's beautiful, each part of the cat drawn perfectly and beautifully. Though, I recommend working on the paws. At first glance, the paws looks fine, but after looking at it for a while, it looks somewhat a little too big for the cat? Though I'm not sure, great job!
Shading and Art Form
It's very pretty indeed. The shading seems perfect, the lighting and all those. And for the form of art, I love it. The way you did it is great. Even I myself could not do such great traditional art.
All in all for the technique, 4.5 stars!
IMPACT
:
There's nothing else I could say. That masterpiece has left me dumbfounded. It's so creative and imaginative in it's own cheerful way. Looking at it makes me feel great. Cheers me up, too. Impact is a definite 5 stars!
So, altogether, it's an amazing art. Special in it's own way, with it's own upsides, which is a considerable lot, and downsides, which is only the cat's paws I guess. Anyways, awesome job, great work, and keep it up!

The Artist thought this was FAIR
82 out of 83 deviants thought this was fair.
This is a stunning peace of art with no shadow of doubt. The creativity is my best description for your collection of photo + illustration. That I know of I have only found you to have this kind of art. About the quality of the photo, it is awesome, nice and sharp. The illustration is marvelous as well and it really matches the rest of the photo perfectly. I really love the perspectives matching the photo and the illustration. The shading is great and it's a very cute artwork. I love the idea of the heart shape on the cat's tail. It really describes love and friendship. My only nip tick would be the hand holding the paper doesn't match so well with the rest of the photo as if it were photographed there. I'd probably lower a bit of the saturation and it would look a bit more natural. (But then again it can be your own style)

Sorry if I miss spelled along the way. English isn't my native language.

PSH
The Artist thought this was FAIR
74 out of 74 deviants thought this was fair.