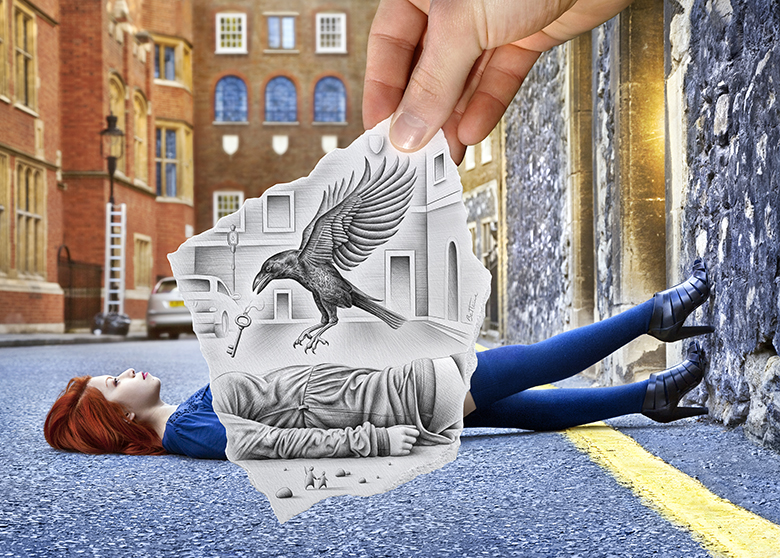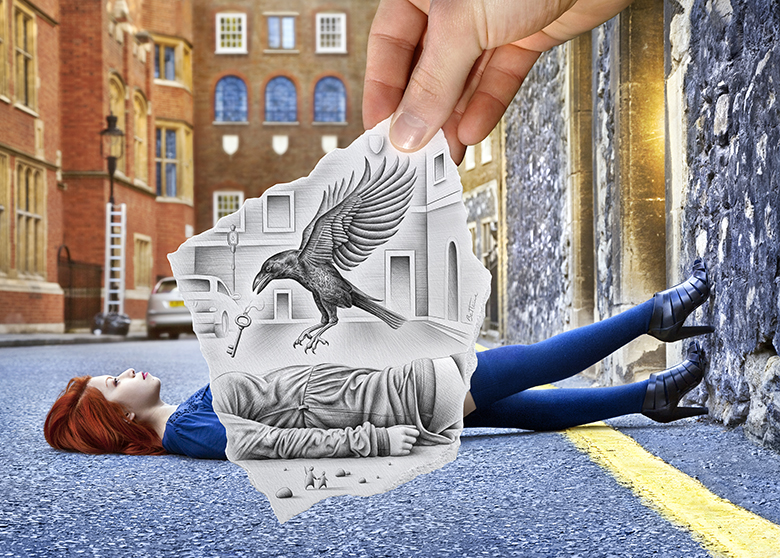 Watch
NEW: I'm now making music, please JOIN ME ON SOUNDCLOUD!
Sometimes, you find the key to your problems in the dark moment.
There is always a magic door and a key near you. The light and the
solution aren't far. Sad events can be a source of enrichment too.
The bird I drew isn't an eagle or a parrot, it's a crow. (If you wish,
you can also view a detail and the work in progress
here
...)
Prints/posters of this artwork now available!
Also purchase a bigger jpg version to have it as a wallpaper!
Model:

View the the full
Pencil Vs Camera album
You can find several interviews about the Pencil Vs Camera
series and about my other concepts as well at
this link
.
The above picture is dedicated to Caroline, the model.
____________________________________________________

For more information about my projects: info@benheine.com
____________________________________________________
Random features:
Daily Deviation
Given 2011-11-12
Pencil Vs Camera -57
by `
BenHeine
"His artwork is absolutely superb and not only shows viewers an amazing story, but one of superb perfection in his technique. His skill in creating these amazing pieces is one that I look up to as a student, photographer and artist. His series, Pencil Vs Camera, takes two amazing forms of art and puts them together to tell an extraordinary story." (
Suggested by TimberClipse and Featured by WDWParksGal
)
This work is beautifully detailed, one of my favourite of your 'Pencil Vs. Camera' works.

The pencil strokes are so straight and fine, it appears your work isn't even pencil. The drawing is so smooth, clear and tidy, in comparison with the rougher bricked area of the photograph, this is a wonderful juxtaposition.

The model is also dressed wonderfully, her hair clashing nicely with her clothes, and her shoes blending into the wall as she appears to attempt to walk up it. I like how she appears rested and relaxed even lying on hard uncomfortable ground.

The choice of bird is dark and forboding, yet in your case it is delivering hope and salvation. This is also a great spin off the norm.

A beautiful work, and I love what you have done with these already fantastic photos to create your own surreal spin and include a deeper meaning.
The Artist thought this was FAIR
438 out of 448 deviants thought this was fair.
I would like to highlight the Originality of this amazing project "PENCIL VS CAMERA", this is a overture that give us the photographers a new way to interpret the photography, a new way to combine the real world with the imagination.

This picture particularly caught my attention first of all because the perfect execution, the expression of the girl, the colours of the dress and her red hair make a perfect combination with the background, and obviously the great concept that gives the design overlapped in the photo.

This work requires a big amount of creativity, great talent and moreover a beautiful model.
The Artist thought this was FAIR
70 out of 73 deviants thought this was fair.