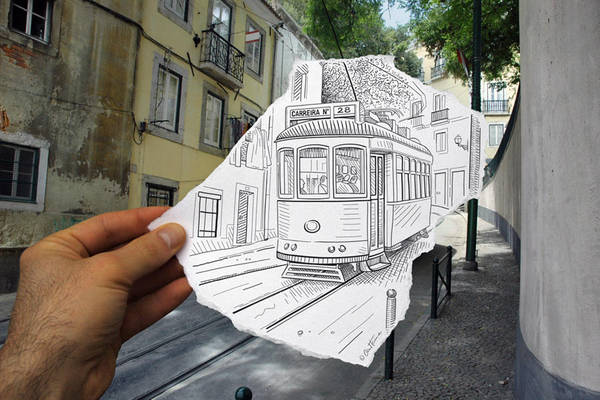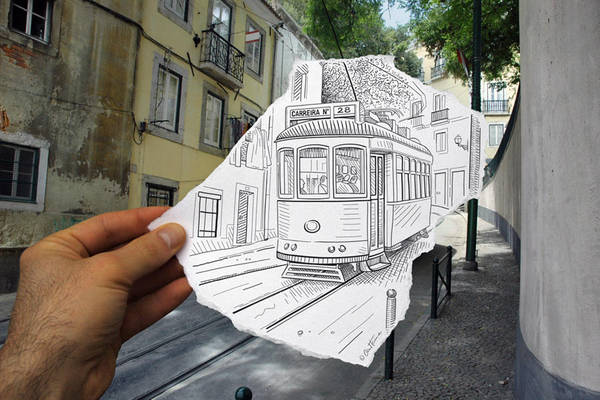 Watch
NEW: I'm now making music, JOIN ME ON SOUNDCLOUD!

SHOP: www.icanvas.com/canvas-art-prints/artist/ben-heine
This is the legendary "Tram 28" in Lisbon, Portugal. It runs through
the narrowest and steepest streets of the Alfama district. I drew the
sketch and took the photo.

View the the full
Pencil Vs Camera album
>>>
Review from THE DAILY MAIL for this picture
:
"Hitching a
ride: An old-fashioned tram is seen rattling through a quiet street...
but there's more to this than meets the eye"
(Kerry McQueeney,
The Daily Mail
, Sept. 2011)
__________________________________________________

For more information about my works: info@benheine.com
__________________________________________________
Random features:
Tram 28
A poem by
Peter S. Quinn
Lisbon, Portugal
In a tram 28
A drawing erasable
Or a living state
Situation is complex
We are its fact
Visions from our cortex
Those we on react
Dream world between
Is it really so?
Frame of mind seen
The rest we don't know
Daily Deviation
Given 2010-05-19
This piece REALLY caught my eye! The originality was amazing and how you recreated the scene was great! The imagination and creativity you used was wonderful! And the drawing itself was great. I love how the drawing on the paper is cartoonish and left uncolored so it would stand out from the real world! It's also amazing how the paper and the drawing on it matches up completely with the real world background, like it's almost actually supposed to be there. So, in terms of creativity and "perfection" (or details) this piece is wonderful! It really show imagination to everyone! Well done~
The Artist thought this was FAIR
95 out of 96 deviants thought this was fair.