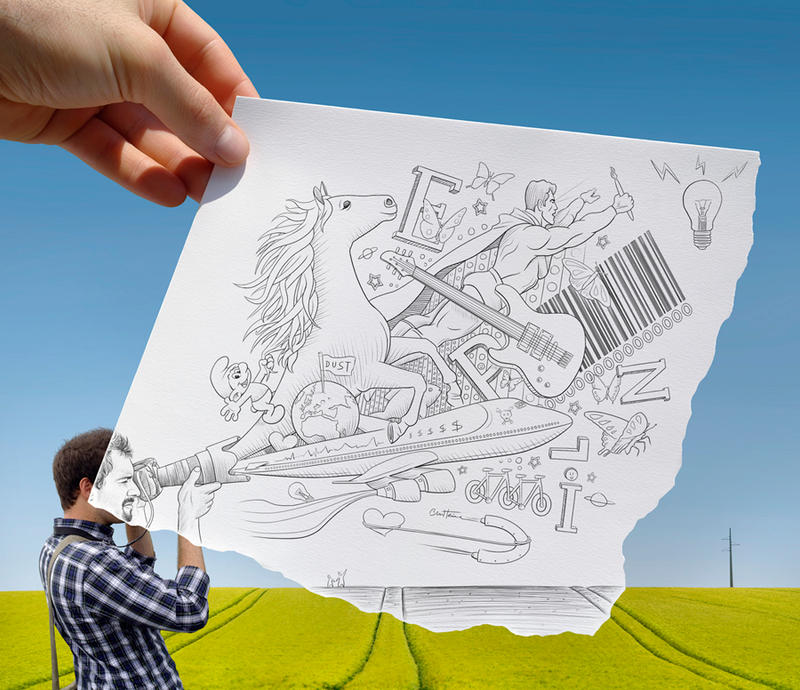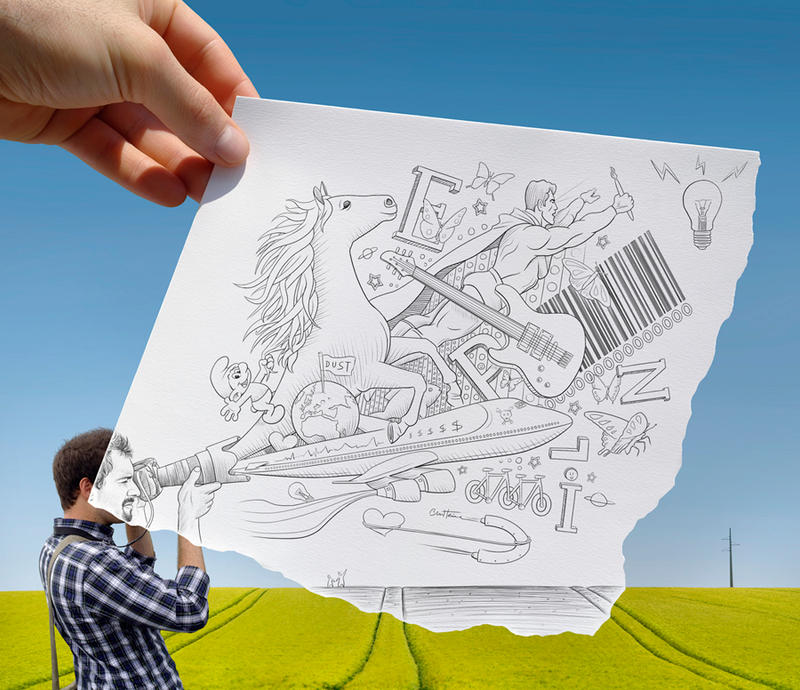 Watch
NEW: I'm now making music, please JOIN ME ON SOUNDCLOUD!
A photographer in search of inspiration...
I recently took this photo in Braives, near Hannut in Belgium. I also made the
rough sketch. I only drew things that came to my mind when I started this
specific project... Sort of an improvisation. The letters placed randomly form
the word "PENCIL". There is "Dust" written on the flag, because photographers
always complain about dust in their lens and because earth is made of stardust...
A superhero is trying to get out of the camera, searching for new ideas, while a
smurf is having fun on a horse... A plane, a horse, a tricycle, butterflies, a bar
code, a guitar and many other objects are getting out of the camera.
This also gave me the idea of a new video series that I might be doing and
posting in the future... Thanks for your visit. The person on the left is Sebastian,
a good friend of mine. The pic is dedicated to him. If you wish, you can view
some details of this picture
HERE
NEW:
Prints of this artwork now available!
(Also download/purchase a bigger jpg version to see how it is made)
The above photo has been shot with the
Samsung NX10
, provided by Samsung
Electronics Co., Ltd.
View the the full
Pencil Vs Camera album
>>>
Review from THE DAILY MAIL for this picture
:
"The camera never lies,
or does it? The photographer's eye is met with this fantastical scene"
(Kerry Mc
Queeney,
The Daily Mail
, Sept. 2011)
__________________________________________________

For more information about my works: info@benheine.com
__________________________________________________
Random features:
Sebastian again:
Sunshine Flower
A poem by
Peter S. Quinn
Day is coming clear as light
With its wings of inside fire
Like the morning onward bright
In its accomplishing desire
Hours drop in together close
With runs and roams of drift
Creation beautiful as the rose
In the mind to go and uplift
Summer sunshine flower
Where little dreams go by
Through the endless hour
From the deep and blue sky
Tranquil wingspan ways
Motions on a weaving stream
Flickering mirror plays
With light that timeless seem
Every look in dissolved freedom
Catching moment of dark way
Giving silhouette ad-infinitum
When its fire lights the day
Echo's flutter in distance yield
Every growth in roots clear
Open heart in artistic field
Now the marvels have opened here
Summer morning shower
Through the day to night
Bringing soothing dower
For the new day and light
Silence flowing yellow glow
For just the two of us
In its timeless motion slow
Of light that comes across
That is ageless on wonder asking
Rising above the earth's hill
Every instants of creation tasking
That you dream must now fulfill
Thru the seconds of their beat
Going higher then all before
On like smoke to realities treat
And opening up again a new door
This one really caught my eye and I must say that it is very different and original in the fact that while showing the realness of it, at the same time it plays with your imagination.
I love the fact that it goes from real to the creative bit so fast with a nice difference and balance between the two.
To me it shows that whenever a photographer looks through the camera at the world they see many things that other miss and cannot see, and that is a good way of showing that everythng the a photographer takes a picture of is linked to the imagination in some way.
I also liked the randomness in the picture- there was no set theme for it so it is like everything came from a different corner of your mind- which shows a large range of creativity.
It was a very good shot and I have to say i like your style in art- bringing two different types of art together- photography and drawings. Good Job!

The Artist thought this was FAIR
56 out of 57 deviants thought this was fair.
When I was browsing your Pencil Vs Camera folder, this one was the one which caught my eye the most.
It's original and very artistic, but at the same time it's fun and gives the viewer a good feeling! To me, it shows that everyone sees something different through the camera, something inspiring, maybe.
The drawing is very well and carefully done and it looks like you've just drawn down some random things in your head, which makes the photo look more fun and 'friendly'? ..(i don't know if photos can be friendly.. but hey!

I had to give this pretty much top score, you can see it's had a lot of thought put into it, it's been carefully done and has a huge impact on the audience!
I'm sorry if I critique badly, I've not done many before!

The Artist thought this was FAIR
6 out of 7 deviants thought this was fair.