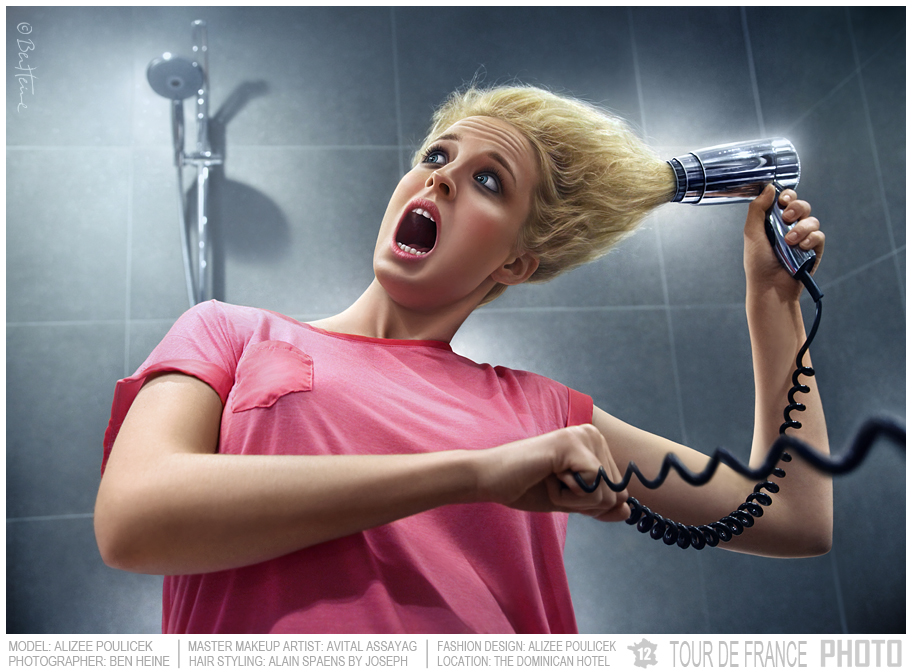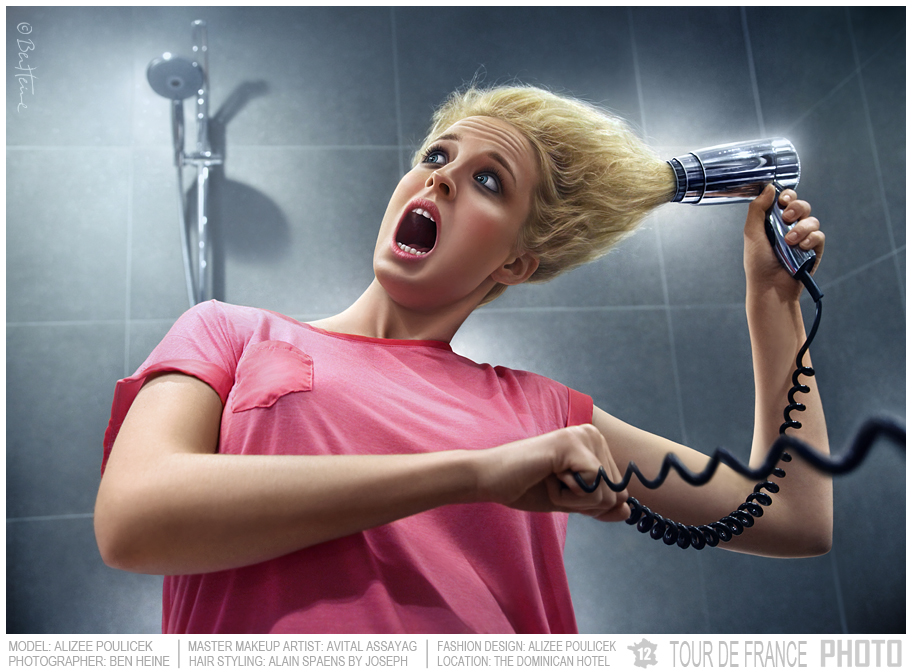 NEW: I'm now making music, JOIN ME ON SOUNDCLOUD!

SHOP: www.icanvas.com/canvas-art-prints/artist/ben-heine
Every woman's nightmare... hair dryer in reverse mode

OK, this was almost an improvised photo while Alizée was
getting ready for our shooting but I spent a bit of time to
edit it and boost every detail of it.
If you wish, you can view some preparatory and some
backstage pictures at
this link
.
I took this photo in the frame of the "
Tour De France Photo
"
Model: Alizée Poulicek
Hair Styling: Alain Spaens by Joseph
Master Makeup Artist: Avital Assayag
Fashion Design: Alizée Poulicek
Photography (+ editing): Ben Heine
Location: The Dominican Hotel
_________________________________________________
For more information about my artwork: info@benheine.com
_________________________________________________
Other photos I took the same day:
Today's your birthday, so I'll be writing a critique for this.

Vision: Although this scene is shocking, I could tell that it looks pretty nice. The lady holding a hair dryer, this action does speak for itself. It's like this thing had a mind of its own, no offense. The background is very pristine, I promise that.
Originality and technique. You still possess a very fine skill in photography. The model does great with the acting, of course. The background and props are well-arranged.
Impact: I may be shocked at this one, but still I'm very much impressed. I love it.

Happy birthday, Mr. Heine!
From:
Rick Robin P. Cagnaan
The Artist thought this was FAIR
15 out of 17 deviants thought this was fair.
This is a fascinating piece indeed, and I love the motivation behind the idea and the way that you represented it. The expression in her hands are beautiful, particularly the fist, and admittedly I find the bit of her gripping the blowdryer cord quite enhancing to the picture in general, even moreso than the expression, truthfully! She is pulling the cord out from the audience with the stress and tension that she is clearly under, and I see it as being quite successful in stirring emotion, whether the viewer may notice it consciously or implicitly. Playing with visual perspective, like what you have shown here, is something I have always considered quite successful in both photography and illustration trying to express a message, and you definitely hit the mark.

Overall, it is quite clearly a heavy conceptual work of art; most of your work is, after all, and I have always loved it that way, but the dilemma stands solid: Are you pitching a photograph, or a painting? There's a point where over-processing can undoubtedly change the medium of a picture, and it's been pushed to the limit on this piece, here.
Her hands look real, her shirt looks real, but much of her surrounding character does not, and her head, above anything, looks far from convincing in regards to a realistic portrayal. Both her expression and the highlights around her body are exceptionally successful to the piece in a cartoon-esque fashion, but not to the advantage of a real photograph. You can see it more than anything in the excessive shine of the blowdryer, the lack of texture in her skin and the lack of wrinkles in her face and neck, particularly around the mouth and along the cheeks; it overall just looks too perfect, and she gives off the impression of a doll, because of it.

Now I see the advantages to this, and I see the disadvantages, depending. If you were indeed intending to express more of a cartoon-esque notion to begin with, you have succeeded quite a bit, and I commend you for that! I would only recommend then that you work on toning down the segments of her body that look too real to be a cartoon, that way everything looks evenly distributed and not so patchy between the two worlds of different perspective.
If a photograph then is more of what you are going for, then yes, work to make your subject look stunning as ever, but don't forget that wrinkles and texture are normal, add conflict and personality to an individual's expression and character, and keeping a subject looking real is more important than making them "perfect"; people aren't perfect! Adding more wrinkles and creases in her skin, varying from her arms to her face, will actually add significantly to the emotional value of the piece, and I would highly recommend pulling out as much of that absolute terror as you possibly can manage! As stated previously, the emotion in her lower right fist gripping the cord is overwhelming, it's beautiful, and easily the strongest piece of the photograph. Now let's mirror that tense grip to the other hand holding the blowdryer; she needs to be squeezing the daylights out of that machine that's pulling on her head!! Add a little tension and tone to her arms, a little strain to her neck, and put the definition of horror into the natural creases and textures missing from her face!! Let's feel that tension between the blowdryer and the woman pulling away from each other, first hand!! Fully communicate to your viewer what it is this woman is going through, and make them feel it too.
It's moving in a fabulous direction, now let's pull on it even more!!

In conclusion, this work of art was fabulously portrayed, and the expression at hand has easily been shared without effort to each and every viewer that has come across it thus far. It's a bit patchy between the world of photography and the world of digital manipulation, but only work to improve for the better! This piece is still undoubtedly gorgeous. You have potential with the styles you are using, and if you do more emotional pieces like these in the near future, I undoubtedly see a quick improvement with this direction soon enough! I promote emotionality in your future work, and will be looking forward to any similarly themed pieces in the future!

You have a beautiful imagination for conceptual work, and great ideas to express them with! Keep at it, Ben.

Sincerely, a long-time appreciator of your work,
~ Miss Cat
The Artist thought this was FAIR
5 out of 5 deviants thought this was fair.