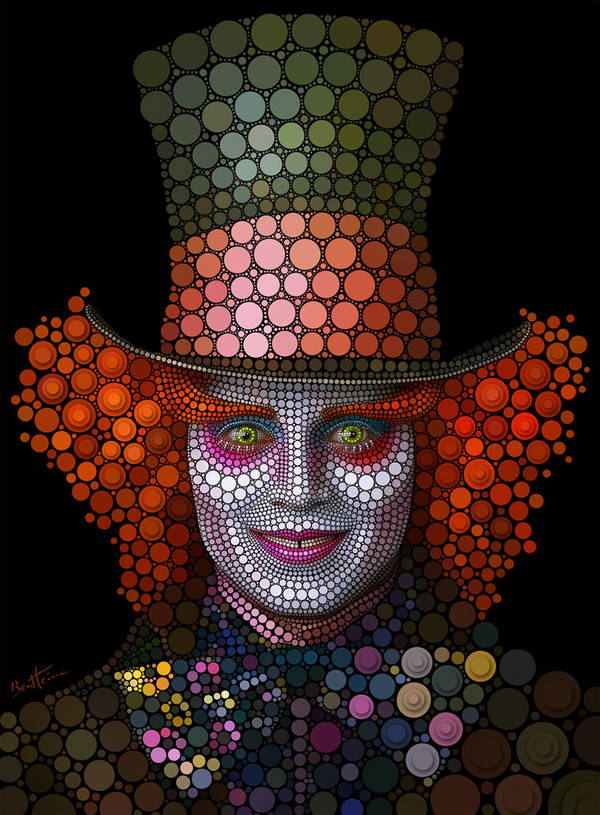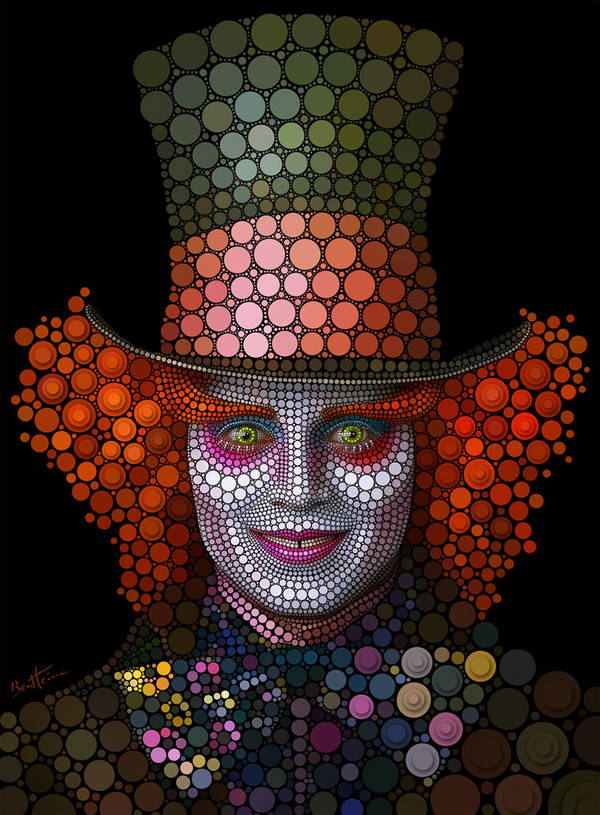 Watch
NEW: I'm now making music, JOIN ME ON SOUNDCLOUD!
Purchase a bigger jpg version to see how it is made.
This is my portrait of Johnny Depp as seen in Tim Burton's movie "
Alice in Wonderland
".
Each circle is made of a single color and a single tone on a black background.
It took me several days of work to finish this...
__________________________________________________

For more information about my works: info@benheine.com
__________________________________________________
Work in progress:
More Circlism:
There Once Was a Mad Hatter
By
Peter S. Quinn
There once was a mad hatter
That hard is to describe or define
For he didn't understand matter
Nor why he was four feet nine
He drank all day coffee and tea
And babbled on with his friends
About his world ideas and ABC
How one thinks and comprehends
He thought he had vast knowledge
Of everyone's ideas for a hat
The forest animals were his college
In every his approach and habitat
At times so peculiar spoken was he
With tongue of gibberish talk
That every vague became clarity
Like that of the clock's ticktock
His ways were at times rather odd
With too much of nothing to do
And all the animals him applaud
To see each way vaguely through
For knowledge is something to seek
And transport to the other end
Where no one can obviously speak
Or anything at all comprehend
Well, first thing I said when I saw this was 'Wow'. Just 'wow'.
This is a very peculiar and very beautiful deviation, and its very original.
I browse through deviants' art all the time and I've never seen something so interesting...
I've looked at all of the deviations you've done with this style, they're all very amazing, but I like this one the best.
One of the things I absolutely admire and adore in this picture are his eyelashes and eyes, I don't know how you could have done this with such precision, you're very talented.
Another thing I like is the cheek bones you put onto him, it looks almost identical to him! Its very well done!!!
There is only one thing that I am a bit stuck on....I was just wondering why on the right side the circles are bigger then on the left side?
It still looks fantastic, but it just throws me off a bit.
Altogether you've done a great job with this piece and it is by far my most favourite piece of art so far that I've seen on dA!

The Artist thought this was FAIR
93 out of 95 deviants thought this was fair.