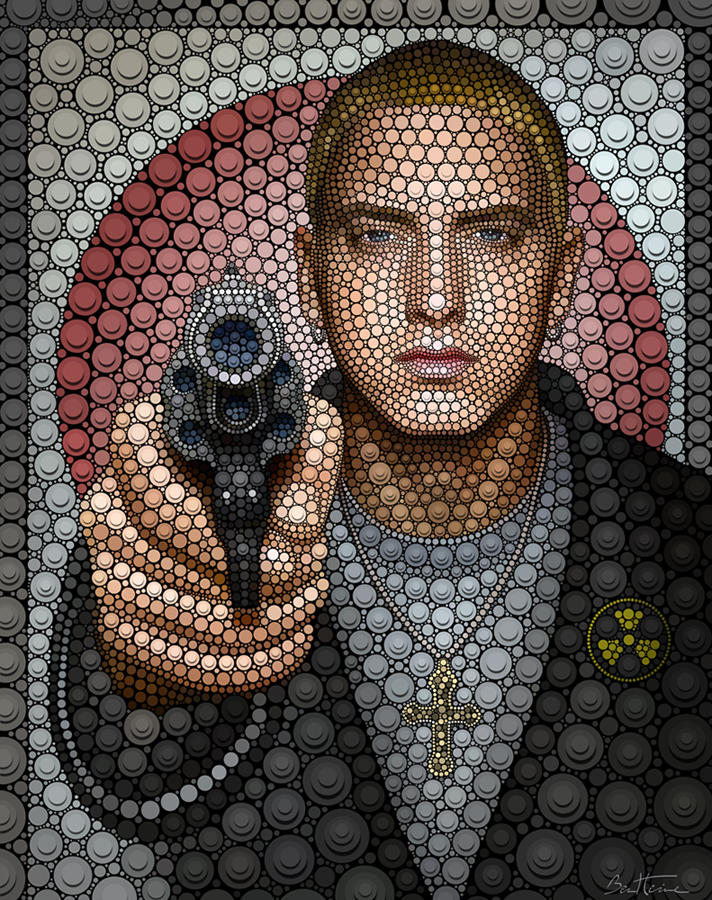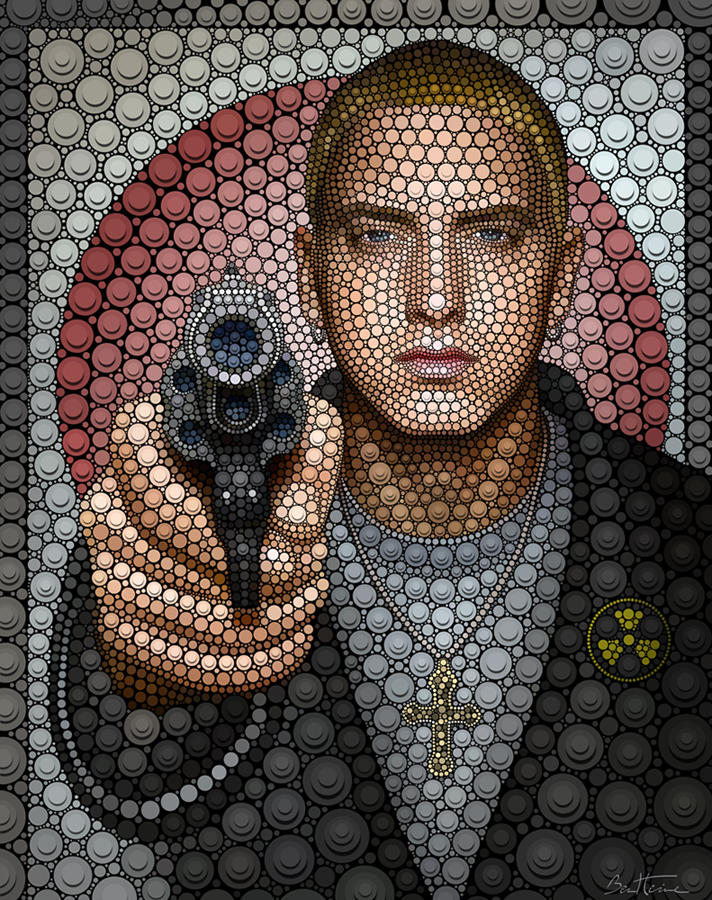 NEW: I'm now making music, JOIN ME ON SOUNDCLOUD!
NEW: Prints of this artwork now available!
This portrait took me some 9 days of intense work (please also see some
details
and the
making
). It is exclusively made with "flat circles" on a black background. I first made a photomontage using several references, then a digital painting and I finally applied my
"digital circlist" technique
(I placed each circle one by one, there is no automatic process). Every circle has a different color, a different tone and a different size. It's a time consuming method. I wanted this image to reflect Eminem's personality. He may be a controversial and provocative singer, I think he's an extremely clever and interesting person, he always comes up with some completely amazing stuff, with new, powerful and unexpected lyrics and melodies. He is a poet of modern times.
__________________________________________________

For more information about my works: info@benheine.com
__________________________________________________
Making & detail:
More Circlism:
More facts about
Eminem
:
Marshall Bruce Mathers III (born in 1972), better known by his stage name Eminem, is an American rapper, record producer, and actor. Eminem quickly gained popularity in 1999 with his major-label debut album, The Slim Shady LP, which won a Grammy Award for Best Rap Album. The following album, The Marshall Mathers LP, became the fastest-selling solo album in United States history. It brought Eminem increased popularity, including his own record label, Shady Records, and brought his group project, D12, to mainstream recognition.
In 2005, Eminem was ranked 79th on the VH1 100 Greatest Artists of All-Time. He was ranked 82nd on Rolling Stone magazine's list of the 100 Greatest Artists of All Time. He was also named the Best Rapper Alive by Vibe magazine in 2008. Including his work with D12, Eminem has achieved nine No. 1 albums on the Billboard Top 200, 7 solo and 2 with D12. Eminem has scored over 1 billion views on his official Vevo page on Youtube. Eminem is the most popular person ever on Facebook with over 30 million likes.
Read more
.
This is another example of the amazing work created by Ben Heine. The definition of a modern artist, Ben has once again blended both popular culture with techniques usually unseen in most artwork. This deviantion in particular is reminescent of mosiacs created for cathedrals in Europe yet stays fresh and new using rap's bad boy Eminem as the subject and/or theme. What stands out to this artist is how Heine is able to retain the detail of Eminem while being restrained by the circular shape. Another strong point is the way the color is vibrant despite the fact that is features a large amount of gray. Truly an artist to watch Ben Heine sets a new standard in a world where original ideas are a rare find establishing his self as an artist artist.
The Artist thought this was FAIR
54 out of 55 deviants thought this was fair.
I definitely see the originallity in this piece. I tried something similar to once, I ripped up colors of construction paper and put them together to create a stain glass window effect.

I never enjoyed creating art work like this because of how time consuming it was. But I loved to see how it could be use to create well developed art pieces.

The image looks lifelike and well detailed. I can tell who it is without looking at the captions.

What I enjoy most about the image is the gun. The detail on the weapon is very precise. I could only imagine how long it would take to develop something like this.
The Artist thought this was FAIR
21 out of 22 deviants thought this was fair.