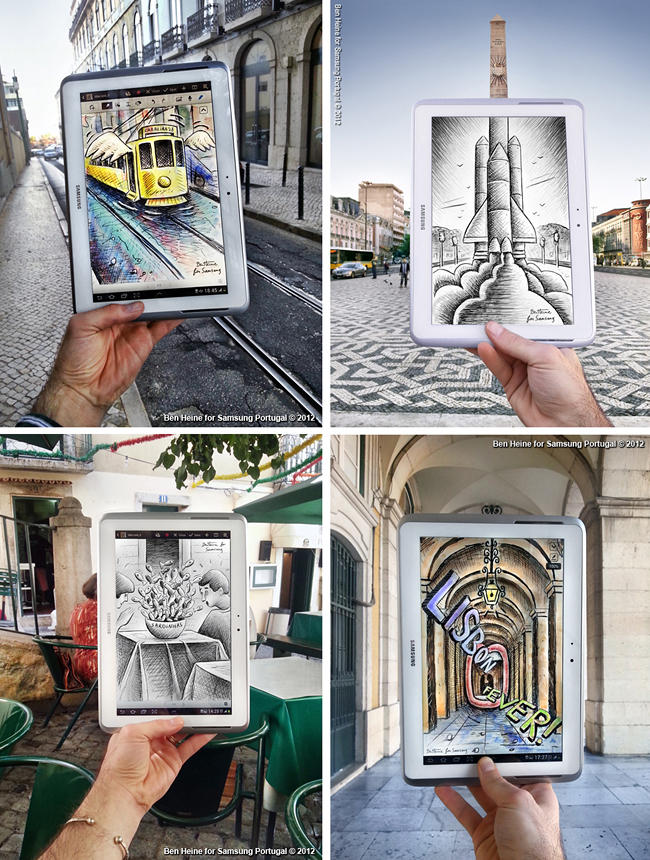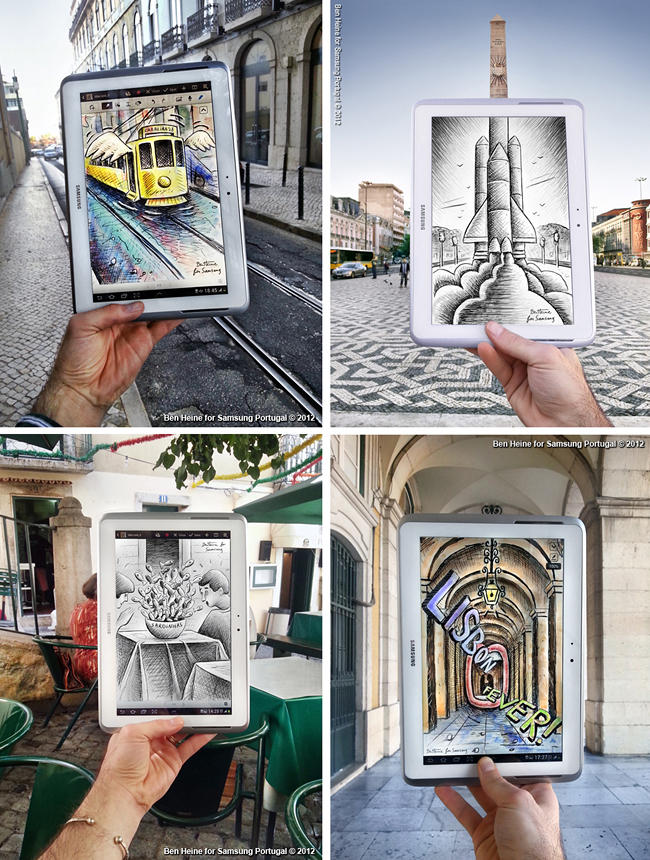 Watch
www.benheine.com | Facebook | Twitter | © Ben Heine
_________________________________________________
See this mini video documentary showing the interaction I had with these new devices and the beautiful city of Lisbon. You can also read this full report on my blog with information about the context in which I made each sketch (exact location, meaning...) and this album on Facebook with many more photos.
I travelled to Lisbon a few weeks ago for the launch of the new Samsung phone and tablet in Portugal.
Samsung Portugal
invited me to use the new "Galaxy Note 10.1" (tablet) and the "Galaxy Note II" (smartphone) to see how it is possible to be creative, to draw and take photos with these new digital devices.
Basically, I made photo-drawings (
Pencil Vs Camera
) like I usually do but instead of using pencils, pieces of paper and a reflex camera, I used the 10.1 tablet as a drawing surface area, the magnetic S-Pen as a tool to draw and the powerful integrated camera of the Galaxy phone to capture the final results...
It was a challenge because it was the first time I was using this technology, I also had to do the sketches very quickly (less than one hour per image, while I usually spend several days of work on every single project I do!). Another difficulty was that I didn't use any references, it was a complete freestyle and improvised adventure in a new environment as well.
This said, I was very pleased and impressed by how fast it was to learn all the creative tools available on the tablet and phone, mainly because these devices offer a friendly, welcoming and intuitive interface (one of the particularly new features I really liked is the Multiscreen function, it allows several applications to work side-by-side, having several windows opened in the same screen. I could easily switch from one application to another).
All in all, these devices are cool instruments to increase artists' skills and productivity. They can be used as new tools of expression to share ideas and feelings.
Many thanks to Hugo Braz (Samsung Portugal) and Gonçalo Oliveira (Desafio Global Ativism) for their invitation and to Dub Video Connection and Sandro Aguilar for the nice film.
From top to bottom, left to right:
1) "
Flying tram
": 40 minutes sketch on the Note 10.1 - Photo captured with the new Galaxy Phone. Lisbon is super famous for its beautiful and old fashioned yellow trams. The best way to discover Lisbon is by tram. They rumble up and down through the alleyways of the city. I had already made a Pencil Vs Camera image showing the legendary and famous Carreira 28 Tram
[link]
. This time, I quickly drew a new version of it in colors, taking off, ready to fly towards new dreams and horizons...
2) "
Space shuttle taking off at Praça dos Restauradores
": 40 minutes sketch on the Note 10.1 - Picture taken with the new Galaxy phone. Lisbon Air Force? One morning during my trip, I had the simple idea to transform the obelisk of "Praça dos Restauradores" in a spacecraft launch platform... "Praça dos Restauradores" is a well known landmark in Lisbon dedicated to the restoration of the independence of Portugal in 1640, after 60 years of Spanish domination. The obelisk in the middle of the square carries the names and dates of the battles fought during the Portuguese Restoration War in 1640.
3) "
Sardines invasion
": 40 min sketch on Note 10.1 - Photo captured with the new Galaxy phone. Walking with my friends in the streets of Alfama, the oldest district of Lisbon, I noticed a lovely outdoor restaurant offering all kinds of delicious dishes with sardines ("sardinhas" in Portuguese, people in Lisbon love them!). We had lunch there. While waiting for the food, I made the above sketch quickly...
4) "
Lisbon Fever
": 30 minutes sketch on the Note 10.1 - Photo captured with the new Galaxy smartphone. There was a huge strike in Lisbon the day I arrived, tens of thousands of Portuguese were protesting the government's financial policies. Protesters in Lisbon filled the central Praça do Comércio square, where I made this image showing a giant mouth saying "Lisbon Fever", because that day was full of tension. Again, it was a rough impro, but it really reflected what was happening around me at that moment.
_________________________________________________
For more information about my artwork: info@benheine.com
_________________________________________________