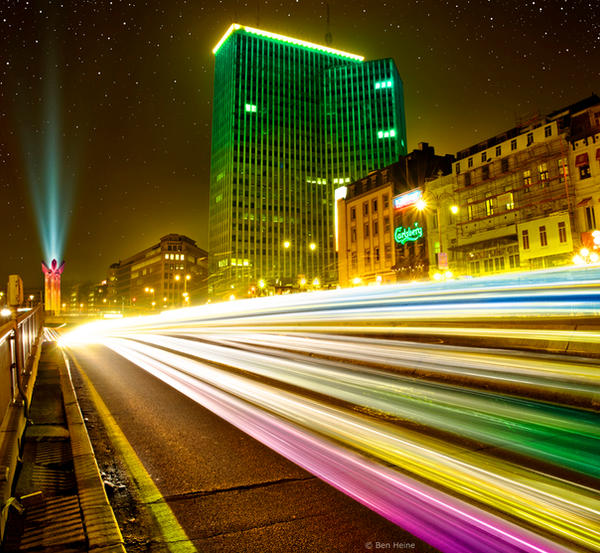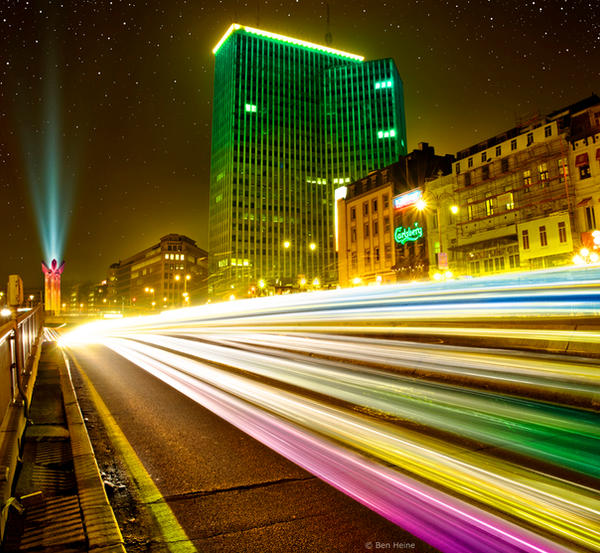 Watch
A picture I took in Brussels (Belgium), a few days ago. It is
a long exposure shot and I've repainted some parts of it...
The cars were really close to me and going fast! Lots of fun!
If you wish, you can see some random details
HERE
.
__________________________________________________

For more information about my works: info@benheine.com
__________________________________________________
Some other long exposure shots:
Some other photos from Brussels:
This picture is very detailed and keeps the eye busy for more than just a few seconds.

Nice use of contrast with dark and light elements. I am not entirely sure this is the right thing to do, but perhaps if the lights of the buildings in the background were dimmed down a little bit, the car lights would pop out even more. It could potentialy make for a nice effect, even though the contrast is rather vibrant as it is now.

I'm curious as to how many cars passed by for you to get so many light lines! Because they all mesh at the anchor point, it gives the photo a lot of depth. They almost look like foreign to me, in the sense where if I didn't know the technique you used to take this photograph, I would think that they're purely computer generated.

Nice use of colors, as well. I love how this curious building at the left seem to radiate with light flashing up in the sky. It's as though the car lights are driven from this very spot.

I don't have much more to say about this, but I like how you used such an unconventional format for this picture. It works well!
The Artist thought this was FAIR
41 out of 42 deviants thought this was fair.
Im almost... confused by this. There is a lot going on here. the colored light streams are visually very strong. The ground is perfectly exposed and very contrasty which i love. The blue tall building is well exposed and in focus. The color gradient is nice, as well as the gold rim. The tower on the left is very intriguing... Also the gold glow of the city. I do not envy the amount of time this probably took in trial and error as well as Photoshop time. The stars are almost a tad to much. Im a big fan of to much though, which is why i love this piece!

The only problems i can spot right now are here;
The blue neon sign on the right-mid is distracting but almost needed as it is a dead space.
The gold globe lights going going partially up the gradient building are distracting as well.
Its to bad some people had to have some lights on in the building, but you cant change that can you!!!


Overall: Very well done. Nearly flawless. I would buy a 10'X10' and display it everywhere.
The Artist thought this was FAIR
15 out of 18 deviants thought this was fair.