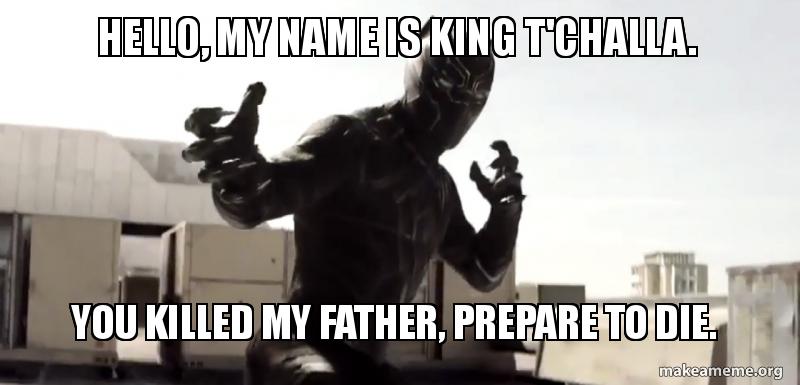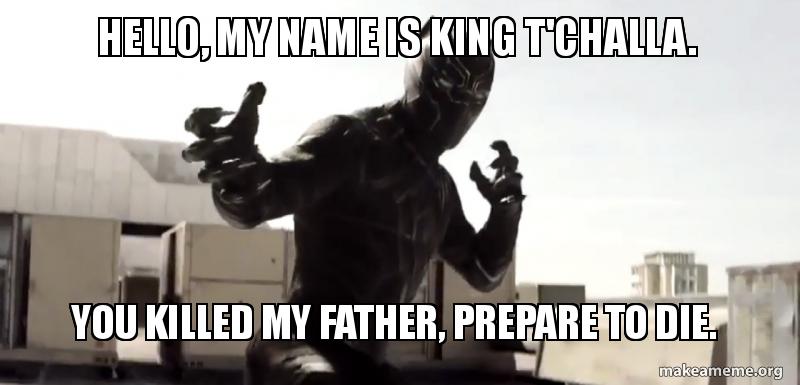 Watch
I once made a joke of comparing Black Panther to Inigo Montoya from the Princess Bride. I said, "Hello, my name is Black Panther. You Killed my father, prepare to die." So I made a meme of it.



Black Panther belongs to Marvel

Inigo Montoya belongs to the Author of The Princess Bride





I hope that you like this! Leave a comment below!

Reply

If you see the same meme on my profile it involves Mothra Leo
Reply

Oh yeah. I saw that, that meme was a little spark for my idea for this meme.
Reply

They're both going to kill them. In the most pissed off way possible
Reply

Black Panther: My name is King T'Challa, you killed my father, prepare to die.

*after he found out that Bucky was framed*

Black Panther: I nearly killed an innocent man... you let vengeance consume you... it's consuming them... I'm done letting it consume me.


((well, not T'Challa. XD))
Reply

(Lol)

Leo: Hello, my name is Mothra Leo. You killed my mother, prepare to die
Reply

Desghidorah: .... *runs away*
Reply

Leo: *Chases him* COME BACK HERE MOTHERF**KER!

Mona (Blue Mothra species, Leo's girlfriend): Leo, please..

Battra: Nnnnope, he's pissed off

Mothra: He DID kill our mother after all

Leo keeps chasing him in a triggered manner
Reply