Credit to

stargee


Annabel | ♀ | November 12 |
| U.S.A. (Eastern Time)

Joined Sept. 26, 2014

I am an amateur hobbyist who is not completely confident in her art.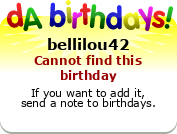 "I myself have never been able to find out precisely what feminism is: I only know that people call me a feminist whenever I express sentiments that differentiate me from a doormat or a prostitute." -Rebecca West
ICON STASH
FIND ME ELSEWHERE
Navigation


*´¨)
¸.•´¸.•*´¨) ¸.•*¨)
(¸.•´ (¸.•` ¤ Thank you!