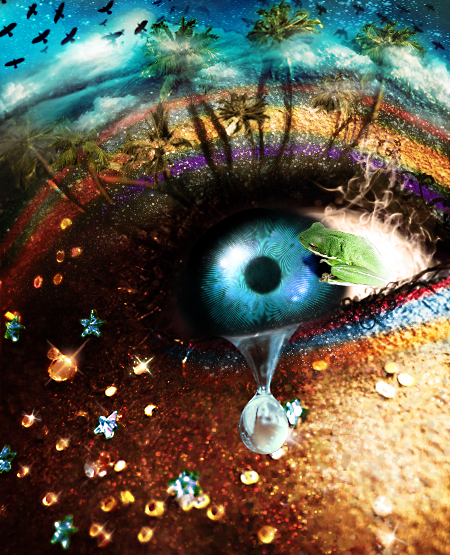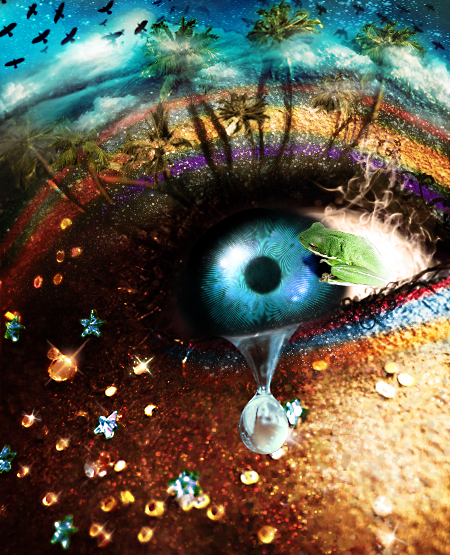 **OPEN FOR COMMISIONS - Send me a Note**
Epic Eye
Good, for this work was almost two days, I took a lot of work because I was not accustomed to this kind of games with eyes and working on a small canvas. I got inspiration from the creator of the stock, and the ancient Mayan tribes for instance, why the importance of the sky, colors and gemstones.
I hope you like it, and please make any comment if you really like it!
I am also grateful for those who give any

and / or

Greetings and have good life.
--
Stocks used:
face:
[link]

frog:
[link]
Palm trees:
[link]
Drop water:
[link]
--
Programs: Adobe Photoshop CS3 Extended
While looking at this nice photomanipulation you can really get lost in daydreams. It's full of details and you need quite some time to see them all. And that's good 'cause this way the viewer takes a closer look to not miss any of them.
All the colours are intensive and fit togehter but they're not strident so they don't hurt the eyes. It's also nice that it's not simply put together but with some strukture: sky, water, earth. All parts have there place and match perfectly. While looking at it I really feel like summer is coming back soon.
The eye is outstanding with its hypnotic pattern. It's intensive and you really have to look at it. You did a great job to not get it lost in the whole composition.
The blending is well made, there're no poor brinks between the stocks. It really looks like one whole piece. Only the teardrop doesn't fit with the rest. It's too harsh and has no connection to the skin. When tears come out of the eyes they roll off the skin. And I don't get the meaning of the frog. Maybe it's just some detail to make it look more interesting but for me it has no reason to be there. It's a part that doesn't fit with the rest. That alone is no reason to not like it - something totally different can make a piece even more interesting but here it doesn't work for me. Sure, that's a personal opinion.
Overall you've created a wonderful photomanipulation with good use of technique. It's not boring to look at it for more than a few seconds and that's some important part. You really did a good job.

The Artist thought this was FAIR
12 out of 13 deviants thought this was fair.