Hey Everyone, long time no see!!! I've taken about 4 months of not doing art regularly, because I haven't been feeling to good about it recently, but I think the real problem was photoshop and my tablet both acting up and making it so that I couldn't be consistent with all the problems I was having. My tablet problems were (mostly) sorted in november, and after updating to 2020 photoshop and spending a lot of time fixing my brushes, I can say photoshop is cooperating again, and I really hope I can get back into the groove again. I'm not 100% happy with it, but the fact that I'm posting it means it's getting there.
So! Art incoming, commissions will be finished up in the next couple of weeks, and you might see a few YCHs from me coming up. Commissions are going to remain closed for the foreseeable future, I might open them up in March briefly for the current prices, but they will be going up, especially for illustrations to a minimum of $100, so if you want something, I'd suggest grabbing a YCH while they are still $40-$60. I might not fully reopen commissions until October or December or something, so just finishing my cue and YCH scenes for now.
Thanks for your patience and for sticking around while I figure myself out!
---
Program: Photoshop
Tablet: Wacom Cintiq 13HD
Estimated time: 6 hours
Character: Rain
Pronouns: She/Her
---
See More Work: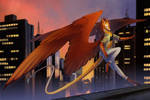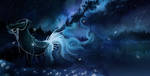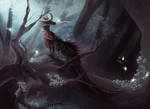 Image details
Image size
2882x1986px 1.42 MB