Last edit! Sorry I'm cramming everything into this one journal entry. Just wanted to keep everything about this shoot in a single post.


Sorry about the nth edit. I fixed up a lot of the text. It seems my brain wasn't functioning as well as I thought when I first wrote this journal entry.

(I'm not entirely sure it's performing very well right now also.) Added a few more omake pics - they just deserve to be shared. Oh, and check out our spanking new matching Bleach avatars! Hahaha! Such geeks are we.
Okay, first of all...
Do you have a question for us?
Before anything, please check our
Frequently Asked Questions section
where I've provided answers to, er, questions that we're frequently asked.

Bleach Casual Photoshoot
Saturday was the BEST DAY EVER. Okay, well, every day with these guys are always BEST DAY EVERs.

For a late celebration of my birthday, my friends (known to some of you as the Tuxedo Team) and I met up last Friday to do two of our favorite things - eat, and have a cosplay photoshoot. Our series of choice: Bleach


Our Inspiration
Since our proper Bleach costumes aren't ready yet, we decided to go with their casual style which shines particularly well in Kubo Tite's Bleach artbook
All Colour But the Black
and some of the colored spreads he does for the Bleach manga. He draws them in crazy, colorful outfits they would never wear in the anime, but we all admire his art style so we dedicate this photoshoot to him.

The clothes we wore just came from our closets, by the way. Haha.
Oh, and since a lot of people are asking - no, we aren't professionals at this. Far from it. We're only regular students.

This is just something we do for fun. Our photographers are our good friends who are photography hobbyists, but happen to have professional skills. Our "models"
(ack, I wish I didn't have to use that word)
are just each other, our little group of geeks.
So I'm sorry we don't have more characters just yet. A lot of people are practically
demanding
for the missing members of the main cast. o_O It isn't an actual production with auditions and casting and everything. (On that tangent, I would like to know why they didn't include Ishida in Burimiyu.

) It's not like we'll have people apply for spots or whatever since, like I said, it's just something we do as friends. But we're lucky we have ones who are willing to be part of our cast next time.

So you can at least expect Ishida, Chad and perhaps Tatsuki, Keigo and Mizuiro. And Kon! (I wish we could have a Renji, but the only person who wants to cosplay him among us is also me. Gah. That customized wig with a skin cap for his distinct hairline is going to take a while.)

myself as Kurosaki Ichigo

China as Kuchiki Rukia

Kat as Inoue Orihime

Miguel as Urahara Kisuke

awesome friends and photographers

Erving Go

Sandra Dans

Nico Dans
Tuxedo Team thanks you!
A little something to show our appreciation!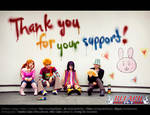 Special thanks to these guys for the gift art!




:thumb68653222: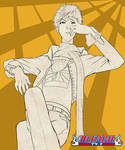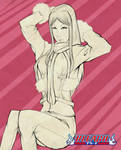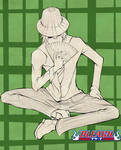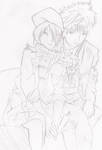 Didn't expect me to be Ichigo? Yeah, me too.
My original character was actually Ishida: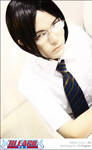 ...but due to circumstances keeping Miguel merkymerx from being Ichigo for now, I had to substitute for him. As Jennaris put it when we were talking, I'm the substitiute Ichigo like Ichigo is a substitute shinigami.

What's a Bleach group with no Ichigo, right? So I decided to take on that role for now.

Not that I'm complaining! Quite the opposite, actually. Ichigo has become one of my favorite characters because as the series progressed because I found that he's someone I can relate to in a lot of ways. I saw parts of myself reflected in parts of him. That made it extra painful to watch him struggle with circumstances similar to what I've gone through, but when he'd overcome them I'd be reminded of my own resolutions.

Hoo~ getting too emotional here, eh. Moving on!

So the character love was already there (something which I think is really important when you're cosplaying) but the trouble was, I didn't know if I looked like him. And gah, ORANGE HAIR!

?! That's the first challenge I decided to tackle. No matter where I looked, nobody sold wigs that looked to me like Ichigo's hair so I decided to do my own styling and dyeing. A mixture of cadmium orange and light brown gave me a good shade of orange that wasn't too neon and looked slightly natural. Did some texturing and got the spiky yet fluffy layers by cutting and trimming with a razor blade instead of scissors, though it's not something I would advise most people to do.




After that, I just did other silly things like practicing his facial expressions and the way he carries himself. I'm relieved that it pretty much worked out well (despite my fingers being tinted orange for a while) and I've been getting positive feedback about my Ichigo cosplay, so I'm very thankful. Thanks, you guys.


Omake pictures!
Credits for the photos go to Erving Go Huzafan, Sandra Dans littlesailboat and Nico Dans Artus13! You guys are the best!


Me and China during lunch. People kept staring at my head, and I don't quite blame them.
China caught me while eating. Dammit, that gyoza was so good. As well as the katsudon, sukiyaki, salmon sashimi, California maki, kani salad and... gah, we ate so much.
After lunch we checked out Comic Alley out of habit, and got funny looks when we were standing amongst all the Bleach merchandise. Hahaha. Then after that, we went to meet up with everyone for the photoshoot. (For those of you who know the place we're talking about, the owner would appreciate you not mentioning it. Thank you!

)
Some webcam shots we took on the road:
We hadn't been able to properly fix China's hair yet. Haha, the Rukia "bang" is too long and thick. XD
The circular shades we got last week. The lenses on mine are blindingly red. x_X
me and China, with Daniel and Kat at the back
Giving our best, um, smiles.
One of the first shots of the shoot. Erving was testing his settings on us.
Nico, Sandee and Erving. As I've said many times already, you guys are the best.
Rukia proudly shows off her rainbow poncho.
"YOU THERE! WHAT! ...is your name? WHAT! ...is your quest?"
THIS WAS TOO MUCH FUN. Urahara's still so calm, haha.
THE FEETS. THEY ARE GO WRONG WAI.
HENSHIN!
[turns into a strawberry]
There's a Hollow attacking our photographer!
BAN-KAI! ...no jutsu?
"Now how would a sexy young shopkeeper like me know how to use Bankai?"
So we tried to confuse the Hollow to death by reenacting the Bleach musical and doing it wrong.
And it worked.
BELIEVE IT! (I honestly don't know what kind of face I was trying to pull.)
Urahara seems to have fallen from the sky. Orihime, your inner perv is showing.
LOLQUE HAY URAHARA FANGIRLS AFTER YOU AGAIN?
"Kurosaki-kuuuun... T__T"
Oh noes, not another Hollow! And it's a... MENOS BONITAS!
[Menos Bonitas makes guttural noises]
"Don't be a moron. I know it's you, Rukia. At least take off those ridiculous yellow boots."
And then we proceeded to one of my favorite restaurants for a late celebration of my birthday. Dinner was FANTASTIC. My lamb chop was perfect, it tasted just like I wanted it to. Everyone's food that I managed to try was awesome also. And the iced tea was so good that Sandee (who doesn't drink iced tea for some reason) actually keep wanting more of it. I'm sorry I'm being such a spazz about food. We love eating.

And we have the best conversations over food.
Orihime and Rukia:
Happy birthday, Ichigooooo!
Isshin:
That's my boyyyyyy!
[pinches cheek]
Ichigo:
Is this any way to treat your son like a man on his birthday? What are you doing here anyway?
Everyone was too scared to try the cake Orihime baked for Ichigo. She combined his favorite foods - kimchi and chocolate. With some red bean paste as an extra treat.
Isshin quickly thought of a way to spare everyone from the trauma. Everyone except his only son.
Eventually regaining consciousness, Ichigo woke up to the distressing feeling that somebody was eating the cake off of his face. OH GOD IT'S ORIHIME'S RELEASED FORM! ORIHI-MAN!
And now for a stunning display of god-like execution of
FOUND COSPLAY
.
MY PIZZA SPATULA KUNAI. LET ME SHOW YOU IT.
Is this how to hold a kunai, Urahatake-sensei?
(This is my Ichigo-Naruto identity confusion face.)
A challenger appears! SASUKEBAB!
(China was totally serious here. Exhaustion from the shoot made her delirious. It amuses me to no end.)
The restaurant people seem to have stolen Urahara's coat and turned it into a lampshade. We put the hat on it for the lulz.
Kurosaki Father and Son Bonding Time!
Isshin:
Hey, son! Now that you're a man, I think you're ready to inherit... MY PORN COLLECTION!
Ichigo:
[nosebleeds]
I DON'T WANT IT!
Isshin:
Instant reaction! What a glorious nosebleed! You'll grow up to be just like me!
(Forgive the photo quality. The person holding the camera was laughing too hard.)
Okay, I think this entry is long enough as it is, and though I can't mention everything here, suffice it to say that we had the BEST DAY EVER. Hahaha. Hope everyone's doing well! Take care! And thank you so much for the support!
dWarped Journal CSS is based on the Warped template design by Six Shooter Media. It's avaliable here at deviantArt under the Creative Commons Attribution v2.5.