Hello, journal. It's been a while.
After many weeks of soul-draining heat, the weather has finally turned rainy. I always feel more at peace on cold, overcast days. This is turning out to be an unusual summer.

Despite the lack of formal classes, most of my friends are busy with intern work so I don't get to see them very much. We did manage to have a little reunion in time to catch Dragonball Evolution. Sweet angry jeezus, I can't believe Akira Toriyama himself was the executive producer of that atrocity. He's either gone completely mental, or is one of the world's greatest trolls. Nonetheless, at least it was at the level of awful that made it horribly entertaining, rather than just mind-numbingly dull. For you masochistic DBZ fans, I DARE recommend you to watch it!

Land of Sleep group exhibition
One of the things that have been keeping us busy was our group art exhibit. It's something all of us have been wanting to do for a while, and an opportunity finally came. China snowpeachdrop needed to take part in one as a requirement for her graduation, and since the gallery was pretty big, she invited the rest of us to put on a show together.

It certainly was a lesson on organization and time management. No matter how well we feel we think our preparations through, things we would not expect to be of great concern managed to go haywire and give our plans a nasty bullet hole in the head.

Tasks that could have taken 30 minutes to accomplish would stretch out into 4 hours. But in the end, we managed to get through it together. It felt wonderful and rewarding just to be able to showcase our paintings in a venue with our friends, family members, teachers, and everyone else who have always supported our artistic pursuits. Our sincerest thanks to everyone who dropped by our exhibit.



As promised, here are some photos to share the experience with those of you who could not be there due to those pesky gigantic oceans that keep our countries apart. Clear shots of the artworks themselves might come later.


photo from Paul japok
Here's a glimpse of the inside of LRI Design Plaza.
It's a really charming place, full of all sorts of art.
photo from Paul japok
Even the ceiling is fascinating.
Here's our butterfly cage installation that everyone helped make and set up.
I dare say I think it looks fantastic!
Here's Sandee
littlesailboat
and China
snowpeachdrop
, working on some rain dolls for our installations.
Most of the dolls were made in our likenesses.
And we later tied them onto the suspended branches.
China


Fran
Sandee

and Kat




Charmie

and Isa
Rayson

EJ

Erving

Essa

and
Ysabel
Julia

Lester
Aww man, I seem to have failed to take pictures of everyone's dolls.
So, lastly... the RAIN doll
PFFFFFHAHA- Okay, I'll stop.
photo from Paul japok
Our sign outside the gallery, and China's bike.
photo from Paul japok
Opening night was pretty hectic. We didn't expect people to go very early, so when the first few guests arrived, we were barely done with putting up the artwork and we weren't decently dressed.
Still, we were thankful that a large number of people showed up, and at a rate of one comfortably manageable batch at a time.
photo from Paul japok
Kat
moonlightflight
looked stunning in her inverted white cape.

photo from Paul japok
China and Paul
photo from Paul japok
Kat and Paul
photo from Paul japok
Sandee and Paul
photo from Paul japok
C-C-C-COMBO BREAKERRRR
photo from Paul japok
Miguel
merkymerx
and Sir Dan, who pops up every time there's a camera flashing somewhere
photo from Paul japok
Lots of stuff happening in the background.
But mainly, here is China enjoying a well-deserved break and some hors d'oeuvres. They were delicious, as was the chilled red wine.
Whether this behavior was caused by the aforementioned wine or from the sleepless nights prior to the exhibit opening, I am not sure. It could be both. (For those of you wondering, Miguel had to be on crutches for a while due to a bad fall he had when we went ice skating. He's okay now!)
China attempting the cruches long jump!
Yo, CFA people!
China and Fran
EJ and Fran

Miguel and his lady love.
photo from Nix starrywhitewall
We weren't kidding when we said to put on your best pajamas.
On China's head - you guessed it - A THINKING CAP, of course!
Bell (who belongs to Nix
starrywhitewall
) and China, both of whom look very pretty, though only one of them is female.
Exhibit game time! Painting Interpretation Performance Art!
Basically, we try to reenact the paintings using our bodies.
EJ is the girl, and the rest of us are the flowers and leaves.
(My one eye acts up sometimes and I use an eyepatch to keep it shut. Apart from that I've been feeling rather unattractive lately so these are the few pictures I'll be including with myself in them, haha.)



Sandee and I are apparently both the child,
Dom, EJ and Nico are the wave,
China's hands are the bubbles



China is the girl,
Sandee, EJ and I are flowers,
Dom and Nico are the monitors



Sandee is the bunny girl,
China is the carrot,
Nico is the sky,
Dom is a confused puzzle piece,
and I am the land



Sandee is the circle,
Dom is the girl,
EJ and Nico are her boobs,
China's hands are the red strips,
I am the branch



Dom is the girl,
China and I are the horns,
Sandee's hand is the tattoo,
EJ and Nico are the blue wash in the background



Sandee is the girl (that has been blocked out of view)
and we are all the drips



I don't even know anymore.
I see myself appearing to freefall somewhere behind China.
The exhibit experience was mixture of stress and confusion which evolved into happy times and fuzzy feelings catching up with friends and teachers (and surprisingly some people from the cosplay community who took the time to drop by after Ozine), mixed with awesome food and wine, and a bottle of Kahlua that seemed to have emptied itself and left some of us rolling around on the floor. Good times.</cut>
Li Xingke & Tianzi Photoshoot
With all sorts of things happening in our lives, our cosplaying had hit a bit of a dry spell. (Though being preoccupied with other things is not necessarily a bad thing!) Kind of like the searing hot weather we've been having. And incidentally, these literal and figurative droughts somehow ended on the same day. The day we were scheduled to head out onto our location, it started raining. A gentle rain though, just enough to make the outdoor air cooler, so we didn't have to worry about Ysabel and Rick getting heat stroke in their costumes.

There was still sufficient light, which was nicely diffused and the slight dampness made the stone floors shimmer. The place looked even more otherworldly. We usually shoot during really sunny days, which is definitely easier. But we were up for a challenge! This was a bit of a new experience for us, so I was a bit anxious at first. But I learned quite a bit and got shots I was happy with.

Thank you, gentle sunshower.

As I had mentioned in my submission - we had a photoshoot to commemorate the beautiful (and totally not between a pedophile and jailbait *wink*) bond of the gallant, loyal Chinese military officer Li Xingke and the young, innocent Tianzi.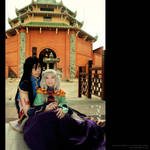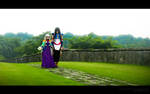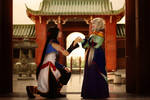 Quiescence
from ✭
Ysabel
's gallery
Here are some extra shots and outtakes!
Photos are by me unless stated otherwise!
Love knows no
age-related legal
boundaries.
"THIS... IS..."
"...CHINAAAAAAAAAAAAAA!"
Hmm, maybe lolicon isn't so ba- NOOOOOOOOO
Rick is a guy. Rick is a guy. Rick is a guy. Rick is a guy. Rick is a guy.
Now I have quite a few good portraits of Rick but...
Ysabel had an almost troubling obsession with the fishface that day.
Good Xingke,
you look kind of cool
!
photo by Charmie yaoiangel14
Bah, promise shmomise!
photo by Charmie yaoiangel14
Lester the flower boy.
Still fishfacing. Lester is not pleased.
We went to T.G.I. Friday's to silence our roaring stomachs.
photo by Dom Weakman
This was Dom's meal, a Cheesy Bacon Cheeseburger.
Needs more human bean juice.
Rick and EJ had the same. That thing looked insane. It had fried mac and cheese inside. I think I'll have to try it sometime. Sorry, heart.
Here's Kat enjoying the buffalo wings, being photobombed by Ysabel and Lady Liberty.
I have some hilarious shots of Essa but I'm not sure she'd appreciate me sharing them with the general public.
I was paid good money
(okay no, not really)
to take pictures of Rick's suspiciously feminine and graceful hands. So of course they took it as a chance to photobomb.
And now, the more appropriate handbomb - with a special tribute to Gowkoo's Kuhmay Huhmay Huh (according to Dragonball Evolution).
FOOD PORN
Since Kat and I are trying to "eat healthy and diet"
*coughyeahrightcough*
we shared the Jack Daniel's Burger (there you go, Ysabel - remember that!

) which had this amazing dipping sauce. Sap from the proverbial Tree of Life should taste like that. My taste buds haven't partied that hard since that time we discovered barbecue ribs pizza on empty stomachs.
I'm not sure how to bring this to a close so I leave you with this...
photo from Sandee littlesailboat
CHINA THE SUSHI MAN
I miss you, China! Come back and be my neighbor again.

dWarped Journal CSS is based on the Warped template design by Six Shooter Media. It's avaliable here at deviantArt under the Creative Commons Attribution v2.5.