I'm alive again! Feeling much better, though I still haven't had enough quiet time to just sit down and properly respond to your messages. I'm sorryyyy! We've been getting ready for upcoming cons so there's been a lot of running around buying fabric and making preparations for the Tux Team table.
I was able to reply to some simple questions, but it takes me quite a while to respond to more personal letters and long notes because I don't think I'm all that eloquent but I want to do my best to properly express my gratitude. So I take time to think about what I want to say, but given how things are nowadays, it's taking me longer than usual. Gah. I'm one of those people who need to be in the right mood to do something correctly.

Like when I force myself to draw while I'm not in the proper disposition. I look back at my sketch days later and feel like setting someone's nose hairs on fire.
Cosplay Mania 2008

(click here for official event site)
Cosmania is coming up, and we're all excited and anxious. Apart from having a little Tux Team merchandise table, China
snowpeachdrop
, Kat
moonlightflight
, El
rosiael
and I are going to be speakers at the
Cosplay Workshop
. We'll be talking about cosplay photography, posing, makeup, wig styling and touching a bit on con etiquette. We hope to see you there!
But not too many, I hope. I might go up there and just croak at the mic.
I kid, I kid. I do hope a lot of you guys can go. It sounds like it'll be an awesome and action-packed event. There are
all these contests
(including the
CosTube Cosplay Video Contest
) and all sorts of
activities
(like the
Cosplay Auction
) and so much more. And I mean... look at part of the criteria for the
E-Games Costume Building Contest
:
Durability Trial (30%) - Each team will be pitted against another team in a battle on who is the most durable costume. After every battle the winning team have 5 minutes to repair their costumes or reinforce them with leftover material. Each winning team will be pitted against each other until one winner is left.
NOW
THAT
SOUNDS LIKE MY KIND OF CONTEST!!! I mean, err
[cough]
I look forward to working with everyone and hope to do justice to the honor that has been granted to me by properly fulfilling my duty as a judge! I'm really happy and thankful to have been given the chance to be part of this event. You can really see the love and dedication the organizers have for this hobby, and I hope that the congoers cooperate and make this cosplay event fun and memorable for everybody.

Manila International Book Fair (Day 2)
Here's a late update from the second day of MIBF last September 14.


The book we chose to cosplay from was
Le Petit Prince
(The Little Prince) with...
photo from Charmie yaoiangel14
China
snowpeachdrop
as the Little Prince, and El
rosiael
as the Pilot
photo from Kiko Francisco
I was the Fox
photo from Kune kunebitt
Kune
kunebitt
was the Snake
photo from Charmie yaoiangel14
and Kachan
istriazel
, the Turkish Astronomer
photo from Charmie yaoiangel14
Our friends from Wonderland - Kat
moonlightflight
as Alice, with her little brother Lester as the White Rabbit
photo from Charmie yaoiangel14
The three of us were invited to be speakers, and we gave a little talk about cosplay planning, wig styling, cosplay makeup, as well as photography and posing. (Pretty much the same things we'll be talking about on Cosmania, and a little bit more.)
photo from Charmie yaoiangel14
We were incredibly queasy before going onstage, but everyone was just so supportive and friendly so that anxiousness easily melted away.
We also participated in the cosplay panel, alongside JM Chua
angrylittleboy
and Robert Wong
eva-guy01
. Interesting questions were raised, and even though I was part of the panel, I also learned a lot. (Mostly from Kuya Robert, who was pwning everyone with his answers.)
Many thanks to everyone who attended and took the time to listen to us! I felt like such a dope, especially after having to talk after Guy Singzon, but I hope you somehow managed to learn something from my rambling. Let me apologize for being such a sentimental fool in front of everyone. Thank you guys for being understanding and supportive during the seminar and for being respectful enough to not post pictures or videos from that rather personal moment.

I didn't think such a simple question would make me break into tears like that. China kept punching me and scolding me for "being a marshmallow", and Ysabel ran up to the stage to give me handkerchief to blow my nose in while there was a chorus of "awwwwww". I was thoroughly embarrassed but I couldn't help it. I always tell myself to be strong and not to cry, except when it's because I'm happy.
We were asked about our most memorable experiences as a cosplayer - seeing everyone's faces in the room, thinking about the friends we've met through cosplay and how such a simple (and even seemingly silly) hobby brought us all together... I felt a rush of overwhelming happiness. My friends and I are just a bunch of geeks who happen to enjoy costumes and anime/manga and acting like our silly selves, and that's how we got into the hobby. I never imagined that we would be able to reach out to so many people through cosplay.
Apart from the friends I have here are the people whose hearts we had managed to touch even if sometimes they're on the other side of the world. I barely managed to choke out how when Miguel and I were at Fanime, there were people who went up to me just to thank me for simply existing and not being afraid to be myself. On days that I'm feeling useless, I get letters from people who express their gratitude for the simple fact that I share photos from our little adventures and little bits of our lives, because our words and pictures make them smile even when they're having the worst day of their lives. I'm such a wuss, I think I cry
as quietly and discreetly as humanly possible so as to not get caught
every time I read a letter like that. A lot of times, I feel utterly insignificant in this huge planet. But knowing that somewhere in the world, someone's day was made brighter because of something I did or said, I think that maybe I'm not so useless after all. Perhaps in the somewhat distant future I'll have more power, knowledge, or something of the sort to find ways I can help make the world a better place to live in. But for now, I guess I'm doing okay.
OKAY I'M SORRY, I'M DONE WITH THE CHEESE. MOVING ON.
photo from Charmie yaoiangel14
Us being fools around Guy Singzon and the awesome chestburster shirt he made.
photo from Charmie yaoiangel14
We found Miss Predatora! We're still in awe of her
Female Predator cosplay
that we had seen last
Negai wa Kanau
. We also
did the Predator pose with her
that day.

photo from Charmie yaoiangel14
I iz fluffy fox nao?
photo from Gian gian17
LITTLE PRINCE, BEHIND YOU...!
photo from Charmie yaoiangel14
LITTLE FOX, BEHIND YOU...!
photo from Herson yuber19
I fail at being a lovable fox.
photo from Charmie yaoiangel14
Putting our game faces on. Fear the Little Prince's water bottle.
photo from Charmie yaoiangel14
Alice is getting hungry.
photo from Charmie yaoiangel14
Lester was a happy bunny after eating at Tokyo Cafe.
photo from ?????
IT'S A SECRET
But not mine

photo from Kune kunebitt
Now now, Alice. You should have learned not to eat strange things.
photo from Charmie yaoiangel14
Le Petit Pirate
photo from Kune kunebitt
DAMN YOU KUNE, NOW I UNDERSTAND WHY YOU PUT THE BENEHNUH IN MY HAND
photo from Kune kunebitt
In Erving's manry hands, it is the MANANA.
photo from Charmie yaoiangel14
God
tejero
being his godlike self, with us being blasphemous.
photo from Charmie yaoiangel14
Dedicated to our dear Julzzang
Bubydub
photo from Charmie yaoiangel14
I like the cold, merciless stare of the one on the left.
Aku wants YOU! Bleach Cosplay Contest GO!
Aku Akusesu is holding a Bleach cosplay contest! More details, list of prizes and submitted entries in her journal

CLICK HERE



BEGIN: SEPT 12

END: NOV 1 (?)


RULES:

1) Submitted cosplays must be of YOURSELF!

2) There is a limit of 3 submissions per CONTESTANT.

3) Contestants must have a DA or Cosplay.com account to prove self as the cosplayer

4) Cosplay must be of ONLY BLEACH characters (so no naruto please! lol)

5) NO NUDES!

You will automatically be disqualified for breaking any of these rules


JUDGING:

- There will be 5 judges who will determine which cosplayer is most fit to win!
- Judging will be on accuracy, effort, and artistic photos!










Submit them by messaging Akusesu or (email her if you are not a DA member) with a title "BLEACH CONTEST"



Team 7 Field Trip! (OtakonEK Report)
Last Sunday, we went to a con that was held at Enchanted Kingdom, a local amusement park.


photo from Erving Huzafan
China
snowpeachdrop
as Naruto
Kyn
Kynkyn
as Sakura
myself
behindinfinity
as Sasuke
Jag as Kakashi (who was characteristically late and met us only after the sun had already gone down)
Apart from people who were there for the cosplay event, there was the usual crowd of families. I'm not entirely sure they were aware of the con, so I'm guessing some of them mistook us for mascots or something, haha. We didn't really mind. It was really cute how kids would say stuff like, "I... didn't know they were real...

" It became really hard to maintain my scowl and sulking walk while hearing thing like that. The older kids who knew a little better would go, "Wow... He's really like Sasuke!" And apparently even 7 year-old girls like Mr. Emofag. I don't know what they see in that guy! Yet there I was cosplaying him, eh?

As much as I make fun of him, I actually don't hate Sasugay. I just don't understand why girls are typically attracted to that type. But I digress. Moving on...
I'm really glad they thought of having an amusement park con. All the costumed people running around certainly made kids happy. It was simply hilarious just seeing characters going on rides. I think trying to stay in character as Sasuke helped me conquer a little bit of my fear of rides. Everyone else would be screaming their lungs out, while Naruto (China
snowpeachdrop
), Rock Lee (Val
varu-san
) and I were channeling our spirits of youth as we competed for the title of MANRIEST OTOKOMANS by keeping our cool and just sitting calmly with our arms crossed. No yelling, no matter what! We all did well, leaving the other people thoroughly confused as to why we
WERE SO BADASS
weren't shouting with everyone else.
photo from Herson yuber19
HERE HE COMES TO SAVE THE DAYYYYYY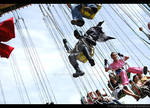 BATMAN CAN NOW FLY TOO WHOOOOOOSH
photo from Herson yuber19
The Joker wouldn't dare miss out on the fun.
photo from Herson yuber19
After him, Batman!
Incidentally, we also saw Spider-Man and Superman on this ride.
photo from JM

angrylittleboy

Sha-la-la-la-la-la
My, oh, my
Look at the boy too shy
He ain't gonna kiss the girl

(YES THAT SONG FROM THE LITTLE MERMAID)
photo from Herson yuber19
Team 7 group shot while our dear sensei was still missing.
I remember how I used to think Sasuke's outfit was really cool. But damn - white shorts. What the hell was I thinking?
photo from Zoila nemurae
Kyn has Sakura's sweet face and demeanor, China has Naruto's spunk, and I have Sasuke's... gay hand gestures and hair that blows in the wind?
photo from

onyxpetals
See, gay hand gestures. Dammit.
photo from Herson yuber19
Somebody told me that after getting used to seeing me as Naruto, I look really weird with black hair. It makes me a little sad to say... that's my actual hair color. Hahaha.
photo from JM

angrylittleboy
Val
varu-san
as Rock Lee
photo from Herson yuber19
Mechazawa also went on the field trip with us
photo from JM

angrylittleboy
"Sa~ku~ra-chaaaaaan!

"
[gets face punched in]
photo from Jei
Apparently, the Akatsuki was on a field trip, too
photo from Jei
NIICHAN, YAMETE
photo from JM

angrylittleboy
I wonder if they're /b/rothers
photo from Herson yuber19
China was trying to imitate the Scream mask.
Dear China,
You make the best facial expressions ever.
Love,
Jin
photo from JM

angrylittleboy
See above comment.
photo from

onyxpetals
Uchiha brothers with a Pepsi logo (corporate Uchiha crest) in the background
photo from Zoila nemurae
ANBU Itachi
onyxpetals
with Team 7
photo from

onyxpetals
Brother is about to cut me in half
photo from Zoila nemurae
There were a few who mistook me for Miguel
merkymerx
(who sadly could not come with us because of schoolwork). At times I did feel like I was cosplaying Miguel.

photo from Herson yuber19
Since Kakashi wasn't around, Akazukin Chacha was our substitute chaperone
photo from Herson yuber19
Team Kakashi turned into Team Chacha
photo from Herson yuber19
Pretty kunai you have thar, Narutoes.
photo from Herson yuber19
I was the most resistant under this new rule...
photo from Herson yuber19
...so Chacha used her magical princess powers on me and turned me into her knight
photo from Herson yuber19
"Yes... my queen..."
photo from z3ll
"I will... protect you..."
photo from Herson yuber19
"Get lost, dobe."
photo from z3ll
Naruto retaliates!

photo from Herson yuber19
And so the spell was broken!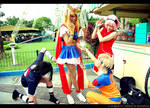 photo from Herson yuber19
Whew...
photo from discordia24
In line for Anchors Away, our favorite ride.
photo from Erving Huzafan
Kakashi finally arrives and prepares to deliver 1,000 Years of Pain, but I'm not about to let him get away with making us wait the whole day!

It was a loooong but insanely fun day. Photo count was relatively low because we can't really take pictures while going on rides. We were completely drained by the time the park finally closed, but it was a good kind of exhaustion. I was feeling a little beaten up though, because apparently a lot of people hate Sasuke and would aim for me every time we went on the bumper cars.

HEAVEN SHATTERING CRIMSON FACE
I'm so happy that my friends are one by one giving in to my begging for them to watch Tengen Toppa Gurren Lagann.

About three weeks ago, I posted this: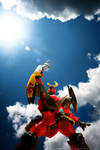 There's actually a bit more from when that photo was taken...
Look who's in the background, hijacking your Hare Hare Yukai.
EPIC BATTLE
I can actually see Domo-kun as a Ganmen. He is after all, a face with arms and legs.
Revoltech made Gurren Lagann way too much fun to play with. It's making me regress, going back to wanting toy robots - but only from this series because it is my new god. I can't wait for them to release Tengen Toppa Gurren Lagann, Enki and Yoko this month!
I feel like I'm not going to be able to get Yoko easily, though. She'll probably bought by random pervs who didn't even follow the series and just want a cute chick with big boobs and a gun.

The thought makes me nerdrage to no end. Sigh. I guess it's inevitable that Yoko will be objectified because of the way she looks. I'll admit that at first I was a bit put off by her appearance, but eventually saw how she really isn't just a fanservice character (though the gratuitous fanservice shots and occasional moments of crazy boob physics are actually pretty funny). She's skilled, sweet, and actually useful - she saved Kamina and Simon's asses several times. She takes the initiative when she has to, and stood right up even after the worst occurrences. Yoko is awesome, no matter how tacky her outfits can be. Flaming bikini and Starboobs suit, LOL. But it's really that garish quality that makes GL character designs so endearing. (LIKE GARLOCK SIMON'S S&M LEATHER CORSET AND CHOKER OF MANRINESS PFFHAHAHA)
Wow, I'm not sure what I'm talking about anymore. TL;DR - I'm excited for the new Revoltech toys. But I think I'm also about to shell out a rather large sum on a particular GL action figure (which isn't by Revoltech) because my birthday is coming up anyway and the damn thing makes me weep with how beautiful it is. I usually wouldn't spend so much on something like it but but but... It's Gurren Lagann. Gah.
Oh, I was playing around with audio software the other day and made an alternate version of Sorairo Days (Gurren Lagann opening song). Shoko Nakagawa fans, please don't kill me - I turned Shokotan into MANRY ShOTOKOMAN. I'm sure there are others who've done the same, but here's my take on it. The few people I've sent it to actually like it better than the original, haha.

Click here to download Sorairo Days with male vocals
(Made with PREPOSTEROUS AMOUNTS OF TESTOSTERONE...
PREPOSTERONE!!!
)
I'm such a slowpoke, but I'd just like to say that I nearly spit soda out when I caught this...
Exhibit A:
Squidward from Spongebob Squarepants
Exhibit B:
screencap from Gurren Lagann Episode 12
(click here for larger image)
SQUIDWARD, WHAT ARE YOU DOING THERE HAHAHAHAHAHA
And then there was Rei and Asuka in the bathhouse... Oh, Gainax. Okay, I'm going to shut up now. This journal is already too long as it is, and I have to stop while I can still restrain myself from going on and on about GL. I'm sorry if I've made it so you now can't look at anything GL without being annoyed at the memory of me, hahaha.

dWarped Journal CSS is based on the Warped template design by Six Shooter Media. It's avaliable here at deviantArt under the Creative Commons Attribution v2.5.