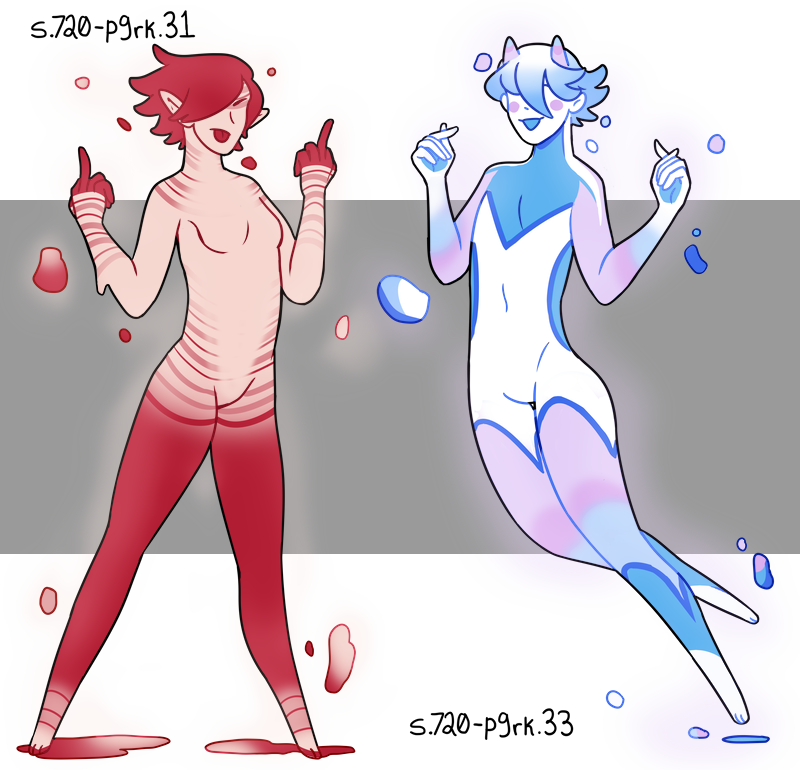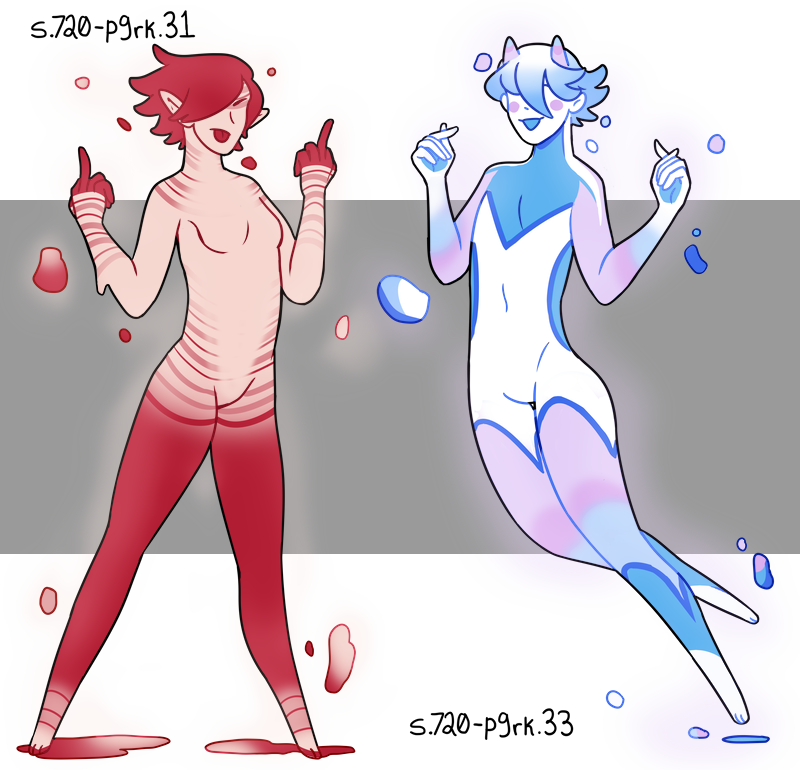 Watch
The theme was.... Get this... Christmas Sneer 'n' Christmas Cheer

i made it up on the spot. im hilarious, right? ...no? fine then
ANYHOO... Can we finally spot the species change? I've made Plasmid feet default to nubs!

Human feet are now a common mutation, and anyone with that new mutation are welcome to keep it the same OR to change to completely common nub feet.

---

s.720-p9rk.31 | Traits:
More than two colors, two patterns (UC), pointed ears (common mutation)
[CLOSED]
s.720-p9rk.33 | Traits: More than two colors, more than two patterns (UC), horns (uncommon mutation)
---
RULES:
-Read
my ToS
-Know that when I accept your offer you will be getting an additional non-glow image (same drawing, just without the goo glow lol)
-You can change the perceived gender, personality, body type, hairstyle, and slight color tweaks.
-You may not change the patterning, the number, or body parts (such as the horns, ears or the feet)
-Follow the Plasmid group upon winning the OTA-- if you aren't already!

WHAT TO OFFER:
-USD (via PayPal), minimum of $15.50
-art, digital only
-combination of art and money is also acceptable. you can lower the minimum amount of money- to 5.50- that way :>
-Nothing else, sorry!

I love the nubby feets!!

I agree with your comment that they flow better from a design perspective, and are also just more stylish (and cuter!) than human-shaped feet too!

And I love the Sneer n' Cheer theme, too!

"Sneer's" red matches their personality so nicely (in addition to being such pretty & festive shades of red for Christmas too!
), they look so feisty and fiery!

I really like the way the stripes fade out in the middle too, such a nice design choice!
And "Cheer" has such a beautiful color combination! I looove the look of the gradients, they look so good against the bright white...and the little pink spots on the cheeks are super cute!!

!
Reply

AH i'm glad it's totally vibing with everyone else too!! NO REGRETSSSSS!!

and bless you, i'm glad you see what i'm getting at too!!

ALSO 10000 COOL POINTS FOR YOU for thinking my theme is great BWAHAHAHAH 8)
yessss had to get the genuine christmas motif in, maybe that's why 'sneer' is a little scrooge

i subjected them to candy-cane torture!
and the cheeks were THIS close to getting tossed away for 'cheer', i think they're adorable too and they had to stay (shifty eyes)

the fact that you have such nice words for my designs makes me wanna cry happy grateful tears TTvTT ♥ !!!!! i love your comments soooo much UGH I JUST LOVE YOU. thank you Itchy beeb!!!!

Reply

Reply

OOOH MY GOSH!! BIG FAN OF THESE NUBS!! i love both of these babies, their colors are so nice on my eyes ;-;
Reply

OH YES GOOOOOD!! :3c i feel it 'flows' better design-wise and story-wise!

AND THANK YOU ATOLL BB anytime you talk about colors im just... blessed cause i love your sense for colorschemes ♥
Reply

REPLY HERE TO OFFER ON s.720-p9rk.31
Reply

REPLY HERE TO OFFER ON s.720-p9rk.33
Reply