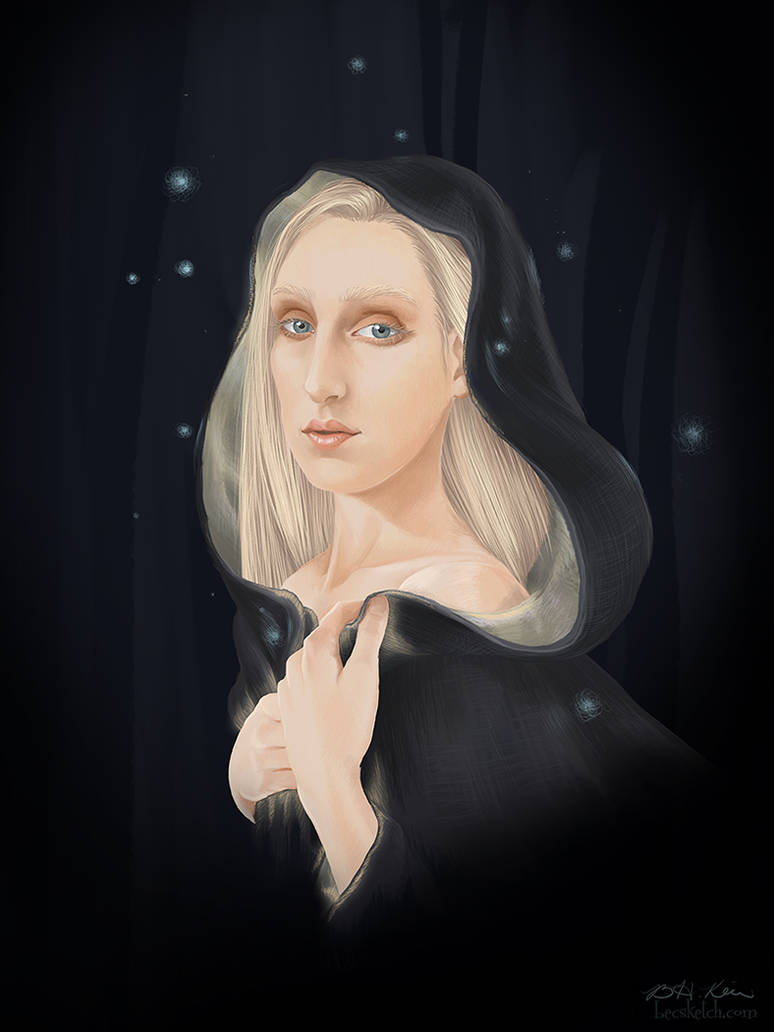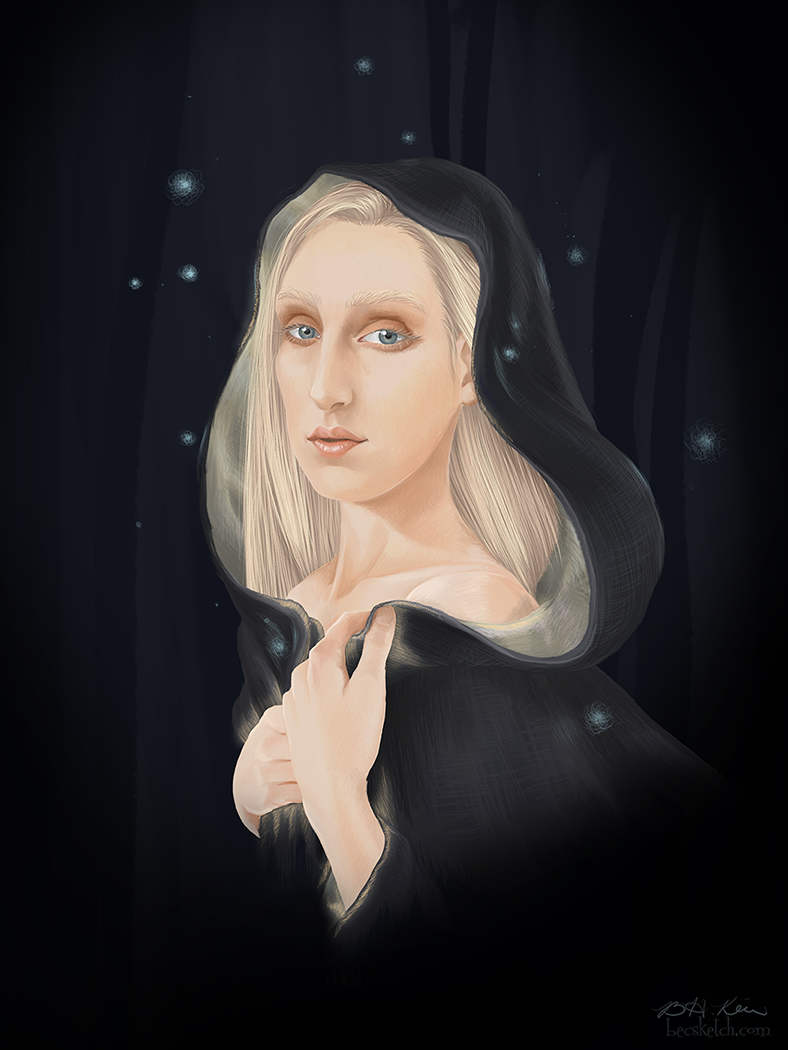 Detail:
The Moon (Detail)
Bought a new digital brush set and ended up revisiting of one of my favorite fairy tale subjects - The Buried Moon. (Synopsis from wiki):
Once upon a time, the Carland was filled with bogs. When the moon shone, it was as safe to walk in as by day, but when she did not, evil things, such as bogies, came out.
One day the moon, hearing of this, pulled on a black cloak over her yellow hair and went to see for herself. She fell into a pool, and a snag bound her there. She saw a man coming toward the pool and fought to be free until the hood fell off; the light helped the man make his way to safety and scared off the evil creatures. She struggled to follow until the hood fell back over her hair, and all the evil things came out of the darkness, trapping her under a big stone with a will-o'-the-wyke to sit on the cross-shaped snag and keep watch.
The moon never rose again, and the people wondered what had happened until the man she had rescued remembered and told what he had seen. A wise woman sent them into the bog until they found a coffin (the stone), a candle (the will-o'-the-wyke), and a cross (the snag); the moon would be nearby. They did as the wise woman said, and freed the moon. From this time on the moon has shone brighter over the boglands than anywhere else, and the evil things were chased from the Carland.
I had done a similar illustration from this story in 2012:
Buried Moon
so I suppose this is a sort of a Draw It Again thing too!
©becsketch 2014
-Photoshop
Used this lovely image
vintage portrait
from szorny stock for inspiration and reference.

Oh gods! This is so beautiful! So lovely!X3
Reply

Thank you so much!! I really appreciate your comment

Reply

You are very welcome! You deserve every little comment and fave! You are such a good artist! It's sad that few people comment.

Reply

I loved this story! Your drawing really matched the illustration I grew up with.
Reply

That's wonderful, thank you!! It was one of the first books that made me want to be an illustrator

Reply

Great illustration! The style you use here is wonderful.
Reply

Thanks! I really liked getting back to that no shortcuts - stroke by stroke- kind of painting again

Reply

Reply

This is so striking, I love the contrast between the pale, luminous moon and the darkness.

Reply