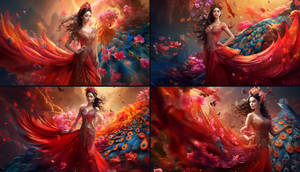 Best Ai Wallpapers Art Collections
Peacock beautiful Ai Art Collections, in the style of fanciful costume design, realistic fantasy artwork, fine art of body and art, this is my favorite style, the whole series exceeds 1000+ images, I will continue to post here, and create and Update this collection, hope you like it 🔒👀💖
---

Description
...I want to Reach the stars...
This is the wish of Badra, one of the characters of my "Reflections " Artbook.
I drew this illustration to make some postars to give on my first signing session as a gift.
It was a trully amazing experience. Thank you very much to everyone for coming.
Drawing animation process here :
Prints and merchan available in my society6 Shop :
society6.com/BeaGonzalez/Badra…

www.twitter.com/BeaGonzalezArt

www.facebook.com/BeagonzalezArt
Tumblr:
bea-gonzalez.tumblr.com/
Instagram
:
instagram.com/vhea
Image size
541x800px 244 KB

Gorgeous detail, I love the stars in the smoke and her hair is stunning. Beautiful shading and coloring here as well. Fantastic piece!