Hi all,
I have a bit of a dilemma that I hope
someone
can help me with.
I've been trying to source an image that I came across on a blog (Russian) and I have found the SAME image on SEVERAL Deviant Artists pages - claiming that it is THEIRS.
However as we all know, it could have only been created by ONE person ....
Have to be honest, I'm really baffled that Deviants, of ALL people would do something like this - when WE as artists, tend to be the ones that give credit where credit is due in MOST cases - instead of representing SOMEONE ELSES work - as their own.
Here is what I have found so far:
On the next 2 blog posts - the bloggers state this image was created by "kikariz on deviantart" and is SUPPOSED to be at this link and is called "mommy? by !kikariz on deviantart" -- but the link states that it can't be found:
kikariz.deviantart.com/art/mom…
If you google this you may find what I did - that there's some rumor about something happening with this user - they cancelled their account but they have another at
kikariz-stock.deviantart.com/
and another "news" article about some event relative to their account here >>
forum.deviantart.com/community…
On kikariz's deviant page - they claim to have a new account on deviant here >>
kawiko.deviantart.com/
Though I'm not finding this image in THEIR Gallery -
However I did find this image in the next
3 galleries
....
:thumb283652751:
Lovely kiss by ~angelcoelho >>
angelcoelho.deviantart.com/art…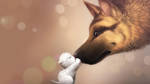 cosas monas by ~minitutos >>
minitutos.deviantart.com/art/c…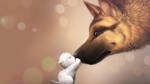 Dog Wallpaper by ~Chicalatina1010 >>
chicalatina1010.deviantart.com…
*I'm afraid at this point to see if I find even MORE of the same image created by ALL of these people .... *
bcr8tive but don't b-a-theif