Lol, I was freaking out because I thought my subscription was gonna end, but I manged to convince my dad and buy me another

I GOT A DOGGY!!!!!!!!!!!!!!!!!!!!!!!!1111oneone111eleven11111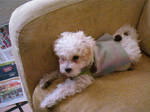 His name is Perry

(like Phineas's and Ferb's platypus lol) and he's a french poodle mini toy ^.^ I will upload some photos of him later *-* he's so adorable

I love my little Perry!! He's just 3 months old, my father bought him to my brother and me for Christmas

(and guess what? He was born October 10

Naruto's birthday!!)
I've always wanted a dog, and now I have a little cute one >w< but I always wanted a beagle

anyways, Perry is cute and adorable just the way he is

Vacations, sweet vacations, I love it when I got nothing to do and have a lot of time ahead

I'm grateful that I go back to school until feb 3 so... see if I draw some things before

(this goes for you
Terrami

)
I downloaded a Nintendo DS emulator and the Pokemon Diamond game lol, and excluding the little problems that the emulatos gives me, I'm enjoying the playing a lot

I'm halfway with my gym badges and I got a female Luxray lvl 41 and a female Infernape lvl 40

to complete my team I want a Leafeon, a Finneon, a Togetic and a Lucario

but I still don't have them and I need a flying pokemon soon -_-/// so... I think I'll catch a Starvia to keep going until I get my Togetic.
Have you watched Code Geass? I you don't, WHAT ARE YOU WAITING?!?! GO SEE IT RIGHT NOW!!! Its a highly recommendable anime and a very good one

I loved it... I'll do a CSS of it on my next journal lol, and I hope it to be soon

I want Pizza Hut!!!!
And I went to see Bolt just before, Christmas. I loved it!!! Little Bolt was so cute

!! Probably the first good animated movie I've seen in a long time

I loved it!!!
And... that's all about my life right now

I want a Twilight Special Edition DVD >.<!!!
Stamps

Credits:
Robert Pattinson Photos (c) Summit Entertainment (I think

)
Magic Brushes (used on backgrounds) (c)
mystify-stock
mystify-stock.deviantart.com/a…