OTTBS Official InfoOTTBS Staff List
OTTBS Breeding Rules
We split up our stables into two different ways.Here's our Colorado stables map: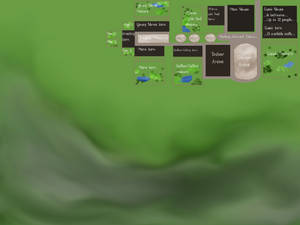 This is where quite a few of the horses we have in training go. It's in a 4000 acre valley. Plus the mountains surrounding it. We own all of that to make about 6000 acres.We train practically everything here but Jousting, Mounted Archery, Mounted Shooting, and Racing. That is because, despite the room we have, there is much more at our Castle Grounds. Besides our castle grounds is more equipped with training for those much more dangerous sports. Also, Our castle grounds has a lot more diversity when it comes to arena types.
So, then we have our castle
This list is to help you get an idea of the staff involved with One Two Three Barrels Stables. They are ordered from staff member who worked there the oldest to the newest.
~Colorado Stables~
PEOPLE
Rachel Strovenz
Female: 28: long Brown hair/eyes: Caretaker/Manager (watches/takes care of horses, pays the bills): Does All and Any Jobs Needed: Will travel between two places
Tristan Coast
Male: 29: Black hair w/ blonde streaks and Blue Eyes: Trainer
Samantha Avenue
Female: 29: long Black hair and Blue eyes: Vet: Will sometimes ride Dressage
Derek Smith

Male: Brown hair and Green eyes: Groom (leads horses to, grooms them, feeds them): Will sometimes warm up horses
Justin Trickle
Male: Brown hair/eyes: Sets up breedings and Watches over them: When not doing that he helps train

Erik Delvenue
Male: 28: Black w/ bangs dyed sky blue and sky blue eyes: Writes music: Works as stable hand: Will sometimes exercise horses
~Castle Grounds~
PEOPLE
Kaitlyn Strovenz
Female: 25: long Blonde hair w/ colored streaks(varying on what she dyes the streaks) and Blue eyes: Younger sister of Rachel: rider of the racehorses
Lily Talon
Female: 25: short Brown Hair w/ black tips and Grey eyes: Trains all but Drammen Drafts: Competes with her own horses
Daniel Drake
Male: 26: Dirty Blonde hair and Grey eyes: Vet: will sometimes warm up horses

Amelia Strovenz
Female: 19: Brown hair/eyes: Does all/any jobs
Destry Lynn
Female: 19: Red hair and Brown/Blue eyes (heterochromia): Deals with the Drammen Drafts
Blake Moore
Male: 19: Black hair and Brown eyes: Deals with the Drammen Drafts Rain, Frosty, and Rhythm
Damien Brandt

Male: 25: Brown hair and Hazel eyes: Apprentice of Lily
Flint Schmidt
Male: 21: Red hair and Green eyes: Deals with the Drammen Drafts Hu, Charm and Shakes
Rolau Moore
Male: 18:
Black w/
peacock Blue Tips and Blue eyes:
Works as a stable hand often works on transporting horses and exercising. Also helps work with the jumpers

Cazo Tadasu

Male: 37: Bleach Blonde hair and Red Eyes: Works with DracCavalls rider of Failsafe
Elaina Tadasu
Female: 37: Dark Brown hair and Blue Eyes: works with DracCavalls rider of Kayelinth
Liam Tadasu
Male: 13: Brown hair and Grey Eyes: Works with DracCavalls rider of Armageddon