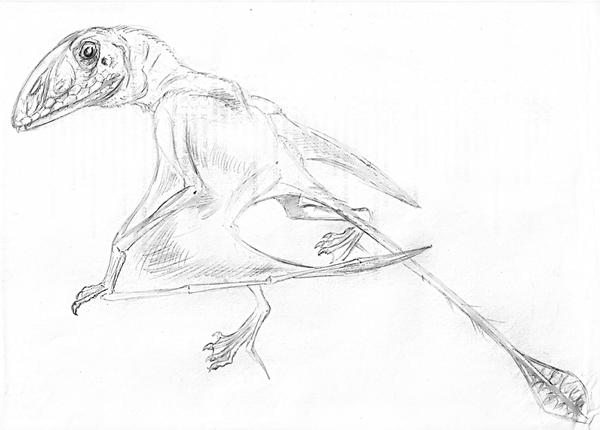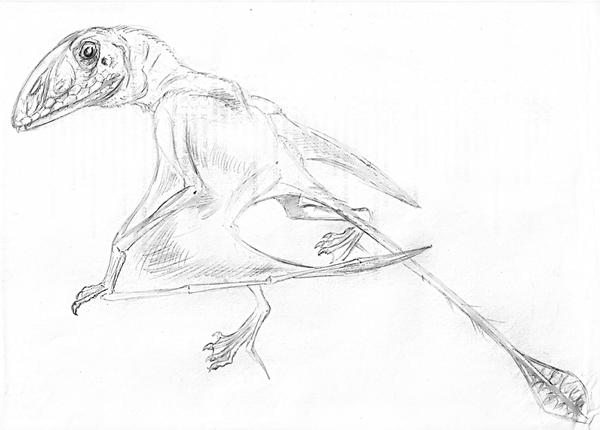 Watch
My sketch of Peteinosaurus, small Dimorphodontid pterosaur from late Triassic. The sketch itself was made in actual size for a life-model, unfortunately not created yet.

Lacks an uropatagium, but otherwise looks decent
Reply

There is no ultimate opinion about the structure of uropatagium in rhamphorhinchoids, especially such primitive as Dimorphodontids. I like an idea that it was similar to that of bats of Emballonuridae family, and also not include tail. Such structure of uropatagium can be seen on some specimens of Sordes.
Reply

Sordes had a cruropatagium, a membrane between the legs (excluding the tail), and either that or the uropatagium are widely agreed to have been present on pterosaurs
Reply

Ok, maybe. I think, since pterosaurs were as diverce as bats or even more, their patagial structures could widely vary in different lineages. Dimorphodontids had most powerfull hind legs amongst all rhamphorhinchoids and probably spend many time on soil or other solid substrate. I have certain doubts about their ability for bipedal movment, but they could be a good walkers, and in this case wide uro- or cruropatagium could hindered their movments.
Reply

But AFAIK terrestrial bats like vampires and new zealand ones still have a uropatagium, just not a very developed ones
Reply

Yes, they are. However in Desmodus it is relatively small. And movement of ground-walking bats is probably different from that of primitive pterosaurs: all the bats have their hing limbs in entirely lateral position, while in pterosaurs they were at least formally parasagittal. And bats even on the ground surface have forlimbs distinctly higher loaded. So we can make only very general parallels between the two groups.
I am not argueing against the well-developed interfemoral membrane in pterosaurs, I just supposing that it could be reduced in some groups, especially in that from which we have no good soft tissue imprints.
Reply