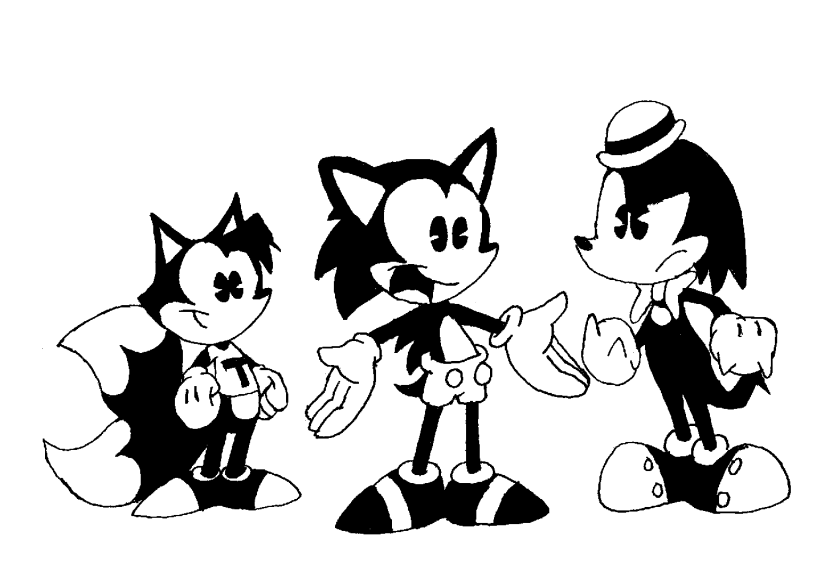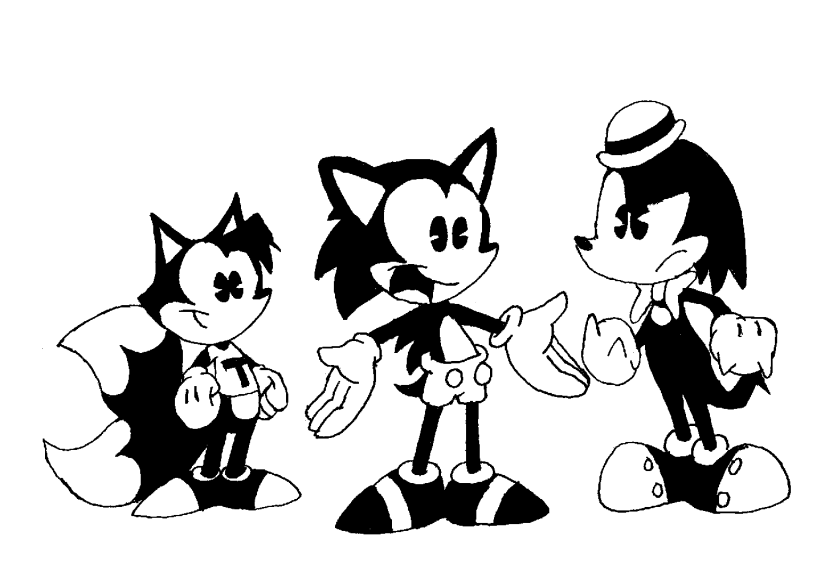 Watch
You ever wonder what would happen if Walt Disney created Sonic the Hedgehog instead of Micky Mouse?

Of course you haven't... You probably weren't thinking of Disney and Sonic the Hedgehog being put together... I was... Well, actually I drew this by mistake- I was trying to draw Mickey, but messed up and he ended up looking like Sonic... Since both Sonic and Micky have a few things in common with their apperances (Big white gloves, Round heads, That same Felix-the-cat-faceline). Once I drew Sonic, I ended up drawing Tails and Knuckles (Yeah, I know bow ties are more of a Hanna Barbara thing then Disney, but I thought half a sailor suit would look corny on Knux)...
Be thankful you're not me...

Yes, this pic is labled Part 1. Thats because if anyone out there actually likes it, I might draw more of the Sonic the Hedgehog characters in this style... Who know, maybe your favorite character will be black and white later...

Edit: You know, I'm getting a little sick and tired of people just faving this willy nilly... I mean, I did other things- even did a Part 2 for this that I personally like better for the poses and reactions, and even THAT gets ignored...

And to be honest, I'm not even that big a Sonic fan. I liked him back when he was just starting out and had a compact classic cartoon character appearance to him. I sucked at his games, but I still liked his design, but now it seems like they're trying to make his plots and stories deeper then they should be...

I guess I wouldn't be mad at my own work if some of my other things got noticed here and there... or even if people didn't just shove this into their "Sonic for the sake of Sonic" favs folders automatically on a daily basis... Sometimes I look under my messages, and I got 20 or 30 people in a ROW who faved it, didn't comment jack, and deleating through it all just to get to something ELSE someone might have liked kind of hurts me on a personal note.

Anyway... Just a little note...
I have never thought of it that way, some of the best work I've seen! I love how Tails has a T T-Shirt!, and Knuckles has a tie, and a hat. However I think that Sonic could do without the pants. Sorry, but that part does bug me D:
The characters eyes are just like the original Disney's eyes! And the fact that knuckles is mad at Sonic and Tails. And Sonic is like "Hello! Wonderful weather we are having isn't it!" It's so original and classic, and it's in black and white too! I am really looking forward to you making another one, but with a background! Keep up the good work!

P.S: This is another one of those times where I wish I owned Tails.
The Artist thought this was FAIR
75 out of 78 deviants thought this was fair.