Journal Entry:
Sun Nov 13, 2011, 2:49 AM
eröffnung donnerstag 10. november 2011 18.00 uhr
11 november - 21 dezember 2011
Café Con Calma -Schönfließer straße 16, (am Arnimplatz) 0493026347418 Berlin, Germany (Prenzlauer Berg S+U Schönhauser Allee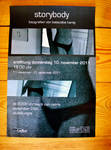 Batsceba Hardy, artist of the Irreality, lives and will only live 'in' the net, where she leaves already evidence with her constant performance: writing stories in images and telling visions in words. What remains is superfluous, in Wittgenstein terms, including her secret background. Currently she resides in Berlin, whose skies she's chasing among the clouds; but she could be anywhere. She likes leaving traces of her passage in the places where she finds inspiration. She likes detecting herself inside the windows of houses. She likes revealing herself at night, before nobody.
Batsceba Hardy è un'artista dell'irrealtà, che vive e vivrà nella rete, dove si rende già visibile con la sua performance continua: scrivere storie con immagini e raccontare visioni con parole. Tutto il resto è wittgensteinianamente superfluo, compreso il suo background segreto. Risiede momentaneamente a Berlino di cui insegue i cieli fra le nuvole, ma potrebbe trovarsi in qualsiasi altro luogo. Ama lasciare traccia di sé nei bar in cui trova ispirazione. Ama contemplarsi nelle finestre delle case. Ama svelarsi di notte alla presenza di nessuno.
Batsceba Hardy
ist eine Künstlerin jenseits der Realität, sie lebt im Netz und nur im Netz. Dort tritt sie mit einer ununterbrochenen Performance in Erscheinung. Geschichten schreibt sie mit Bildern, Visionen übersetzt sie in Worte. Alles Weitere ist im Wittgensteinschen Sinne unwichtig, einschließlich ihrer verborgenen Herkunft. Gegenwärtig hält sich die Künstlerin in Berlin auf, wo sie den Himmeln zwischen den Wolken nachjagt, aber sie könnte auch an jedem anderen Ort sein. Sie liebt es, ihre Spuren an Orten der Inspiration zu hinterlassen. Sie liebt es, sich in Fenstern von Häusern zu betrachten. Sie liebt es bei Nacht, ihr Geheimnis zu lüften, wenn niemand dabei ist.
STORYBODY
Concept:
Photos as fractions of thinking
Hyperrealism of the Body
Montage:
Photograms of the body in movement cut to be reassembled
in order to create an estranged vision.
The author works with the program Comic Life, creating empty paper
page on which to paste and assemble the photograms previously
extrapolated, exactly as it used to be done in the analogue studio.
A real use of the virtual.
Colour:
The colour is obtained exclusively with colour Subtraction, in the
grey-scale with the insertion of some plastic and emotive tonalities
to enhance the layers and the senses.
STORYBODY
Pensiero:
fotografie come frazioni di pensiero
iperrealismo del corpo
Montaggio:
fotogrammi del corpo in movimento
tagliati per essere rimontati
in modo da creare una visione altra
l'autrice usa il programma (Comic life)
come foglio di carta su cui incollare e assemblare
come si faceva una volta
un uso "reale" del "virtuale"
Colore:
l'autrice procede per sottrazione di colore nella scala di grigio
con inserzioni di alcune tonalità emotive e plastiche
per dare rilievo ai piani e ai sensi
STORYBODY
Konzept:
Photographien als Bruchstücke des Denkens
Hyperrealismus des Körpers
Technik:
Photogramme des Körpers in Bewegung, zerteilt und neu
zusammengesetzt, um eine verfremdete Sicht zu erschaffen.
Die Autorin benutzt das Programm Comic life wie ein Stück Papier,
auf dem sie klebt und montiert, genau wie es früher in einem
analogen Atelier gemacht wurde. Der reale Gebrauch des Virtuellen.
Farbe:
Die Farbe entsteht ausschließlich durch Farbreduzierung in die
Grauskala unter Einfügung einiger plastischer und emotionaler Töne,
um Ebenen und Sinn hervorzuheben.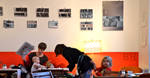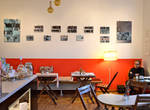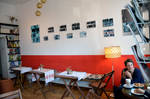 Listening to: gibberish
Reading: my soul
Watching: Black
Playing: Septmber 29th
Eating: White
Drinking: Blue

Watch