Journal Entry:
Wed Oct 24, 2012, 5:47 AM
"The Memorial to the Murdered Jews of Europe[1] (German: Denkmal für die ermordeten Juden Europas), also known as the Holocaust Memorial (German: Holocaust-Mahnmal), is a memorial in Berlin to the Jewish victims of the Holocaust, designed by architect Peter Eisenman and engineer Buro Happold."
en.wikipedia.org/wiki/Memorial…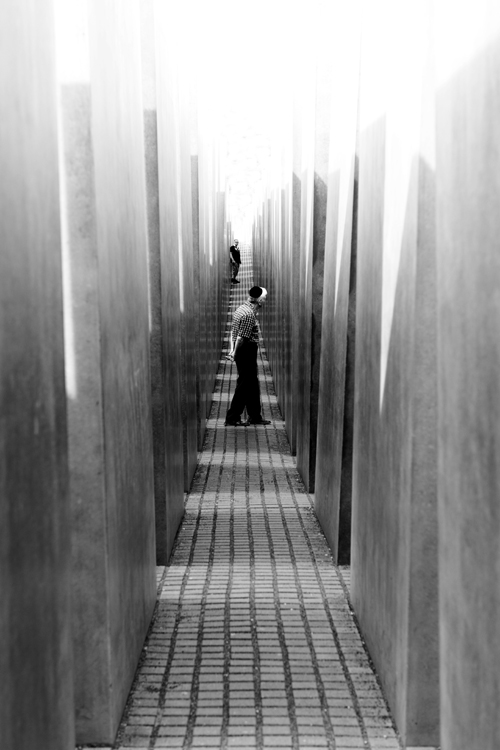 *JACAC

*webcruiser

~BitterMuffin

~D1V1

Watch

I lived with a Jewish man for 14 years, I loved him & his family very much. His uncles and aunts told me a few stories about Auschwitz, but it was not spoken of much- perhaps some things cannot be remembered too often. They are all dead now- the man I loved, his father, aunts, uncles

We have a great Holocaust museum here in DC too. It cannot, must not, ever be forgotten.


Reply

Hallo Batsceba,
meinen späten, aber nicht weniger herzlichen Dank für dieses Feature. Ich befinde mich seit einiger Zeit im kreativen Nirvana und deshalb kaum online bei dA.
Du hast hier eine wirklich stimmungsvolle Auswahl getroffen.


Reply

Thanks for that. My father was, for years, a Berliner (from about 1929 to the Anschluss). He was the only survivor in the family. There is a lost city and a lost people there, always. You could make the memorial the size of the town itself, and it might still not be enough.
Reply

W O W ! t h a n k . y o u . s o . m u c h . m y . d e a r . f r i e n d
g r e a t .

Reply

thanks!
it's very difficult, indeed, to photograph this. every now and then I come back to it ... I wrote a piece, but in Italian)
Reply