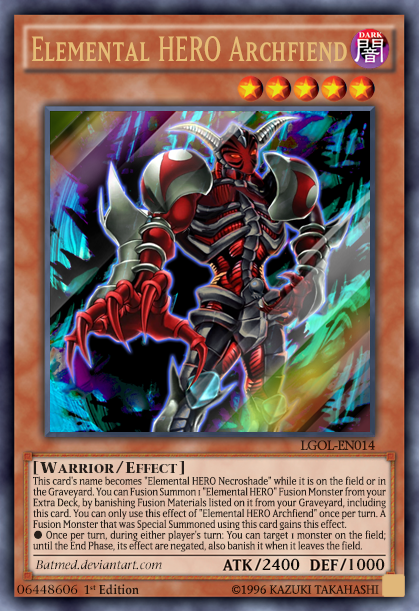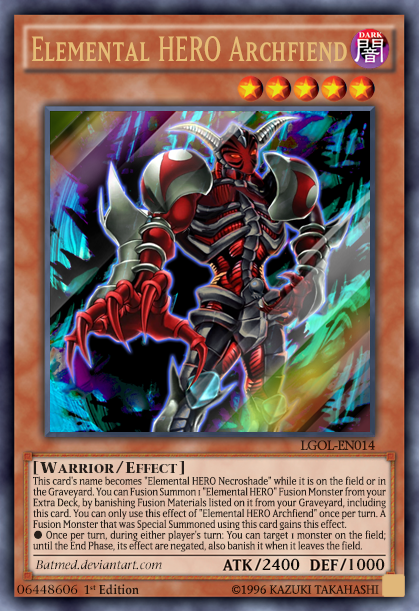 Watch

© 1996 Kazuki Takahashi

ARTWORK MADE BY ME
Set: [LGOL-EN014] Included in Legacy of Legends - Booster SP
Name: Elemental HERO Archfiend
Level: ✪ 5
DARK | Warrior / Effect
Effect:

This card's name becomes "Elemental HERO Necroshade" while it is on the field or in the Graveyard. You can Fusion Summon 1 "Elemental HERO" Fusion Monster from your Extra Deck, by banishing Fusion Materials listed on it from your Graveyard, including this card. You can only use this effect of "Elemental HERO Archfiend" once per turn. A Fusion Monster that was Special Summoned using this card gains this effect.
● Once per turn, during either player's turn: You can target 1 monster on the field; until the End Phase, its effect are negated, also banish it when it leaves the field.
Trivia:
- This card is a retrained version of "
Elemental HERO Necroshade
".
NOTICE
:
You are NOT allowed to use or alter this card's artwork unless you ask PERMISSION first and give the proper credit.

Reply

Reply

Hey just discovered all of your custom cards, I really like them. Have you considered trying to add them for ygopro for players to use?
Reply

Isn't saying "artwork is taken" a bit strong? I would say "original artwork belongs to", like some of your other cards. Ya know?

Reply