A little guide on how to use amazingIFS formula on Mandelbulb 3D.
Here is a simple procedure on how to obtain these caracteristic "kleinian" shapes or however they are named with a simple heightmap. This mini tutorial can be done with any other dIFS shapes tough, like SphereIFS, etc.
I've used for this example a very simple grayscale map, filled with neutral grey (RGB 192)
If you don't want to make it or can't, you can download it here: sta.sh/0fu5qld142i
Don't forget to add the map to the working folder you have for Mandelbulb 3D!
I've lowered the max. Iterations to 25 in the formula window to speed things a bit up but you can change it later if you prefer to do so.

Put in the first slot HeightMapIFS and type 199 in the nr field:
Add amazingIFS to the second slot.
Just set all rotation X, Y and Z from default 5 to 0, and change Fold X, Y and Z values to 1.
Leave everything else as it is.
Now press the 3D navi button to open it and you will see this: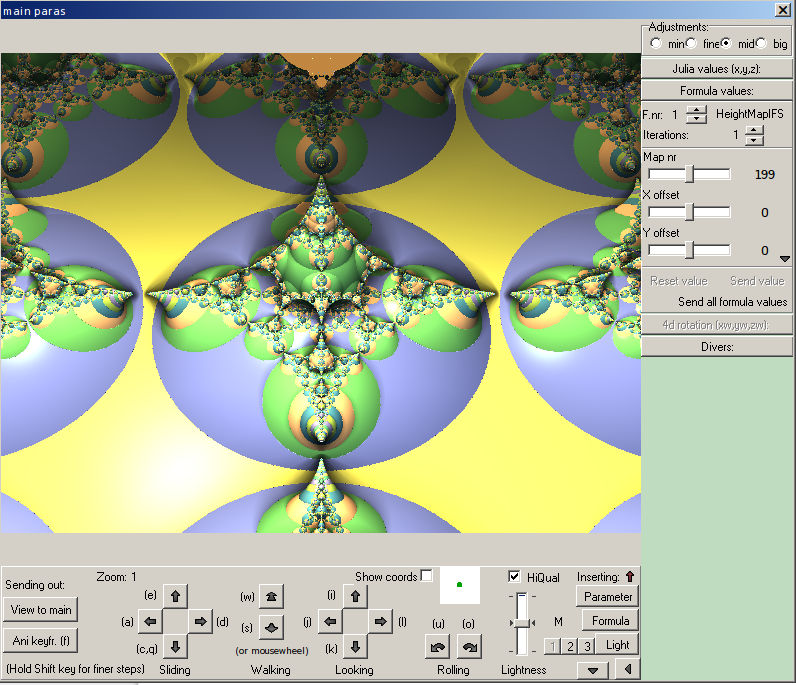 Now you're done basically, do a preview render if you prefer or continue experimenting with the sliders until obtaining something you're happy with it.
Hope this guide helps you a bit through the awesome dIFS world in Mandelbulb 3D.