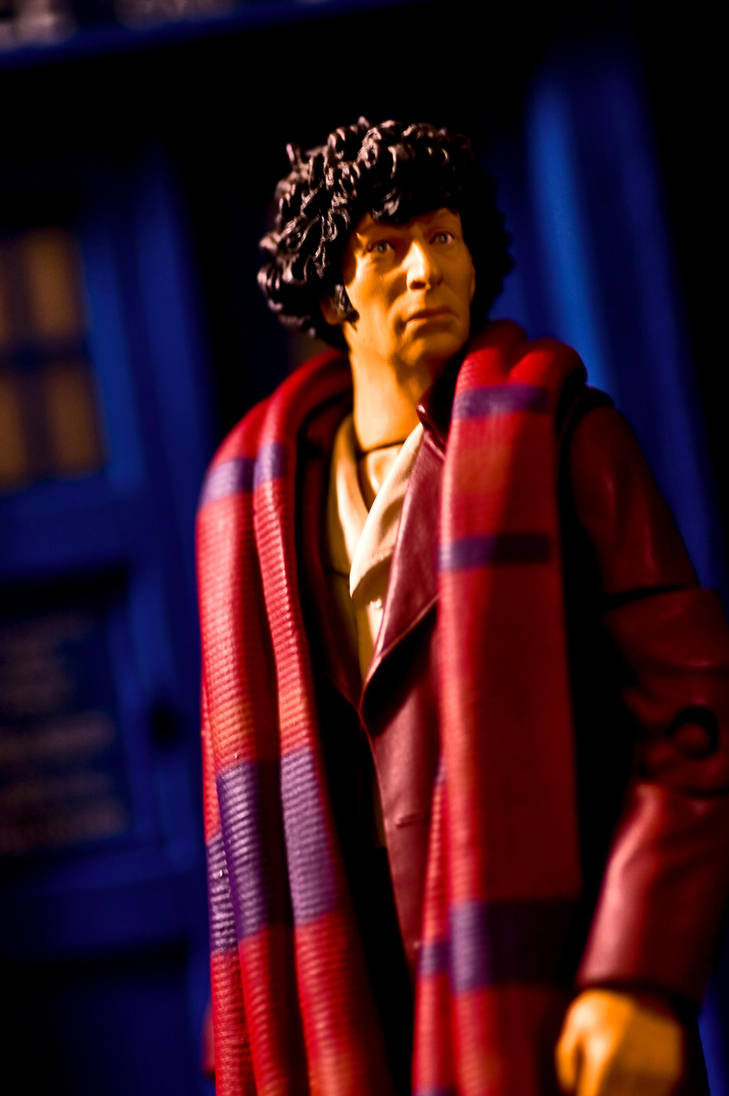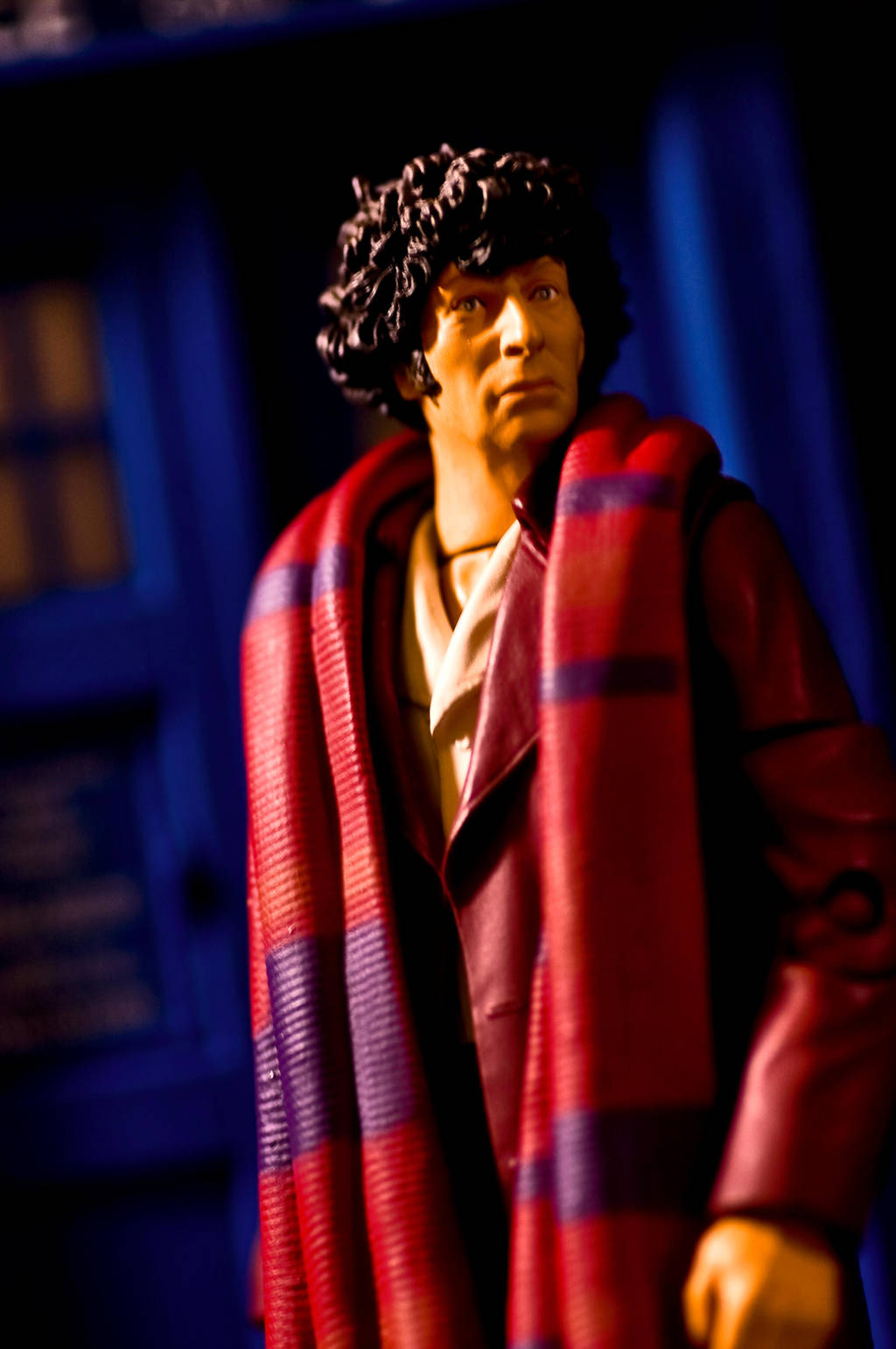 Watch
Friday (July 6, 2018) was the last day of the Fourth Doctor block on Twitch, thus bringing a close all over again to his era. Those stories broadcast from August 30, 1980 until March 21, 1981 were to be the final episodes of Tom Baker's historic seven season run, and as such are historically interesting, due to the influx of the "new" that had swept across the program on that eighteenth season. There was a new title sequence, replacing the classic time tunnel sequence that had been a staple since Jon Pertwee's final year all the way back in Season 11; a new variation of the theme tune, with Peter Howell replacing Delia Derbyshire's arrangement (although the famous arrangement used during Tom Baker's run had been running since mid-1966); a new producer, with John Nathan-Turner replacing Graham Williams, and as such having a firmer hand on what had by that point become a program that ran amok both in terms of production and its leading man; new script editors, new stories, new companions, it was all brand new and felt little like what came before, with the possible exception of Romana, continued to be played by Lalla Ward until Warrior's Gate when she departed the show, and K9, with John Leeson returning to the part after an absence who also departed in Warrior's Gate, as well as Executive Producer Barry Letts, who'd steered the beginning of Doctor Who's golden age in the Pertwee era and was brought back just for this lone season to help ease the load on the untested JNT.

But the most obvious main exception that certainly tied Season 18 down to the past WAS its leading man, who was the last bastion of the old days except for his costume. Tom Baker has said that perhaps he had stayed a little bit too long in the role. After all, the only other actor who'd been in the part just as long was his predecessor Pertwee. Both Hartnell and Troughton left after roughly three years and three seasons apiece (Hartnell technically did shoot the first couple stories that opened Season 4 before leaving, so he was there by technicality four seasons) and with not many re-broadcasts of past Doctors on television, particularly here in America, it was Baker's Fourth Doctor that was for all intents and purposes, the first Doctor that many came to know and not many others. But who could blame Baker for wanting to remain there, season after season, year after year? To be the anchor of a much beloved science-fiction program and the hero to millions and millions of children, especially after having endured a lonely, gloomy childhood as Baker did and suffering near success and much failure before Barry Letts and Terrance Dicks obliged and signed him on.

But it also has to be said that Tom Baker was not the easiest to get along with. It seems like sometime after Season 13, or perhaps during production on Season 14, things became a little strained between Baker and most of his co-stars. His infamous feud with Louise Jameson, who played Leela during Season 14 and 15, and his increasing ego in regards to having say over actors, writers, and directors had become out of control. Graham Williams, who'd replaced Hinchcliffe, didn't have the kind of temperament or creativity to find ways to accommodate Baker. That isn't to say he didn't try, as the Season 16 story arc for the Key to Time quest is an entertaining, if flawed, execution of the grand ideas Williams had, but also served as a preview of the incoming silliness that would surge through into Season 17, where it reached its apex.

John Nathan-Turner was having none of that. If only because Baker had been signed on prior to JNT's ascendancy, he probably would not have had Baker in the eighteenth season. And it's also very likely that he didn't like how many concessions Williams gave to Baker (case in point, watch either The Horns of Nimon or the incomplete Shada, and then fire up The Leisure Hive next, and you'll see a completely different vibe incongruent with one another) and really, above all else, didn't care much for Baker's Fourth Doctor. It could be that Baker wasn't used to being told "No" that likely hampered his performance in a lot of the stories, or it may have been the behind the scenes havoc in his relationship with co-star Lalla Ward, or even it may have been his own ill health, giving his performance a lackluster, almost deathly mood. It's one that many critics say give the stories a kind of theme, with entropy and death becoming a constant presence in the stories.

Had the stories themselves been up to par, this would've been an interesting direction to take the show, particularly for the Fourth Doctor who had delved into such darkness throughout the Hinchcliffe era of Seasons 12-14. As they are, the stories aren't bad, but very hamstrung by some pretty sub-part effects, and certainly not helped by Tom Baker's lethargy throughout. He seems to come alive especially in State of Decay, perhaps because it was from a script by Terrance Dicks and felt like the old days, and is on point in Keeper of Traken. But when getting to Logopolis, things start to feel, well...not right. For his finale, sure, the Fourth Doctor, the "Hero Doctor" goes out saving the universe just as he did time and time again.

Frankly, I think Tom stayed in the role so long to escape his personal life; in fact I'm pretty sure he says something along those lines in his autobiography. He was never the most mentally healthy, and during his run as the Doctor it sometimes shows. During Logopolis I had to wonder if his performance was so lackluster because he knew his time in the world of Doctor Who was more or less up.

If he had it his way, I think he probably would have stayed in the role until he died, but there's really no way to know for sure; Tom glosses over his leaving the role in his autobiography and everyone out there has a different version of how he ended up leaving the show.
Reply

That's an interesting take. I've never read his autobiography, or listened to the audiobook version (no real reason, just hadn't gotten round to it), and it does make me think about that line in Shada that was perhaps a little more than a throwaway joke (where Chronotis asks the Doctor if he wants crackers: CHRONOTIS: "Crackers?" THE DOCTOR: "Sometimes!"). What may have been construed as ego may very well be his own mental insecurities at times, and more at being protective of a role that changed his life for the better, hence the wars he had with many writers and directors (the more I read about Graham Williams and his producership with Tom, the more it seems like Graham was far too nice to ever really argue, as long as things benefited the program) and his long-held reluctance to share the stage with his predecessors and successors at various conventions and get togethers unless ambushed into one, the most notable exception being the 50th anniversary special release The Light at the End from Big Finish, where he works alongside Davison, Colin Baker, McCoy, and McGann (albeit in a larger role alongside the Eighth Doctor) where he actually wanted to work next to McGann.

The only thing for sure to be said about Tom's leaving Doctor Who is that come that August 1980, he wasn't well, his domestic life was in utter chaos, he was (by most admissions) close to having a drinking problem, he hated his new producer, he hated his new co-stars (at that time), and it just didn't feel like the show he'd signed on for back in 1974. Maybe he really did miss Lis Sladen and wished he could go back to those days when they could take the piss out of monsters and aliens with ease. And maybe he wished things were simple and could go back to being like that again.
Reply

! ! ! WHOVIAN'S UNITE ! ! ! !
Reply

His red outfit always looked like a bathrobe to me.
Reply

Another reason why I don't care for this particular season much. If you've gone on Tom's official website, he has sketches from June Hudson showing what would've been an improvement over what the final costume ended up being (kept the chestnut brown frock coat and swashbuckler boots, but added a yellow/gold waistcoat, candy striped cravat, and what appear to be rusty colored trousers). While I think the multi-colored scarf is the de-facto image of the Fourth Doctor, the pairing of the burgundy scarf with this theoretical outfit wouldn't have been out of line. Ironically, I think it would have matched up well to how Marvel was coloring the Doctor Who Magazine comic strips at the time.
Reply

I still need to finish up the classic doctor who series. I'm at the final episodes of Tom's line.
Reply

There's a weird sense of breathlessness once you get to the end of the road with Tom, just because of how long he'd been there. I have no idea if there ever will be a run as the lead ever again but it's like you keep holding your breath waiting for that prepared for moment.
Reply

Can anyone ever say they're ready to say goodbye to their Doctor? I remember being so excited to see David regenerate, and was pleasantly upset when he faked out in S4, and then, in the words of my personal Doctor, "I don't want to go..."
Reply

Liked

Reply

It was definitely after Elizabeth Sladen left the show that he became less comfortable and easy. The two were inseparable and so to keep the show going without her blasted Tom down and he once even led the crew to believe he could carry a story on his own, so the idea of another character coming along and pumping the story up with just as much good material that Louise Jameson as Leela did, Baker was furious. When ya get hold of it, watch some of the footage of the behind the scenes of 'Underworld' and see just how mad Tom was.
I personally quite liked when he was more acidic in his finale year. I wouldn't say his performances became lazier, in the finale year, I feel like he was less alive than before, for sure, but he was being a bit more moody and honestly, I quite like his bite. His rant at the Deciders in 'Full Circle' is great and he spits venom at everyone in 'Logopolis'.
The main problem I had with his finale year was all that bloody technobabble. The entropy is an easy concept, for sure, but then we get the CVE nonsense in 'Logopolis' and the calculations that no one can get their head round, to my knowledge. It's obvious that Chris Bidmead likes his sci-fi more than his characters (Terence Dicks even called him out on it, when writing 'State of Decay') and Tom hated that, as well.
Reply

I'll definitely need to find that Underworld footage. The only behind the scenes ones I've seen were for (I think) The Armageddon Factor which was more staged than anything, and didn't really show how Tom really was between shoots. But I do agree, I find that with the Leela stories, one great positive is it did make Tom step up his game as an actor because of how specific their interactions were. Face of Evil up to The Invisible Enemy showed some great action between them, and its such a shame that that after this burst of stories Louise Jameson doesn't have a whole lot more to do. Maybe this was Tom's doing, or maybe it wasn't, but the change in attitude becomes pretty glaring with Image of the Fendahl

In regards to the technobabble, there's guy and I can't remember his name, but he pointed out a very apt thing about that finale year, that Tom's Doctor always shined best when his stories were horror focused, or had that Hammer gothic horror style. It seems like this could've been one of several failings with Graham Williams, as while Tom was fun in sci-fi stories, it seems that they were an ill fit for the Fourth Doctor (Anthony Read was pretty good at keeping the sci fi light, as was Douglas Adams) as he didn't treat aliens and dictators with the same level of threat in past stories that were more horrific in the Hinchcliffe era.

I'm almost hard-pressed to wonder if "Logopolis" really was the intended finale for Tom Baker. Keeper of Traken, even though it drags a bit, feels closer to the end, and with the return of the Master, it had the earmarks for a six part farewell. (by contrast, "Logopolis" feels more like a Davison story in style and tone ironically enough).

Reply

Yeah, he was pretty happy, when he made 'The Armageddon Factor', because he was happier with Mary Tamm as his companion and didn't object too highly to the script, I don't think. In the making of 'Underworld' he was a real unreasonable beast. One way to tell if Tom liked a story or not is to see if he did the DVD commentary or not or ever did interviews about the story. If he didn't, he has ill feelings towards it.
Oh, yeah, definitely, Tom stepped up so that no one upstaged him, but Louise Jameson didn't stand for that sort of thing. She wanted to have a good material and the writers adhered to her demands, purely because she wasn't as troublesome as Tom, who had so many silly ideas. I personally feel Leela gets a lot to do, in her entire era. 'Underworld' is the only story in which she just kinda walks around and makes random comments. In 'The Sun Makers', she throws threats and goes in to rescue the Doctor, then saves the day, as she lobs her knife at someone, I just can't remember who. But that's just my view. As far as the writers have told the fans, over the years, Tom had no control over what happened to Leela in the stories, but he had more say over what he wanted to do in the story. He would complain that Leela had more to do, but he couldn't change it. Yeah, Tom made it obvious when he didn't like someone on the cast, but the two have done a lot of work together, in recent years and Tom regards her quite highly, today.

Yeah, Tom hated all of the sci-fi stuff. He didn't really understand it, nor did he want it to be the major focus of the show, since kids were watching. He wanted the show to be for kids, so he wanted all of the complexities shoved out of the way. The comedy was more suitable for him, cuz he felt like he could make it more fun for the audience, or make kids feel braver, when he treated the horrors with such facetiousness. The horror stories he gets are some of the most popular in the show's history ('Horror of Fang Rock' and 'Talons of Weng Chiang' are fan faves) and are generally better written than most sci-fi episodes. The 4th Doctor is simply not one of the incarnations best suited for sci-fi stories. The First Doctor is by far better suited for more logical concepts (the producers of that time always said they wanted the show to go back to how it had been, in the earlier days, so they wrote more sci-fi stories, than there had been, in the last few years) and even then, he would find a hard time getting his head round it.

Oh, no, Logopolis was always intended to be a 4th Doctor story. The tonal change was all made for John Nathan Turner, who was really pushing to have the show move in a new direction, so the stories come off as more Peter Davison, in tone, when that was just what they wanted, at that time, even when they knew Baker was staying on. Tom Baker only announced that he was leaving, during production of that story and most of the cast and crew never knew he was leaving until they'd filmed it. On previous Doctor-departure stories, the actors had announce that they would leave, well before the end of the Season (Patrick Troughton announced he was leaving a good three or four stories before he left and Pertwee knew he was going at the very beginning of his last year), while Tom reckoned he could stay a good while, only to have far too many feuds with producers, writers and even his companion cast members (his hatred for Matthew Waterhouse is one of the few spats he is willing to talk about on the 'Logopolis' DVD).
Reply

I do wonder if Big Finish would ever do a Season 18 series with just Tom and Matthew Waterhouse bridging the somewhat small gap that exists between Warrior's Gate and The Keeper of Traken. This is considering the fact that the studio has helped mend the fence that existed between Tom and Louise, and while I think him and Lalla are still friendly, it's probably likely having them record in different studios was for the best given their history. But I don't know if he's ever said he's gotten on better with Waterhouse in the years since than they did in that 1980-81 season.
Reply

I was wondering that as well. Well, there is a gap between Keeper of Traken and Logopolis, as well.
Baker has never really gone into his current relationship with Waterhouse, sadly. He's joked on almost all of his DVD's that he hates the character of Adric more than Waterhouse, but his explosive behaviour towards the poor lad is well documented, purely because Matthew was inexperienced.

But Tom did confirm that he and Lalla are back to being on very good terms and I would imagine they record in the same studio. The only other time actors never record in the same studio is if the actor can't make it, like Bonnie Langford does audios with Colin Baker and McCoy, but because she has a regular job on TV, in soap operas, she can't always make the recordings and has to be done separately. I do have some of Tom and Lalla's audios together, so I'll have to listen to the behind the scenes. If they do do things apart, it really wouldn't shock me.
Reply