For any of my San Francisco Bay Area watchers, myself, my wife

and

will at the Alternative Press Exposition in San Jose next Saturday and Sunday October 3rd through the 4th. Smudgemarks and Engelwerks has table there and we'll selling several of Smudge's newer titles at it. For more information including our table number check Smudge's journal on the subject.

Getting ready for APE 2015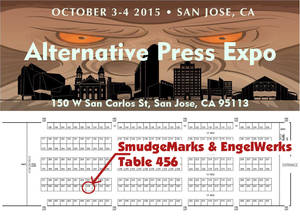 Things have been hopping here as we prepare for the Alternative Press Expo 2015 next weekend. The new books, 'To Kill a Dragon', have arrived and in glorious color. We will also copies of 'The Keeper's Warrior', as well as complete runs of 'Bureau of Mana Investigation' and 'Liberty from Hell'.
If you at the show, come by the table and say "Hi". I'll be there with Baron, and James from Fox Den will be helping out as well. We'd all love to see you!
Hope to see you there next weekend!