Rainbow Dash stared up at the bright blue midday sun and tried to figure out what had gone wrong.
"I don't get!" She grumbled. "I've got her markings now. I borrowed her hat, and I said all those folksy thing she says while she's doing stuff like this? I don't get it."
The mare looked up at her hooves hoping that somehow the the rope had magically untangled around her hooves. Unfortunately fate appeared to be enjoying her predicament. RD had watch the farmpony play with her lasso all the time. It didn't look that hard. What had she done wrong?
As they mare laid there on her back she was aware of the sound of approaching steps. A few seconds later Apple family dog Winona came into view. The dog stared at her for a few seconds and then barked a few times.
"Hey there Winona. You're a good doggie. Could you help by getting this rope loose from around my legs? Could you girl?"
The dog lowered its head and barked at the pegasus mare a few more times.
"Yes Winona. You're a good doggie." RD was trying to keep her temper in check. "But you'd be a super good doggie if you'd get this rope off of me. Could you please?"
The brown and white dog barked repeatedly again.
The Wonderbolt just stared at the dog for several seconds. "You're laughing at me. I know it."
Winona licked the mare's face several times and then sat down and looked at her.
The mare sighed. This was going to take awhile.
Another patron reward for
it is another in the series of MLP color swap pieces. It is inspired by this scene YouTube
The previous piece had been AJ with RD's markings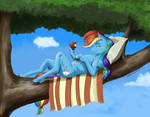 The piece was a quick digital color piece I did in Clip Studio Paint.

I hope you like what you see. Please help make more art like this possible by supporting me at Patreon