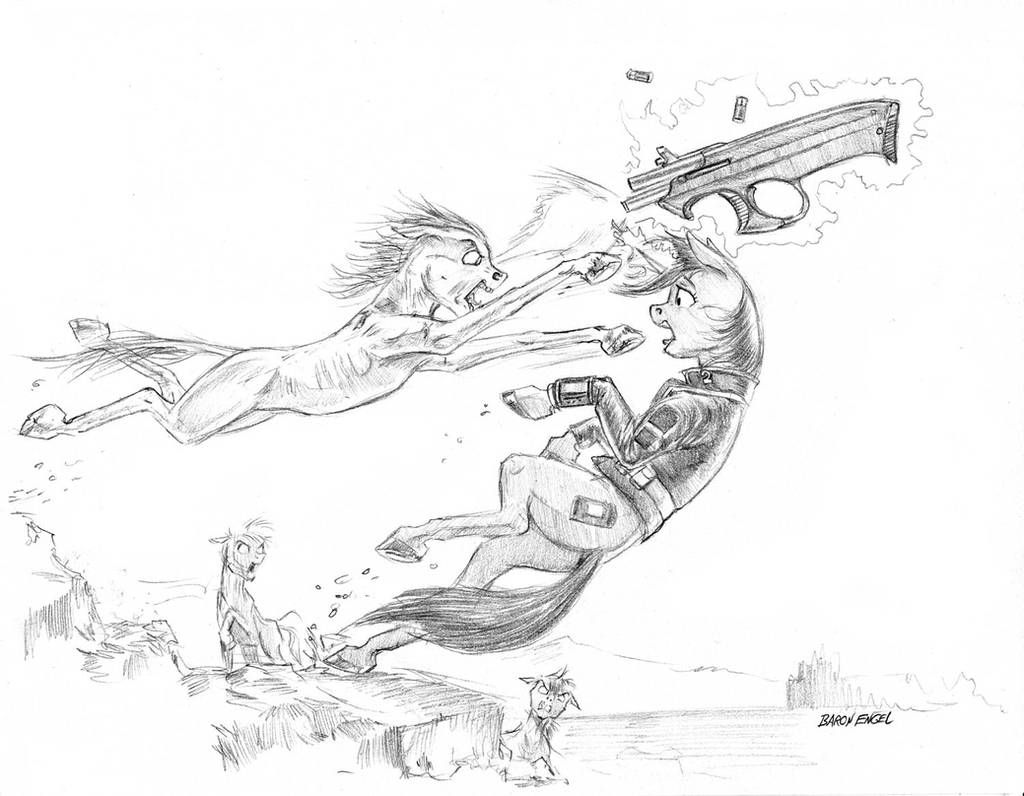 Watch
In between helping my wife with taxes and getting commission related work finished, I sketched out this Fallout Equestria inspired scene. It is not based on any particular chapter in the story. Although from what I read stuff like this happened about every 4 chapters.
Although I am not a huge fan of Fallout Equestria, there are quite a few interesting characters in it. In particular Little Pip. Also designing some of the weaponry for the world is an interesting challenge.
If you want to give Little Pip a roof over her head, this is picture is for sale. $55.00 USD plus shipping. California residents pay sale tax. Send me a note if you're interested.
Update 2/14/17 2:52pm Sale Pending on this piece.
I hope you like what you see. Please help make more art like this possible by supporting me at
Patreon

This is a swanky style you got. How'd you get into the practice of more elongated pony designs?
Reply

Well the style is what ponies look like in my dreams. I'm a lucid dreamer with an ongoing dreamscape in Equestria. I just adapted that style to Fallout Equestria characters.
Reply

Could somebody please enlighten me as to just what it is that Little Pip is fighting?
Reply

I immediately thought ghouls. What with the exposed ribs, what looks to be a pack of them behind the first one, and seemingly charging a clearly armed and dangerous individual wildly and fearlessly unarmed.

Say what you want about raiders but they'll usually atleast try shooting things out before hyping themselves up on a shot of Psycho and wildly running at someone.
Reply

Ghoul/zombie/raiders, general all purpose mutated badlands baddies.
Reply

Ugh of course you had to put this up for sale between paychecks! I just paid the invoice the third print of the books on the 21st and it'll be the 14th before my next check!

That aside this looks awesome, great job, as always.
Reply

Well if it's still around next paycheck get in touch with me.
Reply

Never underestimate the ferocity of an enemy.
Never underestimate their tenacity.
I well remember a war where we had more of everything and still got our butts kicked.
It was called the Korean Conflict.
The Chinese were relentless. One out of five had a rifle. When one fell another picked it up and kept on a coming.
Pip learned that over her trials.
Reply

Little-Pip is a certified badass, but she didn't start that way. Everyone's gotta start at level 1.

- Polecat
Reply

Reply

"Good judgement comes from experience. Unfortunately, the experience usually comes from bad judgement."
Reply

Pip is a bad ass, this is just her startled face

Reply

...this is why you scan the "dead" bodies with [VS].A.T.S.
before
traipsing through the room
Although from what I read stuff like this happened about every 4 chapters.
To be fair to the story though, stuff like this happens pretty much every other mission in the game as well
Reply