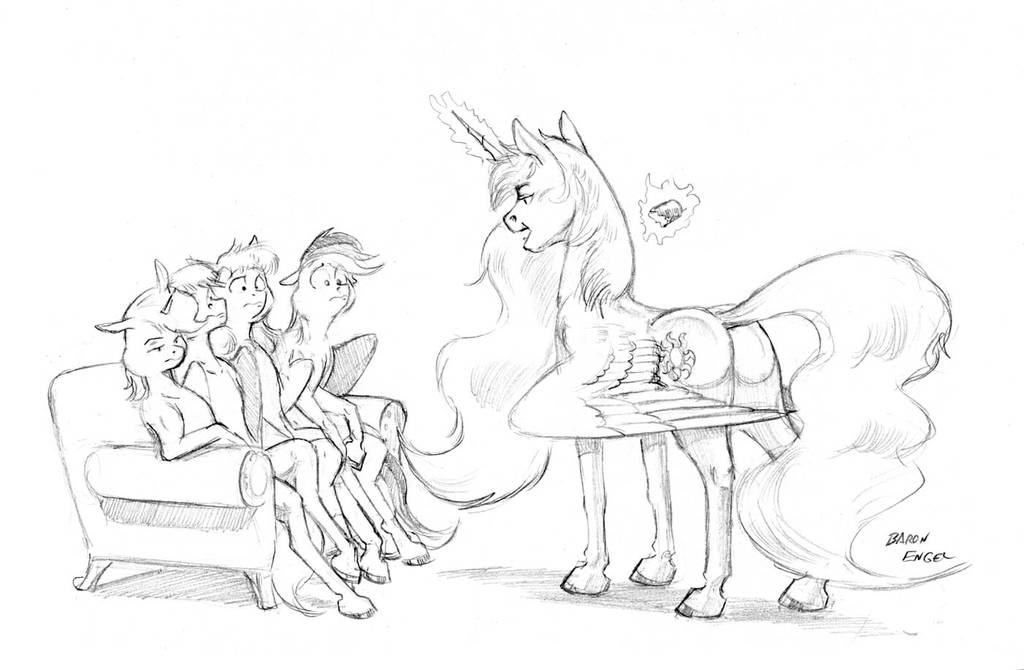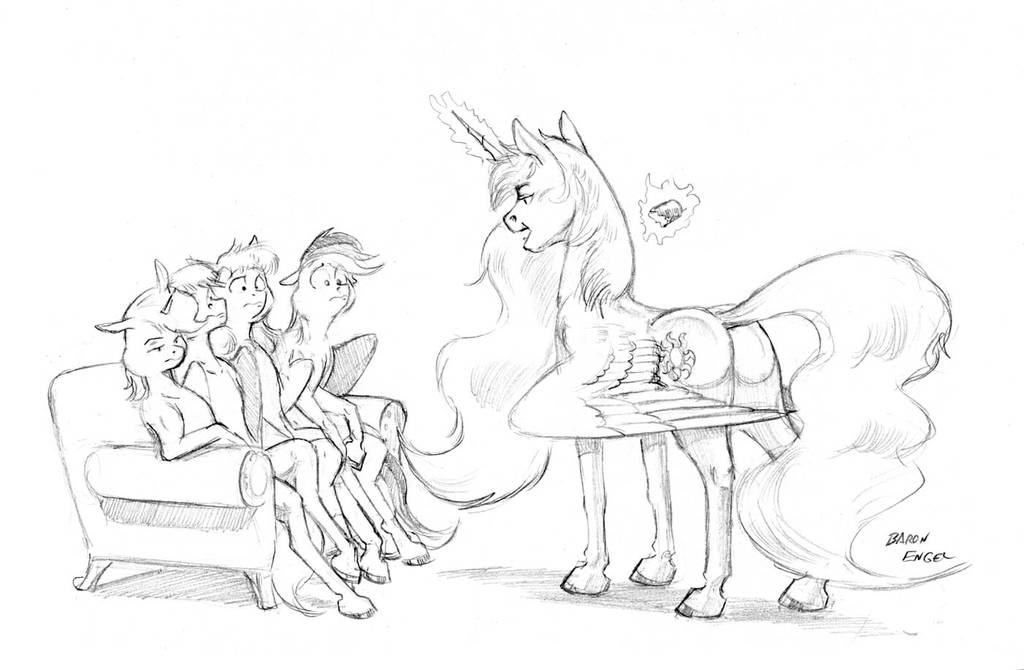 Watch
It took about 15 minutes for RD, Petina and Carousel to get themselves vaguely presentable The Royal Treatment in my Equestria dreamscape, but eventually the three mares along with me were assembled in the main room on the sofa. Celestia poured the mares mugs of coffee and doled out donuts. She gave them a few minutes to consume their meal before addressing her audience. Nopony said a word.
The Co-ruler of Equestria had gotten herself a maple bar and it now levitated alongside her like an obedient pet as she stood there and looked at us.
"Now. While I will admit Sugar Cube Corner's donuts are some of the finest in the kingdom that is not the reason for my visit today."
She paused and took small bite of the maple bar. "My main reason for being here was to confirm a suspicion I have had for a couple months concerning you Rainbow Dash." Celestia pointed at RD with the floating donut. "And you Sky Brush." She aimed the maple bar at me.
"However it appears there were a couple of other players that I hadn't completely factored into the equation." She waved her donut back and forth in a slow, lazy fashion at Carousel and Petina. " That would be you two."
"Now some more orthodox ponies would take exception to the arrangement that you four are starting to settle in to. Fortunately for you I lost my orthodoxy about 600 years ago. One needs to be mentally flexible if I one wishes to maintain any sanity and rule as long as I have!"
Celestia began slowly pacing around the room while taking small bites from her maple bar. "However that does not mean that I have a cavalier attitude toward things. Especially things that are considered strategic assets to this kingdom."
The Princess of the Sun pointed her now much smaller donut at the pegasus mare. "Assets like you Rainbow Dash. You and the other Elements of Harmony are valuable and critical assets to all of Equestria."
Celestia finished her donut and looked at the prismatic mare and smiled. "I won't tell you how to live your life Rainbow Dash. You're a young mare now and you're completely in your right to be in a relationship, and you've shown yourself capable of taking care of yourself. That said I would appreciate if all four of you could tell me exactly what kind of arrangement you've settled upon. I wish to hear from you what you think the future hold for the four you. Especially if you are entertaining any ideas of starting a family."
Over the next hour we discussed what we'd settle upon between us. Celestia for the most part let us just speak, and only occasionally would ask us to clarify a detail or had us answer a specific question she had. For the most part she was supportive however she did have some concerns.
"What worries me the most is that you Rainbow Dash and other Elements of Harmony do not lose the special friendship that bonds the six of you together. It is that bond you six share that permits you to wield the Elements in first place. Now from the information I have seen and heard, most of them are willing to support you and your decision."
"Yeah except Twilight." Said RD as she rubbed the back of her neck with a hoof. "She seems to be wavering between full freak-out mood, and uncontrollable drooling a lot recently."
"Trust me Rainbow Dash. I can assure that her distress is because she cares about you so much and doesn't want you getting into a situation where you could get hurt." The white alicorn then smiled.
"Also I believe she's just a little bit uncertain what this means for her relationship with her other friends and Element bearers. What if she or any of the other bearers also develop relationships? How will that effect the dynamics of the group?"
"There is the possibility that another factor is driving Twilight's anxiety." Celestia levitated glazed buttermilk bar over to herself. "I believe she's terribly afraid she's going to lose you Rainbow Dash or one of her other close friends. Remember she hasn't had that many ponies she could truly call friends before she met you RD and your friends here in Ponyville. I believe that she's concerned that if her friends start becoming involved in relationships with other ponies she'll find herself standing on the outside again. She now realizes how lonely her life was, and she doesn't want to go back to that existence again."
Carousel spoke up. "Your Highness. I can assure you that nopony in this household wishes to make Twilight feel unwanted or unneeded."
Celestia smiled at the palomino mare. "I believe you, but you and the other members of this household need to make that clear to her, and remember this. Twilight has great amount of influence in Ponyville for having lived here for such a short amount of time. So putting her at ease would go long ways to assure Rainbow Dash and her friends relationship remained vibrant and strong, and that the community is supportive of your household."
For the last few minutes Petina had obviously been chewing something over in her head. Finally she spoke up. "Excuse me your Highness, there is one detail that has been nagging in my mind. How did you know that Rainbow Dash and Brick were developing a relationship? I mean they really slept together for the first time last night, but here you are today asking about it. Would you care to enlighten us to how you knew."
Celestia smiled and arched and eyebrow at the white unicorn mare. "I could just say magic and leave you to figure it out, but I'll be more forward with you than that." She took a bite of the glazed buttermilk. "As I said earlier, Rainbow and the other Bearers of the Elements of Harmony are strategic assets to the kingdom of Equestria. If some immediate emergency was to arise I want to know where some of my heaviest hitters are. Therefore, all of them are kept under some degree of surveillance by operatives who report directly to myself and Luna." Continue observations
"Uh, you've been spying on me your Highness?" Asked an incredulous Rainbow Dash.
The princess shook her head. "Not spying, under surveillance. In most cases the operatives haven't even kept you under constant visual observation. Instead they've gathered information from around the community about the well being of you and your close friends."
Celestia took another bite from her donut. "I rather deliberately instructed my operatives to give you this additional latitude. One because no obvious threats to you or the other bearers has arisen, but second, and perhaps more important, I've wanted to grant as much liberty to you and your friends as I could consider prudent. You're at a point in your life where you're establishing your true identities and place in the world. The last thing I wanted was to smother you under an overprotective security blanket. If I had you might have felt that any victories you achieved weren't really your own, and any failures might have been perceived as being the result of my obstruction."
She paused to relish another bite of her buttermilk bar and then continued. "So despite the insistence of some of my ministers and members of the court I have deliberately allow you and your friends to just live your lives as just ordinary subjects of the realm. You may not realize it now Rainbow Dash but these are the years of your live you should cherish. All too soon they will be replaced greater responsibilities and duties. Treasure these years while you still have them!"
Celestia popped the rest of her donut in her mouth and consumed it with great enjoyment. Then she levitated over a crisp white linen napkin and daintily removed the crumbs from her face. Then she smiled at us.
"So unless events require me to intervene I will take no action against this relationship. However there is two other matters I wish discuss with you all of you. First is the matter of your monthly stipend. In light of the fact that this household has recently come into possession of a sizable sum of money, I will be terminating it at the end of this month."
Petina looked like she was about to speak, but Celestia smiled and spoke first. "The stipend was a courtesy extended by me and the court. It was in no way a binding contract; I can terminate it at anytime."
Petina obviously wanted to contest the princess's decision, but look on the white alicorn's face made it abundantly clear that is not open for discussion. However Petina still did speak.
"And the other matter was your Highness?"
Celestia smiled and looked at me. "So Sky Brush, what's for dinner?"
To be continued.
I hope you like what you see. Please help make more art like this possible by supporting me at Patreon