A moment from one of my Anthro MLP dreamscape variants. In that setting Rarity and her family are all genies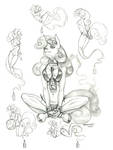 ,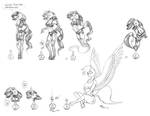 ,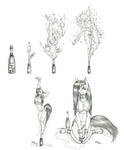 who hire their services out various potential clients.
The stopper of the ornate bottle popped out and landed on the floor. Suddenly a great cloud of light violet and pale mauve smoke floated out then arced down flowed across the floor. Quickly it pooled and coalesced into a grownup, anthro Sweetie Belle lying on her belly. The mare is wearing a pair of thigh-high, black leather boots and long gloves of similar black leather. She looks back over her shoulder and smiles.
"Oh hi!" She says. "I'm almost ready to go. Give me a few more minutes and we'll head out. I've called the restaurant and we still have our reservations for 9pm."
Then she smiles and then slowly turns back to smoke. The smoke rose back up into air and then flows back into her bottle.

I hope you like what you see. Please help make more art like this possible by supporting me at Patreon


Image details
Image size
1400x930px 220.28 KB